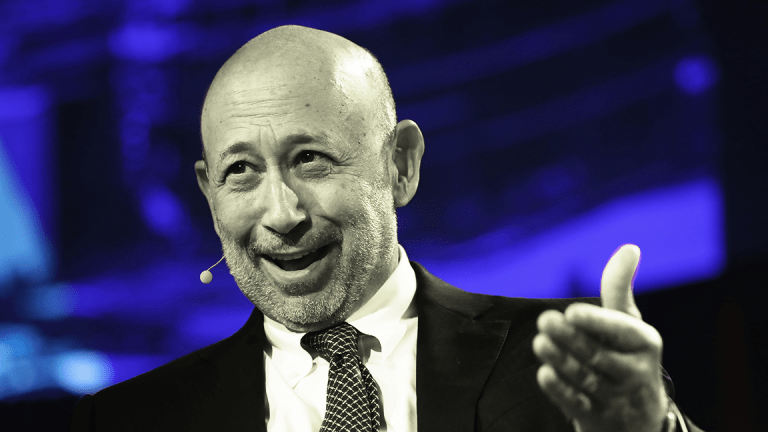 Goldman Sachs Picks Solomon to Eventually Succeed Blankfein as CEO
Goldman Sachs Group Co-President and former CFO Harvey Schwartz will retire April 20, the company said Monday in a press release. The announcement came just days after the Wall Street Journal reported that CEO Lloyd Blankfein is preparing to step down, possibly later this year.
Goldman Sachs Group Inc.'s (GS) - Get Goldman Sachs Group Inc. (The) Report board of directors has picked Co-President David Solomon to succeed CEO Lloyd Blankfein when he steps down, likely in the next couple years, a person familiar with the matter said. 
The board chose Solomon, 56, over fellow Co-President Harvey Schwartz, 53, at a meeting in February, the person said. The decision was communicated to the Wall Street firm's senior managers at a meeting Monday, the person said, and the firm then issued a press release announcing Schwartz's retirement.   
"Harvey has been a mentor to many, and his influence has made an indelible impact on generations of professionals at Goldman Sachs," Blankfein, 63, said in the statement. "I look forward to continuing to work closely with David in building our franchise around the world, serving our expanding client base and delivering strong returns for our shareholders."
Schwartz will step down on April 20, according to the statement.
The announcement came just days after the Wall Street Journal, citing people familiar with the matter, reported that Blankfein was preparing to depart, possibly later this year. Later in the day, Blankfein appeared to distance himself from the story, asserting that it was the Wall Street Journal's announcement, not his.
Blankfein is likely to depart this year or next year, the person familiar with the matter said. On Friday, after Blankfein's planned departure was reported, Goldman shares jumped, signaling that investors might not be sorry to see him go.  
The management transition comes as Goldman pushes to overhaul its business strategy after a 2017 that was one of its worst years since the financial crisis a decade ago. 
The stock price has severely lagged that of its big-bank rivals, gaining just 8% as JPMorgan Chase & Co. (JPM) - Get JP Morgan Chase & Co. Report surged 28% and Morgan Stanley (MS) - Get Morgan Stanley Report rose 25%. The firm, historically a Wall Street powerhouse, turned in a worst-in-class performance last year in the highly profitable business of trading stocks and bonds.
Goldman's juggernaut fixed-income division saw revenue plunge 30% last year, including the worst performance in commodities trading in the company's history as a public company. The firm's stumbles allowed JPMorgan Chase, Bank of America Corp. (BAC) - Get Bank of America Corporation Report , Citigroup Inc. (C) - Get Citigroup Inc. Report and Morgan Stanley to steal market share.
Making things worse, revenue in Goldman's stock-trading division slipped by 4.5% on the year, also more than peers experienced. Goldman's total trading revenue was down 18% on the year, more than double the average decline among the biggest Wall Street firms.
The performance was so abysmal that analysts including Dick Bove of Vertical Group had called for Blankfein, who has run the firm for a dozen years, to step down. 
Schwartz and Solomon were considered the two likeliest internal successors.
The departure of Schwartz, who came from the trading side of the business, may represent the ascendancy of the investment-banking business that Solomon helped to lead.  
In December 2016, after Blankfein's longtime No. 2, Gary Cohn, departed to become head of President Donald Trump's National Economic Council, the company named Solomon, who was co-head of investment banking, and Schwartz, who had served as CFO, to become co-presidents. At the time, Blankfein pledged to work with them in "formulating and executing our global strategy."
At the time, Blankfein had no plans to leave anytime soon, trapping Cohn in his deputy job and thus precipitating his departure. 
Cohn quit his job at the White House last week, reportedly due to frictions with the president over a plan to impose big tariffs on steel and aluminum imports. At Goldman, Cohn had been a champion of free trade.  
After last year's trading underperformance -- and the corresponding pall over the share price -- sparked so much concern among Goldman investors that Blankfein might have lost his touch, the company announced a growth plan to invest $5 billion in such things as increased corporate lending. Goldman also promised to reduce its reliance on fast-moving hedge fund clients as unusually small price swings in global markets sapped demand for new trades.
Goldman also promised to seek more trading business from corporate clients -- a pledge that drew immediate skepticism from some analysts, given the aggressive competition from rival Wall Street firms. 
Solomon, who helped to build and expand Goldman's debt-underwriting business, has a roster of corporate CEOs as clients, the person familiar with the matters said. And over the past two years he has worked closely with Goldman's trading division to better understand how that crucial business. He also had 25 meetings with investors, according to the person -- key since Schwartz was well-known to investors as a former CFO. 
Goldman is a holding in Jim Cramer's Action Alerts PLUS Charitable Trust Portfolio. Want to be alerted before Cramer buys or sells the stock? Learn more now.