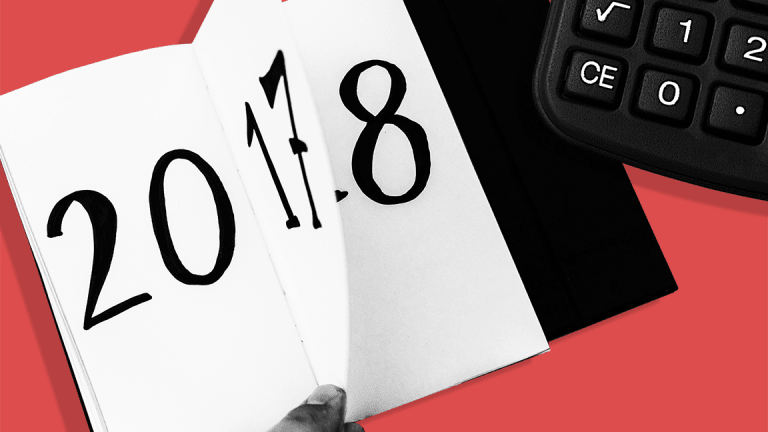 Goldman: Ask Yourself These 10 Year-in-Review Investing Questions Before 2018
The economy performed well, capex was the main growth engine and the Fed hiked rates three times. Here's what else you should review before 2017 is out.
A year ago, Goldman Sachs served up 10 predictions for the year ahead. Now that 2017 is just 12 days from over, economists reviewed their forecasts.
Here are the 10 questions experts had at the start of the year you should review in retrospect before the clock runs out on 2017.
Has growth remained above trend?
Yes - real GDP growth was close to Goldman's forecast and is on track for an annual-average increase of 2.3%. Momentum was strong this year, as the current activity indicator has averaged 3.4% and the unemployment rate fell about twice as fast as Goldman anticipated to 4.1% so far in the fourth quarter.
Has the Trump administration enacted tax reform legislation?
Yes - though Goldman cut it close on this one. Economists said they expect tax legislation will boost real GDP growth of 0.3 percentage points in both 2018 and 2019.
Has the housing recovery continued?
Yes - at a moderate pace. "The signals have been somewhat mixed, though generally consistent with continued expansion," Goldman wrote. "Although real residential investment in the GDP accounts has fallen slightly on net in the first three quarters of the year, single-family housing starts, and new home sales have all trended gradually higher." The homebuilders index is at 74, near its highest-ever level. Home prices on the Case-Shiller Index have increased to 6.2% at the last available data in September from 5.4% in December 2016.
Has consumption outperformed capital spending?
No - capital spending has accelerated since 2016, averaging 6.2% annualized growth in the first three quarters of 2017, Goldman wrote. Personal consumption growth, on the other hand, has slowed some from the "red-hot pace" of 2015-2016 to an absolute growth pace of 2.5% for the first nine months of 2017.
Has the labor market overheated?
Yes - slightly, Goldman said. The unemployment rate fell faster than Goldman expected. Other labor indicators, including job openings, quits, job perceptions and skill shortages, suggest the labor market is slightly overheated at present.
Has wage growth hit Goldman's target of 3% to 3.5% of its full employment level?
No - Goldman got it wrong on this one. There's still some slack in the pace of wage growth. Goldman's wage tracker has "stagnated" around 2.6% this year.
Has inflation reached the Fed's 2% target?
No - Goldman also missed on this forecast. After earlier this year climbing to 1.9%, core PCE inflation has surprised to the downside and stands at 1.5% as of last month. Goldman expects inflation will gradually recover, but doesn't see the Fed reaching their 2% level until mid-2019.
Has the Fed hiked rates faster than the market priced?
Yes - markets had discounted two rate hikes for 2017 when the year started. Goldman correctly predicted three increases.
Has the market's terminal funds rate estimate continued to rise?
No - Goldman was wrong here. "The funds rate implied by OIS or Eurodollar futures in 2020 remains at only about 2%, so at the most basic level our prediction missed the mark," GS said. "That said, the picture is somewhat muddy because market pricing of future short-term rates embodies two components -- 1) the risk neutral expectation of future rates and 2) a term premium."
Has the Fed started shrinking its balance sheet?
Yes - but Goldman missed here, predicting previously that balance sheet normalization would be a 2018 project. "The Fed's communication around the balance sheet adjustment was both clear and measured," Goldman wrote, "and markets have taken it in stride so far."
More of What's Trending on TheStreet: