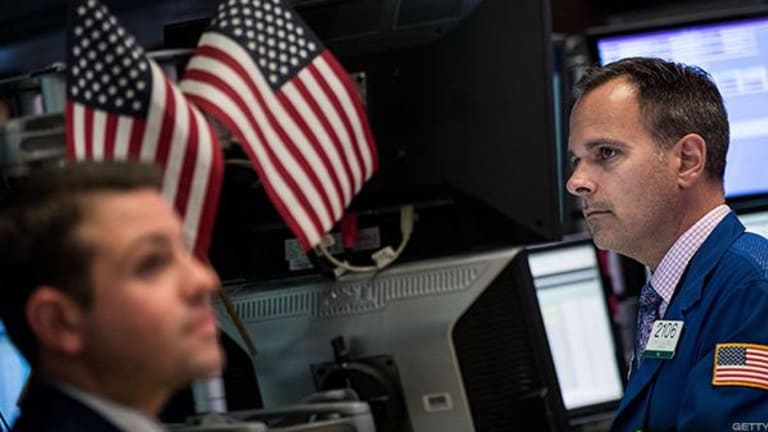 Gold Rises, Dow Futures Fall on North Korean Missile Launch
Investors are watching.
Asia markets and U.S. stock futures traded lower after North Korea fired a missile over Japan early Tuesday, while gold and crude oil rallied.
"North Korea now represents a clear and present danger," said David Nelson, chief strategist at Belpointe Asset Management. "The missile was fired over Japan, but it's still an extremely provocative act that demands a [U.S.] response."
U.S. stock futures fell shortly after the missile launch was reported, and remained weak. Just before 10 p.m. Eastern, Dow futures were trading 100 points, or 0.45%, lower; S&P futures were off 14 points, or 0.57% and Nasdaq futures were off 38.50 points, or 0.65%.
Gold futures added 7.70, or 0.59% to 1,322.80. On the spot market, gold was up 0.61% to 1,318.50. Crude oil futures also traded higher, adding about 0.50%.
In early Tuesday trade in Asia, Japan's Nikkei was down 136.36 points, or 0.70%. Hong Kong's Hang Seng index was down 119.98 points, or 0.43%, to 27,743.31. South Korea's Kospi was down 1.14% to 2,343.17.
North Korea worries have dented stocks multiple times this month, including when President Trump warned of "fire and fury" coming to North Korea should threats against the United States continue.
But U.S. markets have been resilient.
"I don't think you're going to get anything other than a temporary market reaction out of it," said Scott Wren, senior global equity strategist at Wells Fargo Investment Institute, in an interview with TheStreet. "I don't think we're going to see any escalation."
Wren thinks the U.S., Russia, China, Japan and South Korea are working behind the scenes to resolve the issue. "North Korea knows that they can do some of these [military] things and it's not as though they're going to have an attack against them," he said.
As for what investors should do, Wren only recommends allocating a few percentage points worth of your total portfolio to the traditional safe haven of gold. The metal closed above $1,300 an ounce on Monday for the first time this year and on the spot market, gold was up nearly 1% at about $1,327 Monday evening.  Wells Fargo Investment Institute's year-end target for gold is between $1,150 and $1,250.
For Andres Garcia, CEO of ZoeFin.com, investors may just want to sit this one out. "Very difficult to have an edge on these type of geopolitical events -- the best move from an investment perspective is to do nothing. The safest hedge to geopolitical events like these is a well-diversified portfolio," he said. 
Meanwhile, JJ Kinahan, chief market strategist at TD Ameritrade, said the primary risk to the market has been geopolitical, and the latest North Korea missile launch increases that risk. "The story with North Korea continues, and in doing so will continue to make U.S. markets nervous as this is seen as the primary impediment to short-term growth," he said.
More From TheStreet:
As North Korea Provokes, Here Are 30 of the Most Powerful Military Innovations
Here Is How the Euro's Surge Could Destroy European Stocks
Story is developing.