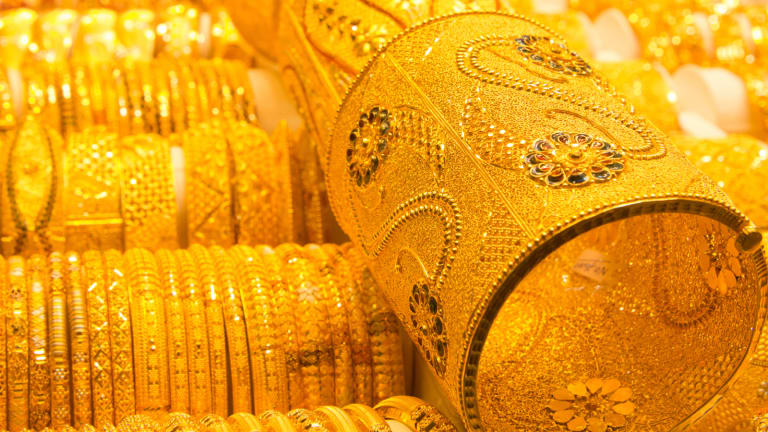 Gold is Poised to Move Lower Than Its $1,200 level
Gold bulls had a rough start to the week, as the yellow metal fell below the key $1,200 level due to the strength in the U.S. dollar.
NEW YORK (TheStreet) -- Gold had a rough start to the week as the yellow metal dulled when it fell below the key $1,200 level, due to the strength of the U.S. dollar. For most of 2015, gold has been trading around $1,200 as it struggles to find its footing amid speculation over interest rate hikes that is causing gyrations in the markets.
Gold has mostly been more of a technical trade. Commodities are priced in U.S. dollars, so as the greenback moves higher, instruments like oil and gold generally move lower. And, of course, the reverse of this strong correlation also applies.
The U.S. dollar moved higher on the release of the durable goods report Tuesday morning, suggesting business investment is slowly starting to pick up following a stronger-than-expected Consumer Price Index report last week. Commodities move on other fundamentals, such as supply and demand, in addition to the U.S. dollar. Tom Vitiello of Aurum Options Strategies tells TheStreet's Jill Malandrino that the gold market got a little bit crowded on the long side, so when the positive durable goods number came out, coupled with the higher U.S. dollar movement, the bulls moved to liquidate their positions in gold and that created the sharp move lower.
Vitiello explains gold could see further pressure to the downside, because there are fewer investors shorting gold compared with before when the commodity was trading at these levels. Federal Reserve President Janet Yellen's comments last Friday refueled debate over the timing of an interest rate hike, and when combined with the strong U.S. dollar, it acts as kryptonite for gold. Vitiello believes the current market structure is ideal for pushing gold even lower, because the market doesn't have as many short sellers who need to cover their investments whenever bullish gold news is released. Now is a good time for the shorts to come back and see if they can break the $1,200 level down to the $1,130 level for a longer term.