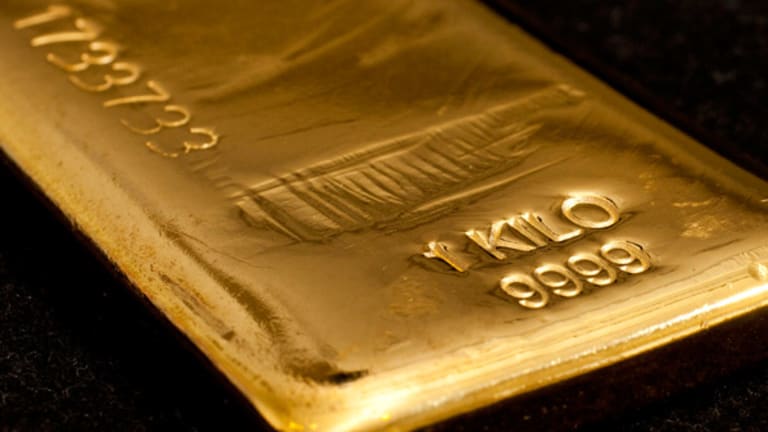 Gold Does Not Look Healthy, May See Push Lower Into Year End
Gold prices edged up on Tuesday after sharp overnight losses, but were still slipping amid strength in global equities and the U.S. dollar.
NEW YORK (TheStreet) -- Gold prices ended 2013 at $1,206 per ounce, according to Thomas Vitiello, managing partner at Aurum Options Strategies. So there could be some tax-loss selling going into the end of 2014 as investors look to offset their gains in equities, he said. 
Some investors think larger market participants may push the price of gold down going into the end of the year so that in the beginning of 2015 they can buy the metal near the lows. But that seems somewhat "conspiratorial," Vitiello said. 
"It just doesn't look very healthy," he said of the commodity. There's not a lot of participation in the market due to the holidays and a lot of funds are "settling" their books, he added. 

SPDR Gold Trust ETF GLD data by YCharts
So where's the metal headed beyond the end of this year? Vitiello says gold prices are negatively impacted by a rising U.S. dollar as well as rising interest rates. If and when the Federal Reserve raises rates in 2015, that could put downside pressure on gold. 
That would likely happen sometime in the first half of the year, while gold may actually see some buying in the second half of 2015. He said there's a lot of bad news already priced into gold and every time the yellow metal gets knocked lower investors begin buying it again, particularly in China and India. 
Also, investors shouldn't forget about the supply and demand of gold and the role that miners play in that relationship. Below $1,100 per ounce, several miners will stop production since it will no longer be economical for them to do so. If that happens, supply will decrease, helping to drive prices higher.
In the end, Vitiello said, he's leaning more to the bearish side, suggesting that prices could ultimately find support between $1,000 and $1,050 per ounce. 
-- Written by Bret Kenwell 
This article is commentary by an independent contributor. At the time of publication, the author held no positions in the stocks mentioned.