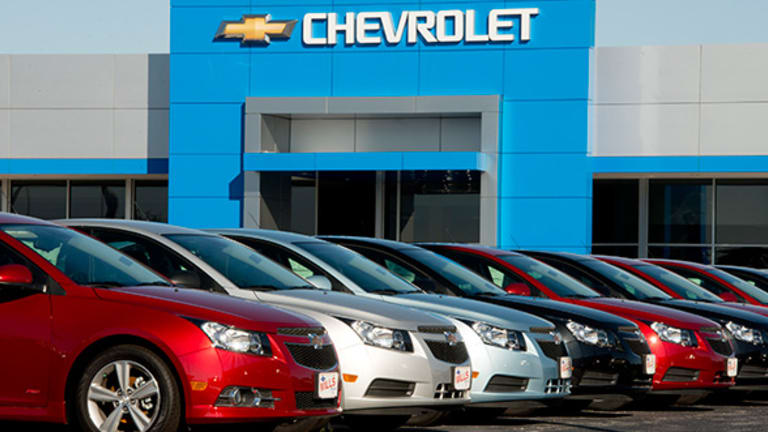 GM's Chevrolet to Unveil Apps Connectivity System for 2016 Models
The system -- designed to allow drivers to focus on the road -- will be available in 2016 models.
NEW YORK (TheStreet) -- General Motors (GM) - Get Free Report is making it easier for drivers to put their phones down and keep their eyes on the road.
The automaker is teaming up with both Google's (GOOGL) - Get Free Report Android Auto and Apple's (AAPL) - Get Free Report CarPlay to make navigating apps much easier.
Philip Abram, GM's chief "infotainment" officer, told TheStreet TV that GM worked with Google and Apple to design a system that allows the driver to be able to talk on a phone without being absorbed by the phone so that he or she could focus on driving.
The system will be available in all 2016 model Chevrolet cars and trucks. The 2016 models will start hitting showrooms in late June.
"It's bigger icons," Abram said. "It's making sure that you can just glance at something. A lot of use of steering wheel controls and voice activation to make sure that those applications that you've always wanted to use in your car, but might have been surreptitiously linked are now safe and available in the vehicle."
Abram said customers crave connectivity. He points to the widespread adoption of GM's remote-link app which allows users to start their car remotely or unlock a car's doors without using keys.
The new smartphone program will allow users to launch navigation, messaging, phone and media apps such as Stitcher and Spotify. Abram's said more car-friendly apps will be made available in the coming months.
One big plus for Chevrolet drivers will be that the car will be able to differentiate between an iPhone and an Android and adapt if a couple has different phone brands, Abram said.
"If you or your spouse has an Android phone and one has an Apple phone, the system recognizes what it's connected to and brings up the appropriate experience. The next person gets in the car and plugs in their phone, it will work fine with that as well," Abram said.  
But there is a downside for Google Maps lovers who use an iPhone: They won't be able to get Google Maps, unless they use an Android phone. And no word whether Facebook's (FB) - Get Free Report Newsfeed will be coming to a dashboard near you anytime soon.