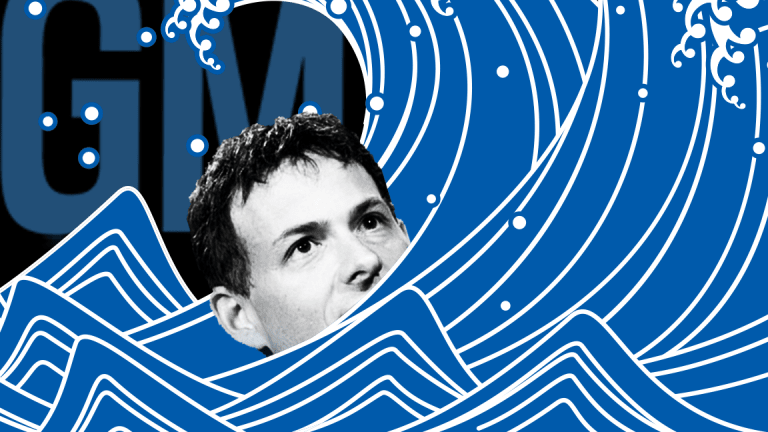 GM Slashes Guidance After Mixed Second Quarter
The company said commodity costs and currency exchange rates have had a negative effect on its bottom line and will continue to do so through the rest of 2018.
General Motors Co. (GM)  shares fell more than 6%  on Wednesday after cutting its full-year guidance to $6 per share from $6.45 a share, citing increased commodity costs and the effects of foreign exchange rates. 
The largest U.S. automaker reported adjusted earnings of $1.81 per share for the second quarter on revenue of $36.76 billion. Analysts surveyed by FactSet Research Systems Inc. anticipated earnings of $1.78 per share on revenue of $37.74 billion for the quarter.
GM stock fell $2.54, or 6.5%, to $36.94 as of about 10 a.m. New York time.
"Recent and significant increases in commodity costs and unfavorable foreign exchange impact of the Argentine peso and Brazilian real have negatively affected business expectations," the automaker said Wednesday in a statement.  
Detroit-based GM said it expects those headwinds to continue through the second half of 2018, and revised its full-year earnings outlook to $5.14 per share and $6 per share on an adjusted basis from the previous range of $6.30 to $6.60 a share. The company also said its auto operating cash flow would be lower at $11.5 billion, as would its adjusted auto free cash flow at $4 billion. 
GM didn't elaborate on its commodity costs in Wednesday's statement but the company has been a vocal opponent of tariffs on steel imported into the U.S. as well as the proposed tariffs on auto imports from the European Union. 
"Increased import tariffs could lead to a smaller GM, a reduced presence at home and abroad for this iconic American company, and risk less -- not more -- U.S. jobs," the automaker said in comments filed with the U.S. Commerce Department at the end of June. "Combined with the other trade actions currently being pursued by the U.S. Government -- namely the Section 232 Steel and Aluminum tariffs and the Section 301 tariffs against Chinese imports -- the threat of additional tariffs on automobile imports could be detrimental to our company. At some point, this tariff impact will be felt by customers."
GM's poor financial outlook comes in a quarter where the company outperformed in auto sales and improved its number of truck sales, according to car research firm Edmunds. 
The company's second-quarter sales rose 4.6% compared with the same period in 2017. GM's overall revenue is down from the second quarter of 2017, however, when it posted $37 billion in total sales. 
"GM did a lot of things right in the second quarter," Edmunds' manager of industry analysis Jeremy Acevedo said in an emailed statement ahead of earnings. "The company was able to successfully move lagging inventory without digging too deep in its pockets on incentives or pushing leases. With the launch of the attractive and on-trend 2019 [Chevrolet] Silverado on the horizon, GM's prospects are looking bright for the latter part of the year, even in the midst of the current political uncertainty."
For the full year, company followers already expected GM to come up slightly short of its guidance, but not by as much as 50 cents per share. Analysts surveyed by FactSet had been calling for $6.42 per share in full-year earnings leading up to Wednesday's release. 
GM's biggest competitor Ford Motor Co. (F) reports earnings Wednesday after the closing bell. The company is expected to post earnings of 31 cents per share on $39.14 billion in revenue.
Analysts have said Ford would not be as greatly affected by tariffs on imports from the European Union, but the company's second quarter earnings may very well disappoint if the automaker was unable to make up for a May fire at a part suppliers that took production of several of its vehicles offline for more than a week.
Ford said in May it didn't expect to revise its full-year earnings guidance of $1.45 per share to $1.70 per share due to the fire, however. Analysts currently expect Ford to post full-year earnings of $1.51 per share.