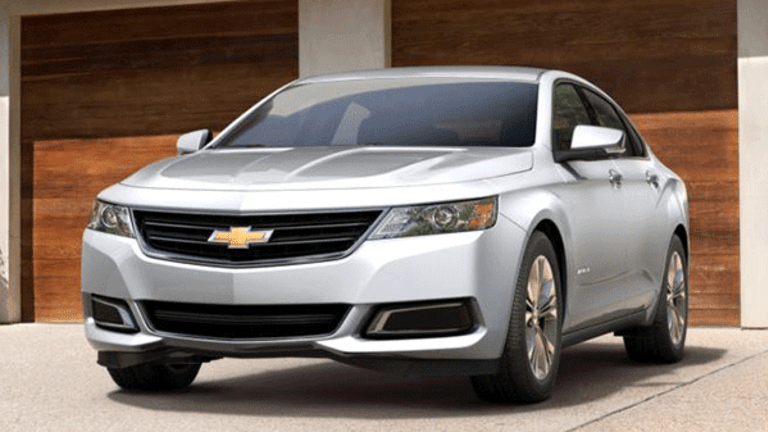 GM's Production Slowdown Speaks of Cooling Demand, Especially for Sedans
GM says it will shut down in March one of two production shifts at its Detroit-Hamtramck assembly plant that builds Chevrolet Volt, Cadillac CT6, Chevrolet Impala and Buick LaCrosse sedans.
The production slowdown by General Motors (GM) - Get Report in North America exposes two realities about the region's automotive market: a slowing pace of new-vehicle sales and a growing consumer preference for trucks, crossovers and SUVs over sedans.
GM confirmed late Monday that in March it will shut down one of two production shifts at its Detroit-Hamtramck assembly plant that builds Chevrolet Volt, Cadillac CT6, Chevrolet Impala and Buick LaCrosse sedans, resulting in the layoff of 1,300 workers.
That decision came on top of the temporary idling of five other North American plants in January that build other GM sedan models, a step taken to reduce a ballooning inventory of unsold cars on dealer lots. Ford (F) - Get Report and AutoNation (AN) - Get Report executives have said they believe that U.S. auto sales are at a "plateau." AutoNation is the top retailer of new vehicles in the U.S.
A GM statement noted that the shift cancellation at Detroit-Hamtramck was reached in order to trim inventory and to align production with "forecasted market demand," suggesting that the No. 1 U.S. automaker is expecting sluggish sedan sales to persist.
GM's decision to slow production and keep inventories at a healthy level is being watched closely by equity analysts, who noted that the company prior to its 2009 bankruptcy often used financial incentives and price-cutting to stimulate sales when demand was cooling. Mary Barra, CEO, has promised shareholders that the automaker will exercise restraint when faced with slowing sales in order to maintain a strong balance sheet.
In November, GM reduced production of sedans to two work shifts from three at its Lordstown, Ohio, assembly plant and one in Lansing, Mich., resulting in 2,000 losing their jobs.
Analysts are mixed on the outlook for U.S. automotive retail sales in 2017, as 2016 could close as the seventh straight year of strong or rising U.S. sales. Joseph Spak of RBC Capital Markets, in an investment note, revised sales slightly upward for next year to as much as 17.35 million vehicles.
Spak noted that the underlying economic signals influencing vehicle sales in the U.S. are mixed. Promises by the incoming U.S. presidential administration to initiate infrastructure projects are a positive signal for the industry, he wrote, against the negatives of rising interest rates, falling values of used vehicles, along with negative equity in many vehicles owned by consumers, which slows trade-ins.
At the end of November, GM had an 86-day supply of vehicles on dealer lots, compared with an industry average of 73 days and 69 days a year earlier. GM executives told analysts they wish to keep the inventory at 70 days supply.
Doron Levin is the host of "In the Driver Seat," broadcast on SiriusXM Insight 121, Saturday at noon, encore Sunday at 9 a.m.
This article is commentary by an independent contributor. At the time of publication, the author held no positions in the stocks mentioned.