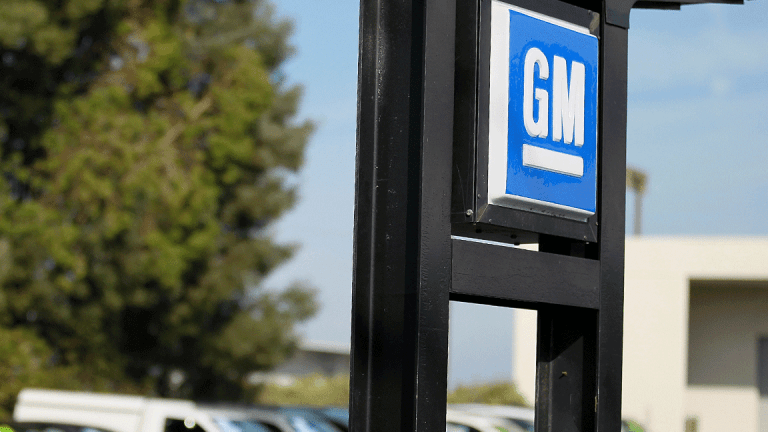 GM's New Price Target; Mechanical Market Movement: Doug Kass' Views
Doug Kass shares his thoughts on GM's new price target and also discusses the mechanical market's movement.
Doug Kass shares his thoughts on GM's new price target and also discusses the mechanical market's movement.
Here are Doug Kass' top thoughts on some of the biggest stories of the week.
Hard to Justify This New GM Price Target
Brother BankAmerica/Mother Merrill upgrades General Motors (GM) - Get Report and raises the price target from $40 to $57, citing:
"The analyst said has been pursuing expansion opportunities at an accelerating pace while maintaining its core truck and global auto business. The analyst believes General Motors has a first move advantage with its ability to integrate an autonomous electric vehicle into a ride hailing fleet and/or shared fleet enveloped with OnStar. This will allow General Motors to defend its current market share as the company pushes into creating a more valuable mobility product for consumers that will ultimately drive shareholder value."
Having run two institutional research departments on Wall Street I have to ask myself (and you should, too) what has really changed to justify a 40% rise in the analyst's price target?
The obvious answer is that even analysts today, besides traders and machines. worship at the altar of price momentum, and this analyst acquiesced to the recent strength in the shares.
Stated simply.
Position: None .
Originally published Oct. 3 at 7:17 a.m. ET
More of What's Trending on TheStreet:
Mechanical Market Moves Higher
The market continues to trade almost mechanistically to this observer.
There are few real sectoral outliers -- from a performance perspective -- today.
Telecoms, autos ( upgrade and strong SAAR), airlines (Delta (DAL) - Get Report hurricane update interpreted positively), homebuilders (Lennar (LEN) - Get Report post earnings strength) and Staples (SPLS) are leading the pack, while bricks-and-mortar retailers (that decline started post haste yesterday), semi equipment and healthcare are laggards. (Note: I had a great idea trading autos long yesterday and I should not have aborted that trade! But investment wisdom is always 20/20 in the rear view mirror.)
Tech is trading in line with the averages.
Treasuries are bouncing a bit after a period of reflation-driven weakness. The 10-year yield is down 1 to 2 basis points and long-term yields are flat.
Crude oil is flattish after falling 2% on Monday.
No trades today, yet.
Position: short TLT.
Originally published Oct. 3 at 1:45 p.m. ET
Doug Kass shares his views every day on RealMoneyPro. Click here for a real-time look at his insights and musings. This week he blogged on:
How his short- and long-term outlooks on Twitter are
How he's reducing exposure
Click here for information on RealMoney, where you can see all the blogs, including Doug Kass'--and reader comments--in real time.
More of What's Trending on TheStreet:
Action Alerts PLUS, which Cramer manages as a charitable trust, has no positions in any stocks mentioned.