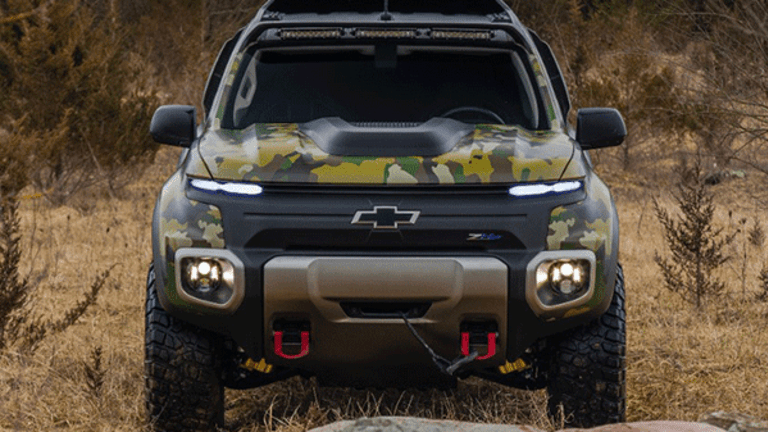 The U.S. army took the keys to a General Motors (GM) - Get General Motors Company (GM) Report midsize pickup, specially equipped with a fuel-cell propulsion system which has the potential to confer big benefits to its possessor in the way battles are waged.
Imagine for a moment a special forces squad that is able to travel significant distances in an electric vehicle, filled with electronic gear, making little or no sound. Or a spotting vehicle for tanks and artillery that leaves an insignificant heat signature because it lacks an internal combustion engine.
The army will test the Chevrolet Colorado ZH2 for the next year under field conditions at a number of U.S. military installations, including Ft. Benning, Ga.; Ft. Bragg, N.C.; and the Marine base in Quantico, Va. Because fuel-cell vehicles consume hydrogen and generate electricity, they are nearly silent; fuel cells emit steam as a byproduct so they could be very handy in places where water is scarce.
Following testing, the army will evaluate fuel-cell technology's near-term applicability to modern warfare. The military conceivably could buy technology from GM, as well as trucks manufactured by GM that are equipped with fuel cells.
"Fuel cells have the potential to expand the capabilities of Army vehicles significantly through quiet operation, exportable power and solid torque performance, all advances that drove us to investigate this technology further," said Paul Rogers, director of the Tank Automotive Research, Development and Engineering Center (TARDEC) in Warren, Mich.
Charlie Freese, executive director of GM's Global Fuel Cell Activities said: "Over the next year, we expect to learn from the Army the limits of what a fuel cell propulsion system can do when really put to the test."
GM and several other automakers, notably Toyota (TM) - Get Toyota Motor Corp. Sponsored ADR Report and Honda (HMC) - Get Honda Motor Co., Ltd. Sponsored ADR Report , have been interested for decades in the potential of hydrogen as a basic fuel for the creation of electricity used to power vehicles for consumers. Honda has begun to lease its Clarity, while Toyota manufactures the Mirai. GM, so far, isn't talking about when it might offer a fuel-cell vehicle to the public.
In January, GM and Honda announced an $85 million venture to build fuel cells at a factory outside of Detroit. One significant hurdle to the growth of the technology is a lack of a fueling infrastructure for making and distributing hydrogen. But the hydrogen infrastructure is bound to develop as the use of fuel cells increases.
Doron Levin is the host of "In the Driver Seat," broadcast on SiriusXM Insight 121, Saturday at noon, encore Sunday at 9 a.m.
This article is commentary by an independent contributor. At the time of publication, the author held no positions in the stocks mentioned.