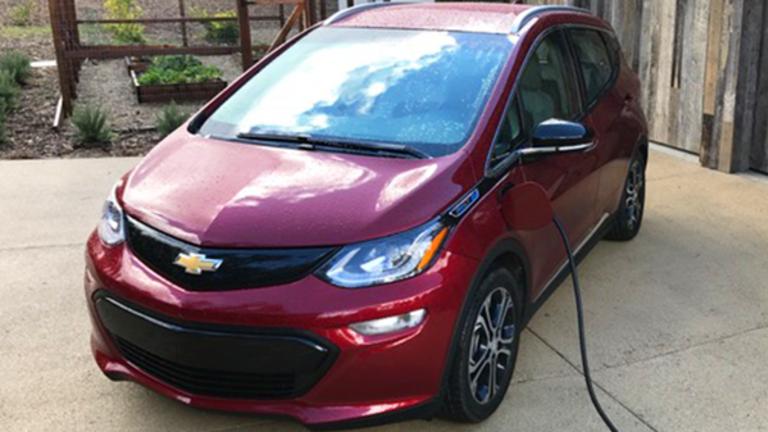 GM's Chevy Bolt Hopes to Break Through to More Than Just a Niche Audience
With 238 miles of range and price incentivized by federal tax credit, GM;s Chevy Bolt is the best electric vehicle of its class so far.
Irony of ironies: Just as General Motors (GM) - Get Free Report begins selling arguably the best battery-powered car ever, the new U.S. president's administration prepares to relax environmental regulation and possibly withdraw the U.S. from the global climate coalition.
GM engineers designed Bolt EV -- and the Chevy Volt extended-range electric before it -- to conform to rising legal, environmental and legislative pressure against vehicles that emit carbon dioxide, which many scientists blame for global climate change.
Chevrolet Bolt EV, a five-passenger crossover with a range of 238 miles on a single charge, is now available mostly at Chevy dealers in the San Francisco and Los Angeles areas. That's where GM reckons demand is highest for Bolt EV, based on market research and California's zero-emission rules, which gave rise to the car's creation.
Nissan's (NSANY) battery-powered Leaf sedan is an impressive vehicle as well, though with less than half the range of Bolt EV. Tesla's (TSLA) - Get Free Report Model S is a prestige luxury electric with plenty of range, though twice as expensive as Bolt EV and out of reach of most consumers.
Starting at just under $30,000, after a $7,500 federal tax credit, Bolt EV can cost as much as $44,000 loaded with every available option, such as leather-wrapped steering wheel, luggage rack and blind-spot alert.
During an 80-mile drive through the hills west of Menlo Park, Calif., along the Pacific Coast Highway and ending in downtown San Francisco, Bolt EV showed just how practical and even enjoyable a battery-powered car can be. With a 60-kilowatt battery powering an electric motor driving the front wheels, the car produces 200 horsepower and 266 foot-pounds of torque, which are plenty for the steep and winding incline to the ridge overlooking the Pacific.
During the next leg, the drive down to the sea, Bolt EV showed its energy-saving talents. Chevy engineers designed a system that lets the driver regenerate electrical charge to the battery by activating either a lower gear or a paddle on the steering wheel that acts as a brake, or a combination of the two. Extending the battery's range with regenerative braking is a challenge; it's also fun to feather the paddles and the accelerator, depending on the terrain, to optimize energy use and regain lost miles.
Charging the Bolt EV can be accomplished from a normal 120-volt outlet, though it's painfully slow compared to the available $700, 240-volt charger that can restore the entire range of the car in nine hours. (GM said the price of Bolt's up-level charger may be rolled into the loan or the lease). An even faster charge, adding 90 miles of range in 30 minutes, is available at commercial locations.
Bolt EV will be an ideal choice for anyone who has a relatively short daily commute, a garage or outlet for charging and a prejudice against gasoline or, perhaps, a hankering to experience advanced technology.
By summer, GM will be distributing Bolt EVs in all 50 states. Though sales activity is expected to be strongest in California, consumers everywhere will have a chance for a test drive. So far, battery-powered cars have been a pretty tough sell but with its advanced features, Bolt EV could be the first electric to tempt a substantial number of buyers.
Doron Levin is the host of "In the Driver Seat," broadcast on SiriusXM Insight 121, Saturday at noon, encore Sunday at 9 a.m.
This article is commentary by an independent contributor. At the time of publication, the author held no positions in the stocks mentioned.