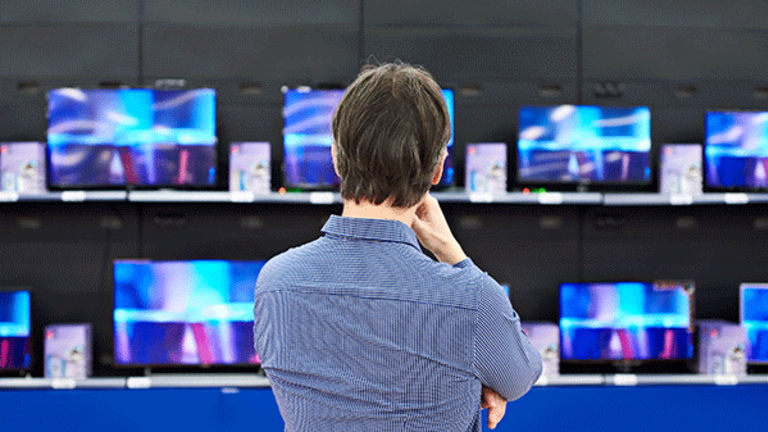 Global Week Ahead: Eurozone Inflation to Perk up But Has Sunshine Swept Away U.K. Brexit Blues?
Chinese purchasing managers' indices for August will also feature among the global data highlights.
Consumer price data from the eurozone and purchasing managers' indices for China's manufacturing sector will be among the data highlights of the global week ahead.
The week starts quietly, with the U.K., and London markets, closed on Monday for a public holiday, though Asian markets may gain impetus from comments due on Saturday from Bank of Japan Governor Haruhiko Kuroda at Jackson Hole. They will also get their first chance to react to Fed boss Janet Yellen's speech on Friday at the annual get-together in the Wyoming mountain resort.
From Japan on Tuesday, analysts expect a year-on-year decline in retail sales to have narrowed in July to 0.9% from a drop of 1.4% in June, which marked the fourth consecutive monthly contraction.
Later on Tuesday comes preliminary German consumer price data for August. Credit Suisse analysts expect a 0.6% annual inflation rate, up from a July rate of 0.4%, with month-on-month price growth slipping to 0.2% from 0.4%, on an EU-harmonized basis. Separate figures from Spain are expected to show prices stabilized on the year after a 1.3% annual decline in July, according to Credit Suisse.
GfK's U.K. August consumer confidence survey, also due on Tuesday,  will be closely watched for evidence of Brexit malaise.
GfK's German survey, out on Friday, came in better than expected but the market research group's July report for the U.K. recorded the sharpest monthly fall in 26 years, with the index dropping to minus 12 from minus 1. Since then better-than-expected retail data has suggested good summer weather restored the feel-good factor despite Brexit worries.
U.K. data on mortgage approvals for July also out on Tuesday should show a fall to about 63,500 from just under 64,800 in June, according to Credit Suisse.
Also on Tuesday the European Commission's Economic and Financial Affairs Directorate General releases August data on economic sentiment, the business climate, consumer confidence and sentiment in the services industry.
Tuesday's German and Spanish inflation data is followed on Wednesday by a eurozone-wide price report for August, as well as separate figures for France and Italy.
Analysts expect July's 0.2% eurozone annual inflation rate inflation to have risen to 0.3% in August, according to the consensus.
Also on Wednesday come German unemployment figures for August. The unemployment rate held steady at 6.1% in July. Eurozone unemployment figures for July which follow later are expected to show a decline in the unemployment rate to 10.0% from 10.1%, according to a consensus published by FXStreet.
On Thursday in China, government and Caixin/Markit purchasing managers' indices for August will vie for the attention of investors hungry for information about the extent of China's economic slowdown. The government survey , which focuses on the largest state-owned enterprises, is often at odds with Caixin/Markit, which poll smaller companies.
The Caixin/Markit manufacturing PMI is expected to have slipped in August to 50.2 from 50.6, while the government index is expected to be unchanged at 49.9.
In July the Caixin/Markit manufacturing index rose for the first time in 17 months as factory output, new orders and buying activity all returned to growth, but the government index unexpectedly entered contraction territory. The government's non-manufacturing purchasing managers' index rose to 53.9 in July from 53.7.
A rolling schedule of Markit August purchasing managers' index releases on Thursday will linclude the final take on the eurozone manufacturing index, which came in at a three-month low of 51.8 according to a preliminary report, after individual country releases for Germany, France, Italy and the U.K.
On Friday the PMI for the U.K. construction sector will shed light on the damage the country's Brexit vote is doing to the real estate market. Investors are looking for the index to have nudged up to 46.1 from 45.9, staying under the 50 threshold where contraction ends and growth begins.
Among the corporate highlights next week are first-half from Fiat Chrysler Automobiles (FCAU) shareholder Exor on Monday.
On Tuesday, before Asia markets open, Hong Kong-listed luggage maker Samsonite International (SMSOF) will release first-half results.
French conglomerate Bouygues, which this year tried unsuccessfully to merge its telecoms unit with Orange, reports half-year results on Wednesday, as does Iliad, the acquisitive French wireless services group.
French spirits maker Pernod Ricard follows with annual figures on Thursday, with its results likely to be closely watched by investors in other drinks makers and consumer groups for clues on Chinese demand.