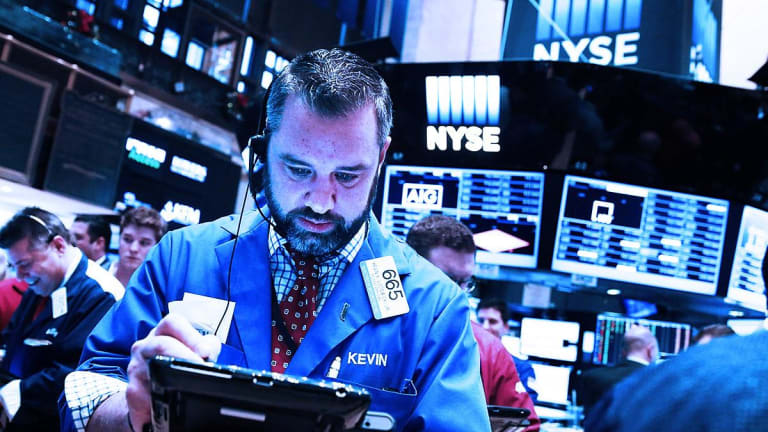 Global Stocks Hit 6-Month High, Oil Tests $70, as Bulls Retake Hold of Markets
Global stocks scaled a six-month high Wednesday, as oil prices approached $70 a barrel for the first since early November, as investors continue to bet on China's improving economy and a breakthrough in trade talks between Washington and Beijing.
The Wednesday Market Minute
Global stocks hit a six-month high as stronger China data, as well a potential Brexit breakthrough, boosts investor sentiment.
U.K. Prime Minister Theresa May will ask for a second Brexit extension as she vows to reach across the aisle to cut a non-partisan agreement that would avoid a damaging no deal Brexit for the world's fifth largest economy.
Brent crude prices test $70 a barrel, while U.S. oil extends gains, amid stronger China demand, sanctions concerns and the lowest OPEC output levels in four months.
U.S. equity futures suggest a fifth day of gains for the S&P 500 today ahead of mortgage data at 8:30 am Eastern Time as well as Services PMI data at 9.45 am and ISM non-manufacturing figures at 10:00 am.
Market Snapshot
Global stocks scaled a six-month high Wednesday, as oil prices approached $70 a barrel for the first since early November, as investors continue to bet on China's improving economy and a breakthrough in trade talks between Washington and Beijing.
Market sentiment was also boosted by a move late Tuesday by U.K. Prime Minister Theresa May to reach out to her political rivals in the opposition Labour Party in order to find a way through Britain's current Brexit crisis. May also said she would ask the EU for another extension to the April 12 exit deadline in a move many investors interpreted as a signal that she will not allow a disorderly hard Brexit that would damage domestic growth and cause major disruptions in economies in Europe and around the world.
May's Brexit gambit, along with stronger-than-expected data from China which showed service sector activity jump to the highest level in 14 months, boosted stocks in Asia and helped the broadest measure of share prices, the MSCI All-Country World Equity Index, to the highest level in six months.
U.S. equity futures were also suggesting a solid start to the Wednesday session, with contracts tied to the Dow Jones Industrial Average indicating a 94 point gain at the start of trading and those linked to the S&P 500, which has gained around 14.4% so far this year, prices for an 11.8 point advance at the opening bell.
Caterpillar Inc. (CAT) - Get Report shares were indicated lower after analysts at Deutsche Bank cut their rating on the stock amid concerns the industrial equipment maker's order book could register negative growth over the near term as the global economy slows.
Dave & Buster's Entertainment (PLAY) - Get Report shares were sharply higher after the themed restaurant group posted stronger-than-expected fourth quarter earnings and comparable sales growth thanks in part to a new virtual reality game platform leveraging movies series such as Men in Black and Star Trek.
GameStop Corp. (GME) - Get Report  , however, were indicated sharply lower after the the world's largest video game retailer posted weaker-than-expected first quarter profits and said it wouldn't give guidance on earnings for the full year.
European stocks opened firmer, with the Stoxx 600 rising 0.6% by mid day in Frankfurt, after hitting highest since August 10, thanks to stronger-than-expected readings for service sector activity around the single currency area in March, which comprises around 65% of the growth for the world's biggest economic bloc.
Britain's FTSE 100, however, traded marginally lower thanks to a stronger pound, which hit a March 28 high of 1.3191 following last night's Brexit statement from the Prime Minister.
The improved global sentiment was supported by comments from White House economic advisor Larry Kudlow, who told the U.S. Chamber of Commerce yesterday that a "larger, grander discussion" on trade was taking place with China and that the U.S. expects to make "more headway" in talks with Vice Premier Liu He later this week in Washington.
President Donald Trump's decision to hold off on closing the U.S. border with Mexico, a move Republican Senate Majority Leader Mitch McConnell said would cause "potentially catastrophic" economic damage, was also cited by traders as a component of the bullish market backdrop.
Benchmark 10-year Treasury note yields, as a result, rose to 2.519% in early European trading, the highest in two weeks and a move that puts a positive slope of more than 10 basis points between 3-month Treasury bills, erasing much of last week's concern than an inverted yield curve could signal near-term recession in the world's biggest economy. German bund yields, as well, were 5 basis points higher on the session and traded with a positive yield for the first time in early two weeks.
Global oil prices were also on the march, rising for a fourth consecutive session and taking Brent crude to within a few pennies of the $70 mark, a level last seen in early November, as data showed OPEC production levels hitting a four-month low.
Crude was also getting a boost from reports that waivers issued by the U.S. to eight countries last year, allowing them to buy sanctioned Iranian crude inside a six month window, may not be extended when the expire next month and the Trump administration looks to add further pressure on Tehran following its decision to exit a multi-lateral nuclear weapons treaty in 2018.
Brent crude contracts for June delivery, the global benchmark for oil prices, were marked 40 cents from their Monday close in New York and changing hands at $69.77 per barrel while WTI contracts for May delivery were seen 20 cents higher at $62.75 per barrel, the highest since November 5.