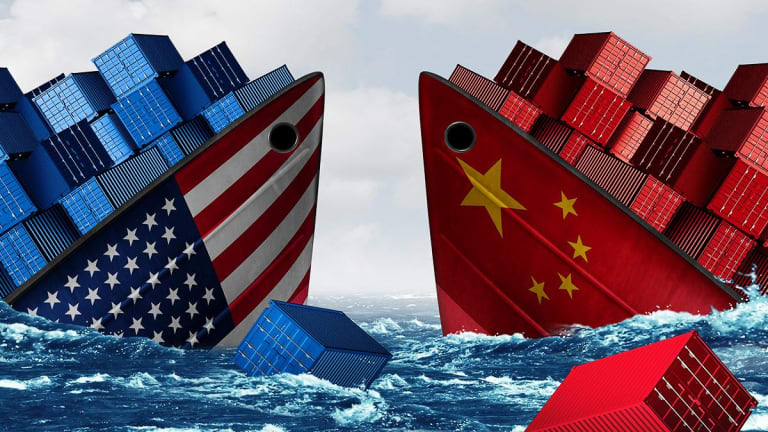 Global Fund Managers Hedging, But Not Selling, In May as Trade War Simmers -BAML
Global fund managers are protecting their portfolios against a sharp fall in stocks as trade talks between the U.S. and China sputter and risks of slowdown in world economic growth increases, according to Bank of America Merrill Lynch's benchmark survey
Global fund managers are protecting their portfolios against a sharp fall in stocks as trade talks between the U.S. and China sputter and risks of slowdown in world economic growth increases, according to Bank of America Merrill Lynch's benchmark survey published Tuesday, while a growing number citing risking corporate debt as an added risk to market performance.
Fund managers have trimmed global stock allocations by 6 percentage points this month to a net overwright of just 11%, the Mary BAML survey of 195 investors controlling around $687 billion in assets revealed, with cash allocations climbing 7 percentage points to a net overweight of 33%. At the same time, nearly a third of respondents said they've taken out protection against a steep decline in global stock markets, the highest in the survey's history, but remain sanguine over the prospects of a global recession.
"FMS investors are well-hedged but not positioned for a breakdown in trade talks" said BAML's chief investment strategist Michael Hartnett. "Investors see little reason to 'buy in May' unless the 3Cs - credit, the consumer, and China - quickly surprise to the upside."
President Donald Trump said Monday that "we'll let you know in three or four weeks" if trade talks with China will prove successful after Beijing boosted tariffs on $60 billion worth of U.S. imports following his move to apply fresh levies of 25% ON $200 billion worth of China-made goods last week.
Trade remains the biggest concern for global fund managers polled in the survey, BAML said, holding its place for eleven of the past twelve months. A slowdown in China growth came second on the list, followed by uncertainty linked to U.S. politics.
"The dominant concerns of investors since 2011 have been Eurozone debt & potential breakdown; Chinese growth; populism, quantitative tightening & trade wars," the survey said.
China's decision to reply to U.S. tariffs sent markets reeling yesterday on Wall Street, with the Dow Jones Industrial Average plunging more than 600 points to a three-month low and the S&P 500 giving back 69.5 points to take its decline since President Donald Trump first threatened tariffs on May 5 to 4.5%.
The broader impact of a trade-related slowdown in both global and U.S. economic growth is a more pressing concern, however, and is starting to be acknowledged by members of the Federal Reserve, one of which hinted at lower interest rates as a potential counterweight yesterday.
"If the impact of the tariffs - and whatever financial market reaction to those tariffs is - causes more of a slowdown, then we do have the tools available to us, including lower interest rates," Boston Fed President Eric Rosengren told Reuters.
Fund mangers, however, don't expect the Fed to step in with lower rates until the S&P 500 falls to as low as 2,305 points, a near 18% slump from last night's closing levels.
"Fears about the credit cycle remain the primary concern of the Fund Managers' Survey," BAML said. "With 41% saying they think corporate balance sheets are overleveraged,down 3ppt MoM; note Dec'18 & Jan'18 were record highs."
TH