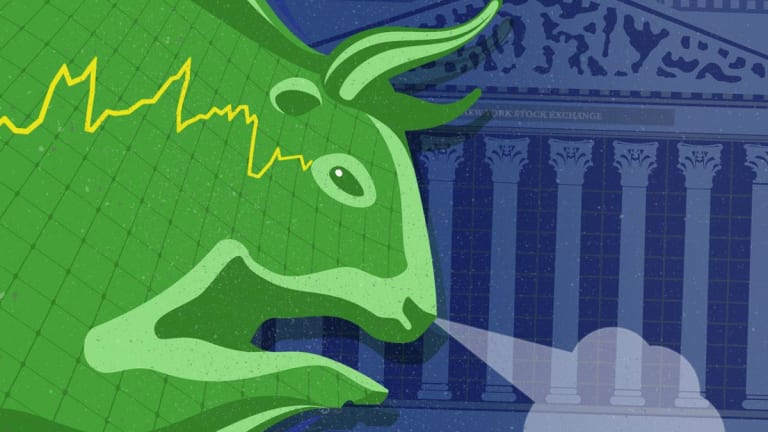 Today marks the longest bull market in history, by some measures: a winning streak for the S&P 500 undefined dating back to March 9, 2009.
There's some debate about whether the current bull market is longer than the one that ran from 1990 to 2000, and there are even people who say that U.S. equities have been enjoying a bull market essentially since 1982. But there's no debate about the numbers: the S&P 500, which reached an intraday high of 2,873.23 on Tuesday, is more than four times higher than it was in March 2009.
With dividends reinvested, a $100,000 stake in an S&P index fund in March 2009 would be worth $445,471 today, according to a price calculator. That's in spite of any number of geopolitical and economic disruptions, ranging from currency collapses in emerging markets to the rise of President Trump and talk of a global trade war.
The hero of the tale, though is not a politician or economist or Fed chairman: it's U.S. and global consumers, several investors told TheStreet.
"The consumer is in great shape and there is a lot of confidence in the economy," said Cliff Hodge, director of investments at Charlotte-based Cornerstone Wealth, which has about $1.3 billion under management. "We think trade deals, which may start being announced as early as this week, will power markets higher going into midterms [elections]. We're also encouraged that markets have been resilient, shaking off headlines on Turkey, tariffs and trade but without a sense of euphoria which is common at the end of market cycles."
And it's not just the U.S.: consumers around the world have steadily been moving upwards economically, fueling demand for U.S. products and in turn, demand for U.S. equities, according to Jeffrey Kosnett, senior editor at Kiplinger.
"There are oceans of cash chasing fewer stocks and so much money sloshing around the world, and only so many stocks out there that are investible," Kosnett said in an interview. "Every country has a consumer class that's moving up to a higher base."
Another change over the course of this bull market is people have learned to rely on equities as the surest way to wealth, which means ignoring what turns out to be temporary events and seeing the big picture.
"People have learned not to dump on short term flips," said Kosnett, 62, who pointed out that there have been geopolitical events every year since he began to walk. "Until something stops working, stay with it rather than try to predict trouble."
Kosnett wouldn't say whether there's ever been a better time for equity investors, but compared the present era favorably with some times in the past, as in the '80s and '90s which some called the death of equities era.
"Today we're more in a range with inflation, it's steadier and more predictable, and [investors] can count on rates not going to 14%," he said. "Bond traders might get spooked, but looking back a generation it was way more challenging. Individual companies like General Electric (GE) - Get General Electric Company (GE) Report may struggle, but across the board things are more understandable and a lot steadier than they were in prior generations."
He cited Boeing (BA) - Get Boeing Company Report , 3M (MMM) - Get 3M Company Report , McCormick (MKC) - Get McCormick & Company, Incorporated (MKC) Report and Johnson & Johnson (JNJ) - Get Johnson & Johnson (JNJ) Report as among the U.S. companies that will likely prosper for years to come because they have markets in hundreds of countries and products that people around the world find desirable. 3M is an Action Alerts PLUS holding.
"Now that the Chinese have stopped throwing smart people into labor camps and let them build some wealth, U.S. companies have good stories to tell," Kosnett said.
So, whether now is the longest, or second longest, bull market ever, or is just extending the longest one, it's a good time to be in the market, said Ed Yardeni at Yardeni Research, in a new blog post.
"We know there's an escalating trade war, but the earnings situation is so bright" that the bull market has some ways still to run, he said.
Yardeni's S&P 500 target: 3,100 by the end of the year.