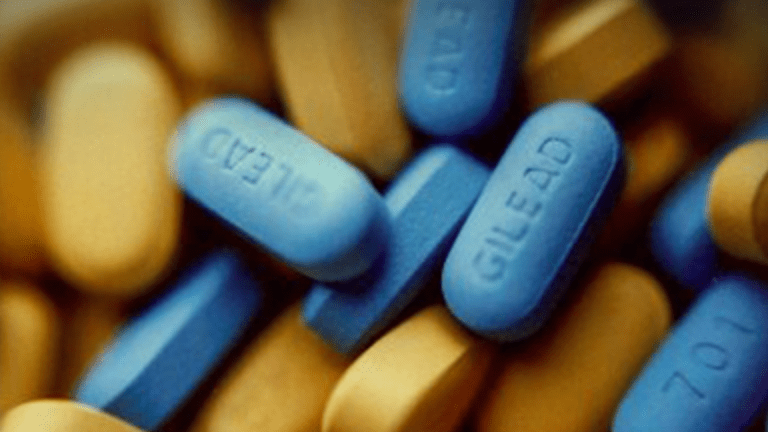 Gilead Sciences Slips on Goldman's Downgrade to Sell
Shares of Gilead Sciences fall after Goldman Sachs downgrades the stock to sell from neutral.
Shares of Gilead Sciences (GILD)  closed down 4.37% to $63.97 Tuesday after Goldman Sachs (GS) downgraded the biopharmaceutical company to sell from neutral.
Analyst Terrence Flynn also lowered his price target to $60 from $70 for the Foster City, California-based company. Flynn wrote that near-term he expected the company's top-line growth to decelerate as loss of exclusivity for its HIV treatments Truvada and Atripla represents a $3 billion headwind for the company.
Longer term, Flynn projected that Gilead Sciences' treatment Biktarvy can only protect about half of the company's $16 billion HIV franchise from generic competition.
Flynn said that while Gilead Sciences' competitors Bristol-Myers Squibb (BMY) and AbbVie (ABBV) also have current or upcoming loss of exclusivity exposure, the two companies "have new product cycles and/or pipelines that offer more optionality in our view."
In contrast, Flynn wrote, Gilead will only have one year to launch and market its Descovy combination pill for pre-exposure prophylaxis (PrEP) ahead of the entry of Truvada generic in Sept 2020. The company also has a very limited mid-to-late stage pipeline, Flynn wrote, "and we are lowering our estimates on immunology drug Filgotinib given emerging competition and recent data."
"We expect rebuilding the pipeline be to a key focus of (Gilead's) new CEO given his commentary on the 1Q19 call," Flynn wrote, "and while the company has a strong balance sheet this can take time to accomplish."