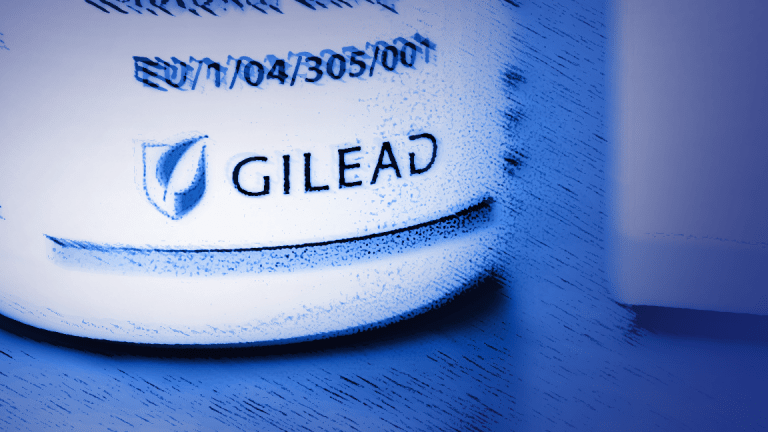 Gilead Sciences Has Right Prescription on First-Quarter Earnings
Gilead Sciences' adjusted earnings in the first quarter beat analysts' expectations.
Shares of Gilead Sciences (GILD) rose 2.5% to $66.90 Friday after the pharmaceutical company beat Wall Street's first-quarter expectations. 
The company reported net income of $1.98 billion, or $1.54 a share, compared with $1.54 billion, or $1.17 a share, a year ago. Adjusted earnings were $1.76 a share, beating analysts' expectations of $1.61. Revenue totaled $5.28 billion, up from $5.09 billion a year. Wall Street was forecasting revenue of $5.3 billion.
HIV product sales totaled $3.6 billion for the first quarter compared with $3.2 billion a year ago, the company said, while chronic hepatitis C virus product sales were $790 million compared with the year-ago figure of $1 billion. 
Other product sales, which include products from Gilead's chronic hepatitis B virus (HBV), cardiovascular, oncology and other categories, were $696 million for the first quarter of 2019 compared with $745 million for the same period in 2018. The decrease was primarily due to the expected decline in sales of the angina treatment Ranexa after generic entry in the first quarter, Gilead said.
The company reiterated its earlier guidance and expects relatively flat 2019 product sales of $21.3 billion to $21.8 billion.
Separately, Gilead said Kite Pharma, the cancer-focused cell therapy company it acquired in 2017, will become a separate business unit. Kite is mostly known for Yescarta, a CAR-T cell therapy currently approved to treat certain types of lymphoma.
Click here for Dave Butler's take on Gilead Sciences.