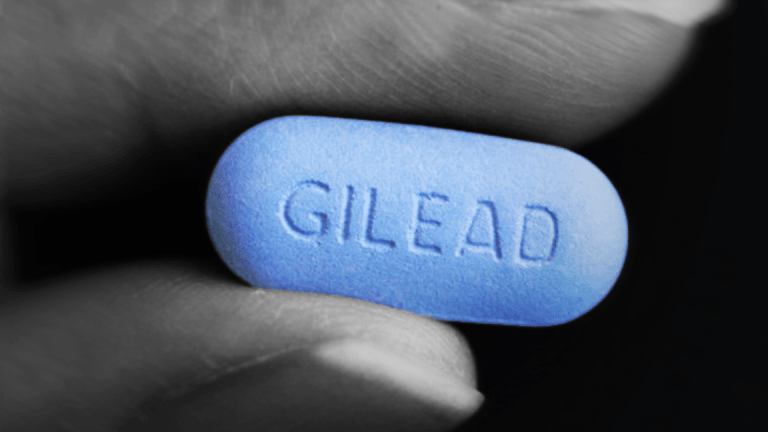 Gilead Sciences Falls on Failed Cirrhosis Drug Trial of Selonsertib
Gilead Sciences says Selonsertib, a new drug for treating NASH, a type of liver disease, failed Phase 3 trials.
Gilead Sciences Inc. (GILD) - Get Gilead Sciences, Inc. (GILD) Report  fell 3.3% to close at $65.40 in Tuesday's trading after announcing its new liver disease drug Selonsertib failed in Phase 3 trials.
Selonsertib is an investigational drug taken orally that was expected to treat patients with compensated cirrhosis caused by nonalcoholic steatohepatitis, or NASH, a chronic and progressive liver disease characterized by fat accumulation and inflammation in the liver.
The American biotechnology giant said that STELLAR-4, a Phase 3, randomized, double-blind, placebo-controlled study of Selonsertib didn't show tissue improvements in fibrosis without worsening of NASH in patients.
"While we are disappointed that the STELLAR-4 study did not achieve its primary endpoint, we remain committed to advancing therapies for patients with advanced fibrosis due to NASH, where there is a significant unmet need for effective and well-tolerated treatments," said John McHutchison, Gilead's chief scientific officer and head of research and development, in a press release. "Data from this large study of patients with compensated cirrhosis due to NASH, including the extensive set of biomarkers collected, will further advance our understanding of the disease and inform our broader NASH development programs." 
According to the company, Selonsertib works as a small molecule inhibitor of ASK1, a protein that promotes inflammation, cell death and fibrosis in settings of oxidative stress. 
NASH can lead to scarring, or fibrosis, that impairs functioning of the liver. People suffereing with advanced fibrosis, like bridging fibrosis or compensated cirrhosis, have a much higher risk of death.
Gilead shares have risen 6.5% year to date vs. the S&P 500's 8% rise in the same period.