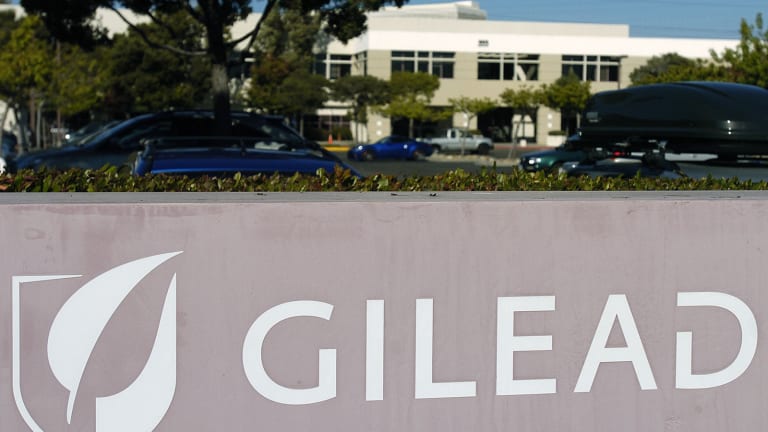 This commentary previously appeared at 9 a.m. ET on Real Money Pro. Click here to learn about this dynamic market information service for active traders.
The market has had a nice week so far with another nice rally Wednesday. Oil is going in the opposite direction, pushing close to $40 a barrel. The strong correlation between equities and the direction of crude over the past few months seems to have lessened or even broken this week.
One sector gaining strength is biotech. After entering an "official" bear market late in September, the largest biotech ETF, the iShares Nasdaq Biotechnology (IBB) - Get iShares NASDAQ Biotechnology ETF Report , has been marching forward in a "two steps forward, one step back" fashion. It has made a series of higher lows and higher highs over the past eight weeks or so. The sector has really demonstrated solid performances this week, as even a recent laggard, biotech juggernaut Gilead Sciences (GILD) - Get Gilead Sciences, Inc. (GILD) Report , experienced a long-overdue rally over the past few trading sessions.
I was already overweight the large-cap growth names within the space before the sector's recent hiccup and it now makes up by far the largest allocation within my own portfolio after adding shares to my core positions during the sector's recent pullback. I find the industry one of the few I have confidence in as far as being able to continue churn out revenue and earnings growth in a very difficult global environment. This was again reaffirmed during the third quarter, when just about every big name in the sector easily stepped over both top- and bottom-line consensus.
The aforementioned Gilead is a perfect example of the numbers delivered this quarter from the sector. Gilead posted earnings of $3.22 per share during its recently completed quarter, more than $0.30 per share above expectations. These kinds of beats have been a regular occurrence since the company launched its blockbuster hepatitis C drugs Sovaldi and Harvoni in the first half of 2014. Revenues came in at $8.3 billion for the quarter, up more than 35% year over year and almost $500 million above estimates. Even with the rally in the stock this week, the shares are among the most undervalued in the market, selling at less than 9x this year's earnings. Gilead should deliver a free-cash yield of 8% to 10% in 2016, and it pays a dividend of 1.7%.
Amgen (AMGN) - Get Amgen Inc. Report and AbbVie (ABBV) - Get AbbVie, Inc. Report are two other large biotechs that delivered stellar quarters and are on the move this week. Both have deep pipelines, solid dividend yields and still priced at attractive valuations.
If the recent strength we have seen in the major names with the biotech index continues, I would look for the rally to spread to some of the small- and mid-cap names in the sector that were hit hard during the recent bear-market decline in the sector. Some names that have reported good news or had analyst upgrades that were overlooked during the recent weakness in the sector include Merrimack Pharmaceuticals (MACK) - Get Merrimack Pharmaceuticals, Inc. Report , Synergy Pharmaceuticals (SGYP) - Get Synergy Pharmaceuticals Incorporated Report and Progenics Pharmaceuticals (PGNX) - Get Progenics Pharmaceuticals, Inc. Report , all of which I have profiled here previously. All three had gains in the market Wednesday but still have further upside if sentiment continues to improve on what has been a beaten-down sector since summer, but it appears to be on the move again.
At the time of publication, Jensen was long ABBV, AMGN, GILD, MACK, PGNX and SGYP, although positions may change at any time.