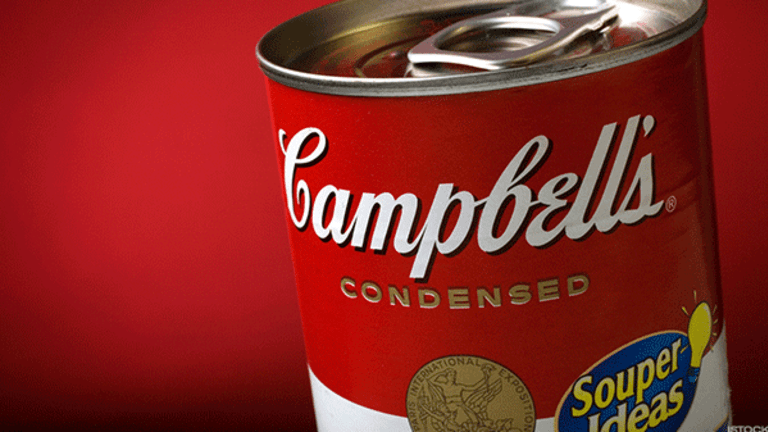 Getting Shorter; Soup Grows Cold: Best of Kass
In highlights from this week's trading diary and posts, Kass discusses Campbell Soup and presses his shorts.
Top thoughts on stocks and the markets from TheStreet's Doug Kass.
Getting Shorter

Originally published Aug. 25 at 11:53 a.m. EDT
Earlier in the week I suggested that I am zoned in and using the bond market as my very short term "market tell."
Position: LONG SQQQ.
Friday, iShares Barclays 20+ Year Treasury Bond ETF (TLT) - Get iShares 20+ Year Treasury Bond ETF Report is up by another $0.40 and bond yields are two basis points lower (the 10-year yield is down to 2.17%).
I am pressing my shorts (in a reasonably large way) now because of the fixed income strength.
My emphasis is shorting the Nasdaq - (helping to explain, in part why I am adding to my ProShares Trust UltraPro Short QQQ ETF (SQQQ) - Get ProShares UltraPro Short QQQ Report .
More of What's Trending on TheStreet:
The 30 Nastiest Storms in Recent U.S. History Have Caused Mind-Blowing Damage
Sorry, but I've Lost My Taste for Campbell Soup
Originally published Aug. 25 at 10:08 a.m. EDT
"Mmm mmm good. That's what Campbell Soup is mmm mmm good."
--Campbell Soup commercial
I have been wrong on Campbell Soup (CPB) - Get Campbell Soup Company Report and I plan to now cut my losses on much of my position.
My thesis on CPB was that:
* The company would reconstitute its product lines by moving toward fresh and healthy foods and rationalize its cost structure against a slowing top-line backdrop.
* Campbell Soup has a product moat that would be attractive to an acquirer and the shares were trading at a wide discount to private market value.
However, as Jim "El Capitan" wrote in his opening missive Friday, Amazon's (AMZN) - Get Amazon.com, Inc. Report foray into foods will squeeze everyone, and the squeeze is occurring post-haste. Specifically, late in the day Amazon declared war on high food prices and there is no way to determine how far it will go in its strategy to own the food space.
Campbell Soup's shares as well as those of food retailers such as Kroger (KR) - Get Kroger Co. (KR) Report and Costco (COST) - Get Costco Wholesale Corporation Report were schmeissed in Thursday's trading -- it was the worse day for consumer staples stocks all year.
I believe Amazon's initiatives will hurt CPB's earnings and secular growth prospects, but in all likelihood not as much as many are suggesting. That's because Amazon appears likely to cut perishable foods prices more than prices of the staple and more enduring products from a shelf-life standpoint that CPB sells.
That said, Amazon's move will create a degree of uncertainty that likely will weigh on Campbell's shares over the near term.
While I still expect Campbell to be acquired in the fullness of time, I suspect that time frame has been pushed out and, more importantly, the potential price for a deal likely has been marked down.
I have thought that the Dorrance family, which controls CPB, would be friendly toward a transaction considering how much capital at risk they had, but that supposition, too, appears to have been mistaken.
I took CPB off my Best Ideas List on June 19 at $55.05 and I plan to reduce this position from large to somewhere between medium and small in size.
Given that the value of CPB's product portfolio exceeds the current share price and with a well-protected $1.40 annual dividend, I don't see much downside in the shares from here. But, unfortunately, I don't see much upside either over the next few months.
I probably should have made this move sooner, but the Analyst Day highlighted smart (though late) strategic moves by the company. Amazon simply is getting more aggressive on price and is moving sooner than expected.
As well, the recently announced share buyback gave me confidence that the company believed profits would not be that vulnerable (i.e., profit would be sustained) and that the private market value of the company was much higher.
Mea culpa.
Position: Long CPB large.
Doug Kass fills his blog on RealMoney every day with his up-to-the-minute reactions to what's happening in the market and his legendary ahead-of-the-crowd ideas. This week he blogged on:
How he's going even bigger in Wells Fargo and Allergan.
How all good things, even for Amazon, must come to an end.
Click here for information on RealMoney, where you can see all the blogs, including Doug Kass'--and reader comments--in real time.
More of What's Trending on TheStreet:
The 30 Nastiest Storms in Recent U.S. History Have Caused Mind-Blowing Damage
Action Alerts PLUS, which Cramer manages as a charitable trust, has no positions in the stocks mentioned.