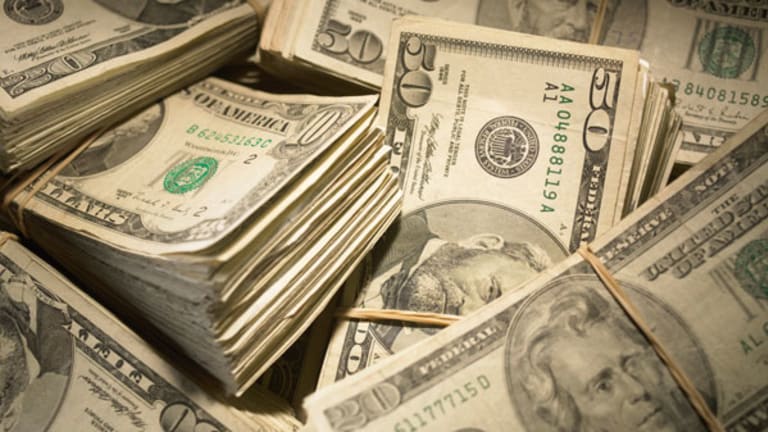 Get 'Real' and Protect Your Money (Update 1)
Gold, real estate and other 'real assets' combat the rise in inflation.
Updated for February's CPI report.
NEW YORK (TheStreet) -- Inflation erodes wealth. A way to counter the threat of rising prices is by investing in so-called real assets such as gold and real estate.
Central banks have flooded the markets with cash, oil prices continue to rise, and emerging market economies are growing rapidly. That means inflation is very likely to increase in the years -- if not months -- ahead.
The government's measure of inflation, known as the consumer price index, or CPI, showed that inflation increased 2.9% in February from a year earlier. That's lower than the average rate of 3.6% since 1980. However, John Williams, an economist at Shadow Government Statistics, thinks those numbers are grossly understated given the changes in CPI calculations. If inflation were measured the same way it was in 1980, the average increase over the past 30-plus years would be 7.7%, he says.
Now, compare that to yields on savings accounts and Treasury bills. It's not hard to realize that, based on inflation alone, many people are slowly watching the value of their money deteriorate.
Add to the equation the high correlation in the stock market and high volatility, and suddenly the rule of thumb of investing 60% of your money in stocks and 40% in bonds no longer provides the returns they once did.
8 Stocks Rising Fast on Rich People's Spending
It quickly becomes clear that investors need to beat inflation.
Cohen & Steers
(CNS) - Get Cohen & Steers, Inc. Report
, well-known as one of the largest real estate investment trust (REIT) investors in the world, suggests investing in real assets.
Investments in commodities, natural-resources equities and REITs, all backed by "real," or physical, assets, can diversify portfolios and mitigate volatility. Cohen & Steers' new fund, the
Cohen & Steers Real Assets Fund
, invests in all three of those categories.
"These groups are all attractive from a fundamental perspective," Cohen & Steers Chief Investment Officer Joseph Harvey says. "With values driven by increasing demand, barriers to supply and rising replacement costs, they also have inflation-fighting tendencies, which are the key to maintaining long-term purchasing power."
Commodities have historically outperformed stocks and bonds in periods when inflation is rising. Given the expectation for just that scenario, this is a good sector to consider investing in. The Cohen & Steers fund has allocated about 25% to 35% of assets to commodities. As much as 15% goes into gold. Even with gold trading at over $1,600 a troy ounce, the firm sees upside given supply and demand dynamics and the ability for the commodity to perform well in times of uncertainty.
10 Stocks Owned by Top Fund Managers
Natural-resources equities include investments in energy, mining, metals and agricultural businesses. The thought here is that many natural-resources companies are tied to commodities diminishing in supply, allowing for price increases that are ahead of inflation. Up to a quarter of the fund is invested in this category.
Investing in REITs has been a proven investment strategy in times of rising and declining inflation. As it stands now, commercial real estate still hasn't fully recovered from the large decline sustained in the 2008 financial crisis. In fact, valuations are very attractive and are expected to increase as the economy improves, while demand catches up with supply. That's already happening in multi-family REITs.
Also making REITs an attractive investment is the solid dividends the group pays. Historically, dividend growth at REITs has outpaced inflation by over 300 basis points. This sector is allocated to 25% to 35% of the fund.
The 10 Worst of the Worst in 2012
Alternative investments like commodities, natural-resources equities and REITs are a good way to mitigate volatility, protect against inflation and, when combining all three, generate returns in excess of standard stock and bond investments.
--
Written by Lindsey Bell in
New York.
>To follow the writer on Twitter, go to
Lindsey Bell
.