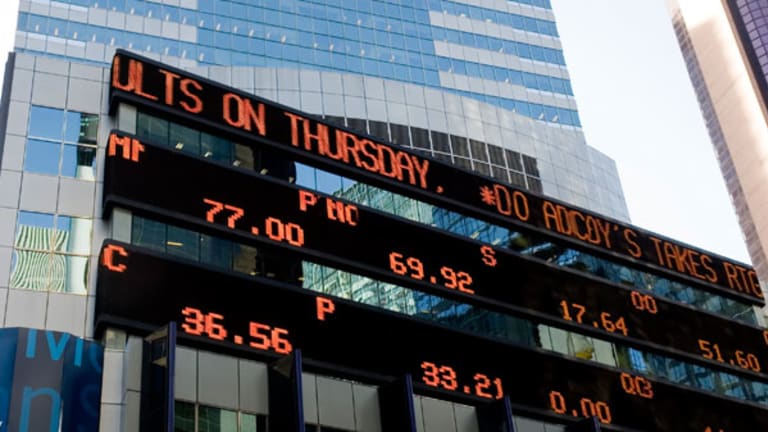 Get Ready for the M&A Boom
The stars are aligning for a big uptick in deal-making. Here's how to profit.
NEW YORK (Stockpickr) -- The recession of 2008 and 2009 turned out to be a godsend for many companies. The slowdown provided the opportunity to take a close look at expense structures, and many firms found ample areas to trim down. Those moves led to a steady spike in profit margins and an ever-rising pile of cash. The multi-year restructurings often kept management so busy that there was little time to look outside the business onto the broader landscape.
Yet as we head into the middle of 2012, the corporate playbook may soon change. Companies are now quite flush with cash, but a still-slow economy means further sales and profit gains may be elusive in coming quarters. Remember that top executives are rewarded with a slew of financial incentives to deliver rising sales and profits -- and a growing stock price.
To make that happen, a lot of these executives are now likely to be more susceptible to the pitch from investment bankers. That pitch: "Why not go out and buy yourself some growth through selected acquisitions?" Growth-through-acquisitions has been a proven strategy in past economic cycles, and this one is no different.
>>14 Deal-Ready Stocks for the M&A Boom
Why Now?
To be sure, with the exception of energy stocks, there hasn't been a whole lot of deal-making in the past few years. Not only did companies have ample opportunities to reap gains internally, but the broader economic backdrop was just too iffy. Nobody wants to do a major deal if the economy wobbles into recession. If that happened, the acquiring company could end up saddled with just one more headache to deal with.
But the economic picture in 2012 changes that view. The U.S. economy no longer appears at risk of slipping into recession, nor does it appear to be on the cusp of a robust upturn that can deliver solid internal growth. This "not too hot and not too cold" backdrop has always proven to be a key catalyst for a rising level of deal-making.
In fact, there's another factor that could turn this coming era of mergers and acquisitions into a boom like we've never seen. Though most companies might look to use their stock or cash to make deals, they're also well aware of the fact that interest rates have never been quite this low. Indeed, many cash-rich companies have gone out and sold bonds in recent quarters at very low rates -- simply because they can. As a result, they are sitting on gross cash levels that have never been so high.
And the cash-building continues. Consider that Fortune 500 companies issued $450 billion in in investment grade bonds 2011. In the first quarter of 2012, they issued another $310 billion, putting them on pace for more than $1 trillion in newly-issued bonds this year. Those aren't "rainy-day" funds but shopping-around money.
Who's on the Prowl?
It's fairly easy to round up a list of companies that may be in the market for a deal. For starters, we already know that some companies rely on acquisitions to extend their technology base. Firms such as
Cisco Systems
(CSCO) - Get Report
,
Dell
(DELL) - Get Report
,
Broadcom
(BRCM)
and others have a history of making "tuck-in" acquisitions that are typically worth between $100 million and $1 billion. (In
, we'll look at who these tech firms -- among others -- might be pursuing right now).
A second group of buyers seek bigger prey, the kind of major deals that can reap major cost-savings when two sets of overhead are combined into one. Take Big Pharma as an example. In just the last 15 years,
Pfizer
(PFE) - Get Report
bought Warner-Lambert for $90 billion in 1999 and Wyeth for $68 billion a decade later. Glaxo Wellcome acquired SmithKline Beecham for $76 billion in 2000, to become
GlaxoSmithKline
(GSK) - Get Report
. Biotech firms followed suit; in the last decade, Biogen bought Idec to become
Biogen Idec
(BIIB) - Get Report
, and
Roche Holdings
acquired Genentech.
>>5 Bargain Bin Stocks You Need to Buy
Of course, seeking big prey can be foolish if that prey is wounded.
Bank of America
(BAC) - Get Report
is still dealing with the fallout of ill-fated purchases of Countrywide Financial and Merrill Lynch. And Worldcom's acquisition of MCI in 1997 took both of those entities into eventual bankruptcy.
All of these deals were led by "strategic buyers" but the real action may lie with "financial buyers," also known as private equity. Goldman Sachs estimates that firms such as
Blackstone Group
(BX) - Get Report
and
KKR
(KKR) - Get Report
are sitting on a collective $360 billion in financial firepower.
And that figure may be dwarfed by the amount of money that foreign governments, through their sovereign wealth funds, might put in play. From Qatar to Norway to China, these funds have shown a ready willingness to diversify their portfolios away from their country and have a more globally-exposed portfolio. Foreign buyers have admittedly been fairly quiet on our shores while the U.S. dollar has rebounded in recent years, but any renewed dollar weakness, which makes our assets less expensive, should kick these foreign buyers into gear.
Of course, an upturn in deal-making benefits one group the most: M&A advisory firms. The three publicly-traded firms that investors can play the M&A trend with include
Lazard
(LAZ) - Get Report
.,
Evercore Partners
(EVR) - Get Report
and
Greenhill Partners
(GHL) - Get Report
.
Analysts expect these firms to boost revenue at a 10% to 20% clip this year, though those forecasts that M&A activity remains fairly quiet. If history is any guide, these firms can see their shares move up quickly once the M&A activity kicks into gear.
Watching for "Merger Monday"
Companies like to announce deals on Monday mornings. That gives both parties the entire weekend to cross the t's and dot the i's without risk that word will leak out. So it pays to watch the action on Mondays. Once a specific deal is announced, other firms in the same field quickly realize that they need to keep up, and they start to formulate their own deal-making plans. Case in point: In the summer of 2010,
Dell
(DELL) - Get Report
and
Hewlett-Packard
(HPQ) - Get Report
engaged in a bidding war for data storage firm 3Par (HP ultimately prevailed). Within months, 3Par's rivals, Compellent and Isilon, were also snatched up, delivering robust profits to shareholders that had the foresight to ride the M&A wave.
In
of this look at M&A trends, we'll more closely identify companies that may get acquired -- at a solid premium -- in coming quarters.
Stockpickr is a wholly owned subsidiary of TheStreet.com.