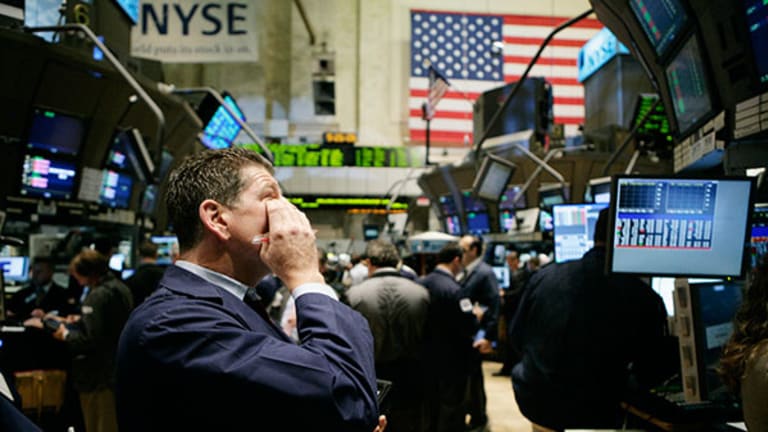 Get Out While You Can -- Wednesday's Stock Market Rally Won't Last
Yes, the stock market staged a big rally Wednesday. Don't be fooled. Stocks are still headed for a long slide.
NEW YORK (TheStreet) -- Stocks rose impressively Wednesday during another roller-coaster session, led by the Nasdaq's 5% surge. The Dow Jones Industrial Average and S&P 500 logged their largest gains since 2011.
The decision support engine warned before the market opened Wednesday that selling the CBOE Volatility Index (VIX) and buying stocks were the best strategies, because the internals in Tuesday's selloff were less negative than in Monday's wipeout.
By the end of Wednesday's session, the Dow had already tested the upside target zone (Dow 16,200, plus or minus 250) of that analysis. That raises a red flag on the amount of additional time that the "exit window" will remain open and allow investors to escape their long (and wrong!) positions.
The herd of analysts already has returned to "certainty" that the Federal Reserve won't raise rates in September and opine that that's what's behind Wednesday's rally, but the market's recent selloff had nothing to do with an expected rate hike.
Just like in China, where governmental actions only have market elevating effects for hours to days, if at all, it doesn't matter what the Fed does now. Markets here will plunge regardless of whether there's an interest rate hike this quarter. 
Why? It's the mood, and the mood has morphed from complacency, trust, inclusion and global village/can't-we-all-just-get-along mania to fear, distrust, exclusion and us vs. them depression. Notice the increase in violence, including Wednesday's on-air murder of a news reporter and cameraman! Notice the largest VIX (fear index) move in years.  
Notice the massive trading halt of most Chinese stocks to keep the index from falling, while Chinese analysts and news reporters are forbidden to speak negatively about Chinese stocks.
Notice the popularity of Trump's abrasive style, under the guise of saying it like it is, where there's "no time for political correctness"! Instead of reporters attacking candidates, candidates are attacking reporters. These are just a few examples of changes in mood, from what was to what is brewing: sadness, anger, violence and depression.  
Some readers have requested an analysis of the S&P 500 rather than the Dow. So, here we go.
The first chart is a 31-minute chart, showing the details of three possible wave 4 paths. Corrections are always hard to forecast exactly in real time, as there are a dozen potential patterns vs. only two potential impulsive patterns in the direction of the trend.  
All of wave 4 may have already ended at Wednesday's close. In that case, prices should begin to fall within minutes of Thursday's open and head toward the leftmost "5" below Monday's open, around 1810.  
Another scenario allows wave 4 to extend up into the pink box, that would close a gap left at 1971 (and even back to the 2000 area), before heading below 1867. And another would move triangularly to the rightmost "4," after a higher low than Tuesday's low, then plunge toward a test of 1800 into next week.
Let's ask the decision support engine question, "if I had no money in this market, would buying or selling actions be indicated at this moment?" The answer is clear: selling actions only.
That's because Wednesday's rally expended most, if not all, of the bullish potential. The higher paths just mentioned are not required, and are more likely to trap emotional bulls near the highs of the move than allow profits to be had in the opposite direction of the new downtrend.  
So, if you're long here, protective sell stops can be placed at 1867 if you feel the need to push your luck, or at 1925 to play it safe. Any pop into the zone around 1985, plus or minus 15, should be used as an answered prayer, and sold into.
If you're flat, short exposure can be established using these same parameters, with eyeballs on the zone at 1815, plus or minus 10, to cover shorts as wave 5 matures.
If you're already short, and a little bruised after Wednesday's bear whoopin', exposure can be maintained and/or added to using these parameters, too, including the cover target below. Once wave 5 ends down there, the largest rally since the 2130's will take place over several days to weeks, likely retesting 1965 +/-35.
This second chart of the S&P 500 uses monthly bars to show the much larger picture, and give perspective to just how young this bear market potentially is. This year's bearish divergence sell signal of higher and higher price highs vs. lower and lower stochastic highs (shown by the thick blue bars in opposite directions in the top and bottom panes) has happened two other times in the past 16 years: 1999 and 2007. They were followed by 50% or greater crashes in the 30 and 15 months, respectively.  
The amplitude of the 2015 version of this if/then situation is far greater in scale. Therefore, not preparing for at least a similar outcome, if not one of even greater magnitude, would be more ostrich than objective, right?
For more of this kind of analysis, join our reservation list for the launch of our new real-time, live-market analysis chat room. Launching September: decision support engine analysis from bell-to-bell, addressing indices and stocks, as well as member questions throughout the day.
This article is commentary by an independent contributor. At the time of publication, the author held no positions in the stocks mentioned.