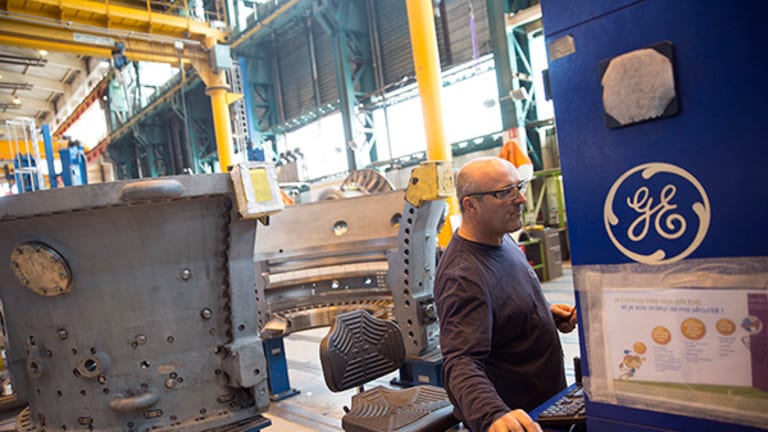 GE's Immelt Tightens Timetable for Winding Down Finance Business
General Electric now plans to wind down most of its finance business by 2016, and sell as much as $100 of its lending portfolio by yearend.
NEW YORK ( TheStreet) -- General Electric (GE) expects to sell $100 billion of its finance unit's lending portfolio by the end of the year, about 10% more than originally forecast, and may complete all of its planned sales by the end of next year.
"We said $90 billion, we will do $100 billion," CEO Jeff Immelt said at a recent investor conference. "We said we would have all sales committed by 2017. I think we will be done by 2016."
Must Read: Warren Buffett's 7 Secrets to Dividend Investing
Additionally, the company plans to boost software sales to $8 billion by 2017, 70% of which will come from Predix, its industrial analytics platform, according to an investor presentation.
"When we look at software and Predix-related businesses growing 20% a year, we are already at scale," CEO Jeff Immelt said at the conference. "We see this growing to $8 billion by 2017. Seventy percent of it is going to be on Predix, so 70% is going to be on our own operating system. This is going to get $300 million to $500 million of productivity. We are basically paying for this investment with our own productivity savings."
The Fairfield, Conn.-based company is also reported to be in talks to sell a portion of its $9 billion fleet management unit, which leases 1.4 million cars and trucks, to Toronto-based Element Financial, according to Bloomberg. Most of GE's auto-leasing customers are mid-size and large U.S. businesses.
Element Financial has been expanding significantly through acquisitions, booking net income of C$134 million in the first quarter, three times the amount of the same period last year. Rental revenue increased more than doubled to C$26 million. Two years ago, in May 2013, Element purchased $570 million of GE Capital Canada's fleet portfolio and operational resources, according to a company release.
GE shares were virtually unchanged on Tuesday, down 0.5% to $27.50, against a 1% drop in the S&P 500 index.
Element bought PHH Corporation's (PHH) fleet-management business roughly a year ago, and notably said last week it would raise about $2 billion in a secondary offering to fund undisclosed "future acquisitions."
In a presentation last week, GE CEO Jeff Immelt said he hopes to have agreements in place to sell as much as $30 billion of GE Capital assets by the end of the quarter.
General Electric declined to comment.