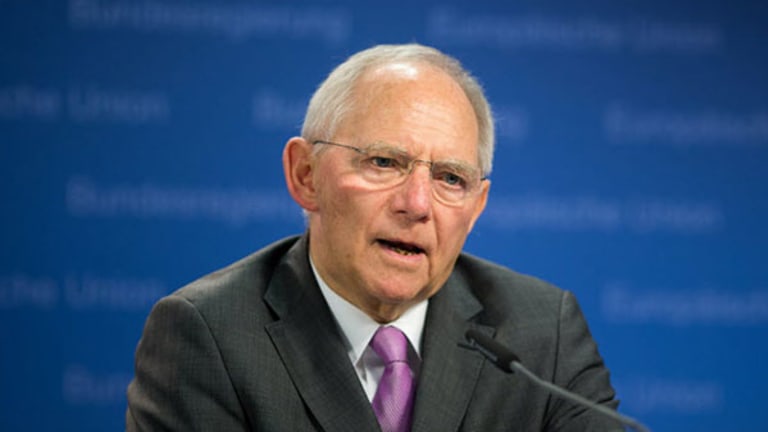 Germany's Finance Minister Schauble to Accept Bundestag President Role -Reports
A big change in one of Europe's top jobs could mark the end of an extraordinary political career for Wolfgang Schauble.
One of Germany's most venerable politicians, Wolfgang Schauble, is set to leave his post as Finance Minster in order to pave the way for Chancellor Angela Merkel to build a coalition government following Sunday's federal elections.
Multiple media reports have indicated the 75-year old Schauble, who has served in government since the early 1970s, will move on to become President of Germany's Parliament, the Bundestag, and open the position of Finance Minister, arguably one of the most influential posts in all of Europe, to Free Democratic party leader Christian Lindner.
The euro quickly extended its three-day decline against the U.S. dollar to 1.1717 as the reports spread, with traders expressing concern at such a radical change at the helm of Europe's largest economy that would leave Lindner, a fiscal hawk who has argued vociferously against member state bailouts and a common Eurozone budget. 
However, while the departure of Schaeuble would likely provide Merkel with a significant amount of ammunition in her coalition horse-trading, and provide Lindner with the biggest possible attraction to joining her CDU/CSU brethren, it would also mark the end of an extraordinary era in German politics. 
A former tax attorney from the southeastern city of Freiburg im Breisgau, Schauble was first elected to the Bundestag in 1971 and eventually served in the cabinet of Chancellor Helmut Khol in the 1980s. He survived an assassination attempt during a 1990 campaign event that left him paralysed and bound to a wheelchair and eventually rose to become chairman of the Christian Democratic Party in 1998.
However, he resigned shortly afterwards in the wake of a fund-raising scandal that eventually led to the promotion of Merkel as party leader and her first term as Chancellor in 2005.
He became Germany's Finance Minister four years later and has since built and almost cult-like following in the German business community -- and indeed the wider electorate -- for his plain-speaking manner, his fondness for going "off script" during public appearances and his and devotion to rules, process and fiscal discipline.
That status was only enhanced during the peak of the region's debt crisis in 2012 and the bailout negotiations with Greece three years later that nearly saw the indebted nation become the first to exit the single currency - something Schauble himself was said to have suggested.