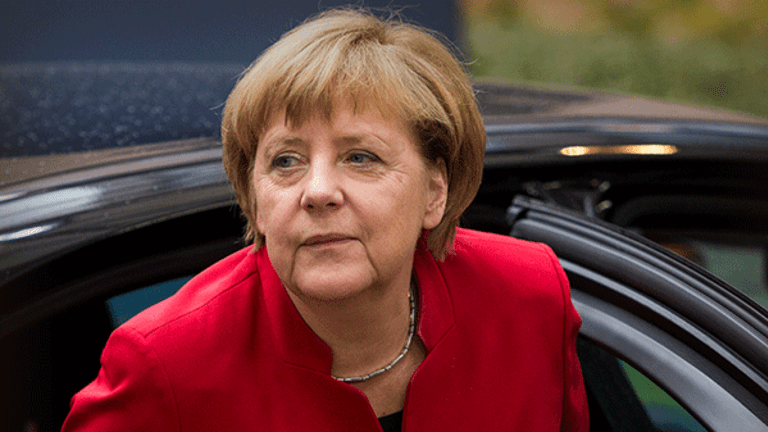 Angela Merkel's CDU Party Tops Exit Polls, but Support Weakens Significantly
Angela Merkel's CDU party support weakens, but her reelection as Chancellor is all but assured.
Angela Merkel has a comfortable lead in the race to become Chancellor of Germany for a fourth term, according to early projections from exit polls, but her CDU party looks to have suffered a significant loss of support to the far right in Sunday's federal elections.
Merkel's Christian Democrats and their sister party, the Christian Socialists, have polled at around 32.7%, according to the first official projections, around 8.8% lower than the pair earned in the previous election and possibly the worst result since 1949.
"There's no need to mince words ... we wanted a better result," Merkel told her party faithful. "But it is now down to us to form a government and without us, no government can be formed."
The Social Democrats, led by former European Parliament President Martin Schulz, look to have gained around 20.2% of the overall support, 5.5% lower than four years ago and their worst tally on record.
Schulz called the defeat "crushing" and said the SDP will abandon its previous coalition with the conservative CDU/CSU tie-up and sit in opposition in the German Bundestag. That means Merkel has to reach out to a collection of smaller parties in order to form a workable government.
The far-right AfD, or Alternative for Deutschland, party scored a big 8.7% gain, by far the largest of any party in the election, and won around 13.4% of the overall support, meaning they will gain seats in Parliament for the first time, although it is extremely unlikely that it will work with any mainstream party in a coalition government.
The Green party's exit poll numbers were pegged at 9.4% while the economically conservative FDP looked to have gained 10.5%.
If Merkel is to build a stable government in the 631 seat Bundestag, she will now likely need to put together a so-called "Jamaica Coalition" of the CDU/CSU (associated with the color black), the FDP (associated with the color yellow) and the Green party.
Collectively, the three groups could hold around 349 seats, based on current projections, comfortably ahead of the 316 needed to form a government.