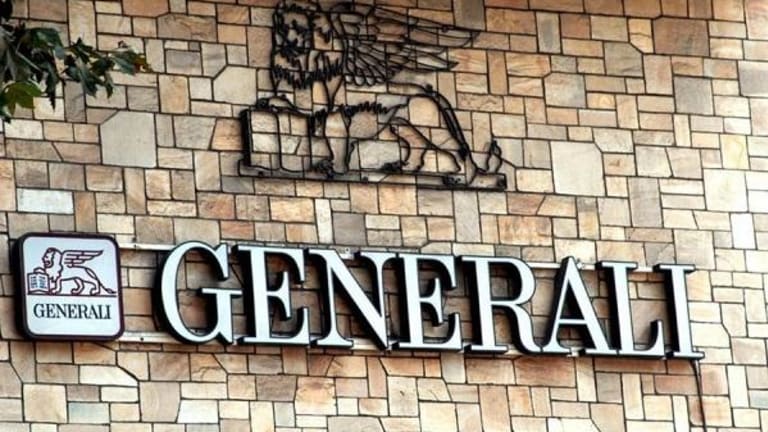 Generali Stock Surges for a Second Day After Moving Against Intesa Sanpaolo to Head Off Takeover
Italy's largest insurer has political winds in its sails -- but will it be enough to see off its suitors?
Insurer Generali (ARZGY) saw its shares surge for a second consecutive session Tuesday after it acquired a stake in Intesa Sanpaolo (ISNPY) one of Italy's largest lenders.
Media speculation over the weekend linked Intesa and Germany's Allianz (AZSEY)  , Europe's biggest insurer, to a planned takeover of Generali which would split the company's assets.
Neither party has commented on the reports, although now that Generali has a 3.01% stake in Intesa, Italian laws on cross-shareholding forbid Intesa from owning any more than 3% of Italy's biggest insurance company without making a formal offer for at least 60% of the company.
Generali stock surged by more than 8% after the opening bell in Milan and traded as high as €15.84, and remained buoyant well into the morning session.
A hard-to-get target could mean that investors are ultimately offered a higher price further down the line, but the political winds in Italy are also in Generali's sails.
"For me, as an Italian citizen, Generali is crucial for the country," UniCredit (UNCFF) CEO Jean-Pierre Mustier said earlier this month. "Generali must remain Italian. Mediobanca must preserve the insurer's independence."
The statement is pertinent because UniCredit is the largest shareholder in Mediobanca which, in turn, is Generali's largest shareholder.
Mustier was effectively forced into placating an irate press after suggestions that the appointment of French CEOs at both UniCredit and Generali meant that overseas acquirers, particularly French companies, might now find it easier to get their hands on Italian assets such as Generali and Mediobanca.
It is not clear where Mediobanca and UniCredit will stand in the event of a hostile takeover attempt by Intesa and Allianz, or whether their resistance would be enough to prevent a deal.
However, Mustier's comments and the tone of the media speak to a broader sense of unease among Italians over the fate of some of the nation's largest companies. This unease may have been amplified by the recent defeat of former Prime Minister Matteo Renzi in December's referendum on constitutional reform and a subsequent cloud of uncertainty cast over the economy.