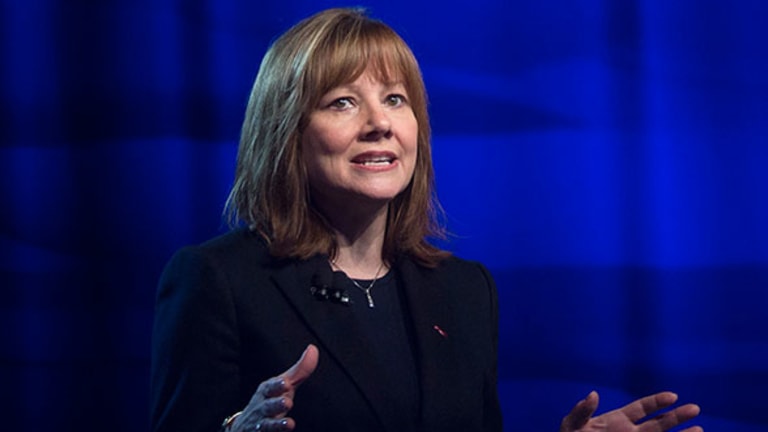 General Motors Will Begin Testing Autonomous Vehicles in Detroit
The move comes just a week after legislation was signed by Michigan Gov. Rick Snyder.
General Motors (GM) - Get Report will begin testing autonomous vehicles on public roads in Michigan immediately, just a week after enabling legislation was signed by Gov. Rick Snyder.
Speaking at the automaker's Detroit headquarters on Thursday, GM CEO Mary Barra also announced that the automaker will begin manufacturing Chevrolet Bolt EVs equipped with advanced autonomous equipment starting next year at its Orion Township, Mich., assembly plant. The vehicles will be used for testing.
GM has been testing Bolt EVs with autonomous technology at its Warren, Mich., research and development center. The tests will expand to metropolitan Detroit and become the company's main location for developing the technology in cold-weather climates. In June, GM began testing autonomous Bolt EVs on public roads in San Francisco and Scottsdale, Ariz.
Barra promised that GM's "autonomous technology will be reliable and safe, as customers have come to expect from any of our vehicles." She said the goal of the technology is "revolutionizing transportation for our customers while improving safety on roads."
GM and other global automakers, suppliers and software companies like Alphabet's (GOOG) - Get Report Google unit are racing to develop reliable sensing, mapping and software for commercialization of fully driverless cars -- a process whose duration is unpredictable. This week, Google announced the creation of a subsidiary called Waymo dedicated to commercializing the company's driverless technology.
Automotive companies and strategists foresee a day when many travellers will order rides in driverless vehicles instead of owning and operating their own vehicles. Uber, which started as a ride-sharing alternative to taxicabs, is testing driverless vehicles in Pittsburgh and San Francisco, although California regulators have moved to halt that in the Bay Area. BMW AG plans to test driverless prototypes next year in its home city of Munich.
Automakers are nervous that unless they can develop driverless technology, their role as mobility providers might be displaced, at least partially, by smaller high-tech companies.
GM has purchased a software company, Cruise Automation, to assist in autonomous development and invested $500 million in Lyft, an Uber competitor.
GM has been experimenting with autonomous technology for years, but so far has delayed introducing -- pending de-bugging and improvements -- its "Super Cruise" feature that will allow some Cadillac models to be driven on highways in "hands off" mode. GM executives have said they expect the feature to be introduced next year.
"As one of the world's largest manufacturers, GM needs to be at the forefront of autonomous vehicle development," said Rebecca Lindland, senior analyst for Kelley Blue Book.
"They can leverage their global footprint to create products suited for different markets. The challenge is for consumers to believe one of the world's largest manufacturers can design and innovate such technology. Hopefully being early on road testing will convey that yes, they can and are innovating."
Doron Levin is the host of "In the Driver Seat," broadcast on SiriusXM Insight 121, Saturday at noon, encore Sunday at 9 a.m.
This article is commentary by an independent contributor. At the time of publication, the author held no positions in the stocks mentioned.