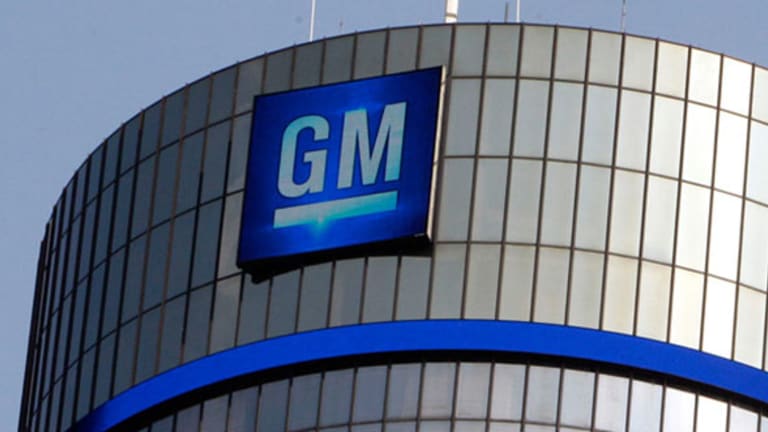 General Motors Stock Is Driving -- Time to Take It for a Spin
The auto giant's stock offers pluses in valuation and yield.
NEW YORK (Real Money) -- It is getting harder and harder to find genuine bargains, especially with no year-over-year growth in revenues or earnings this quarter and equities trading at higher-than-normal valuations. The challenge is just as difficult for income investors, with the 10-year Treasury yield struggling to climb over the 2% level and so many negative rates in Europe. However, one stock that is attractive on both a valuation and yield basis right now is General Motors (GM) .
Shares of the automaker have quietly had a solid first couple of months of 2015, easily distancing themselves from the performance of the overall market. It is easy to understand the reluctance of some investors to embrace the investment case for GM. The headlines around the company have not exactly made anyone want to plunk down money for the stock. The huge recall debacle last year, the company's bankruptcy in 2009, its government ownership for years and the occasional militant chatter from the UAW, don't inspire an investor to feel warm and fuzzy.
However, after recently bumping its dividend by 20%, GM shares yield almost 4% in a market starving for yield. In addition, earnings should increase some 50% this year as the company moves past the ignition switch issue. Analyst consensus estimates have the company posting another 10% to 15% rise in earnings per share in 2016. The shares are currently trading for just over 7x those earnings projections.
The fall in gas prices is significantly benefiting GM's average selling price per vehicle and margins as consumers migrate to a heavier truck and SUV mix. This is helping to fight off some of its overseas competitors in the U.S. that are benefiting from falling currencies. In addition, the initiation of quantitative easing in Europe should boost auto sales on the continent, much like the Fed's efforts did domestically. Auto registrations in the Eurozone increased better than 10%, year over year, in March. If this moribund market finally comes to life, GM won't make money from its operations in Europe but an uptick should lessen the pressure there.
GM continues to enjoy very solid market share in the critical market of China, which is now the largest auto market in the world. The company produces some 300,000 vehicles a month in the Middle Kingdom through joint ventures, including 100,000 Buicks; which is basically a dead nameplate domestically. And GM and its partners plan to invest some $16 billion over the next five years to maintain or expand its market share in China.
Unlike most of the S&P 500, consensus earnings estimates for both 2015 and 2016 have moved up nicely over the past three months. The company is also getting some positive notice from analysts of late. J.P. Morgan, Citigroup and Stern Agee have all reiterated "Buy" ratings on the shares over the past few weeks. Price targets from these firms range from $46 to $50 a share.
Sometimes investors need to forget the past and look directly into the immediate future when assessing equities. GM's recent upward trajectory seems likely to continue for the rest of 2015.
I would use any weakness due to a disappointing earnings report issued today to action a lower entry point. It seems the main causes of quarterly weakness were results from Russia (where GM is closing its main plant) and Brazil. Sales in China were up 9%, year over year, up 6% in the U.S. and the company is seeing some better conditions in Western Europe, as well. Given GM's minuscule valuation, a lot of bad news is already priced into its shares.
Editor's Note: This article was originally published at 9 a.m. on Real Money Pro on April 23, 2015.
This article is commentary by an independent contributor. At the time of publication, the author was long GM.