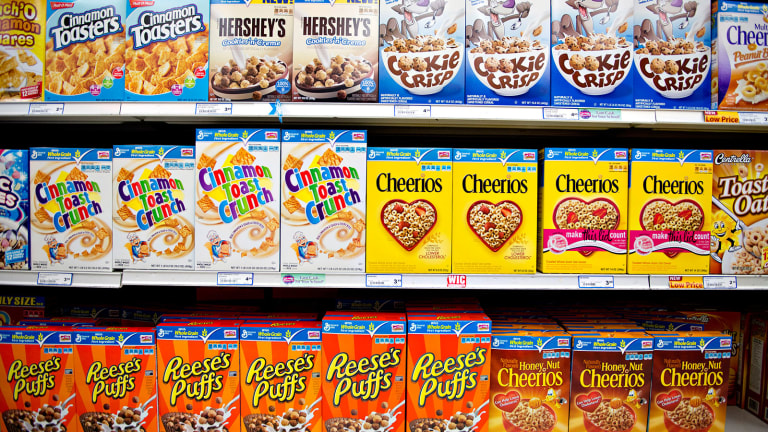 General Mills CEO: We Want to Act More Like A Small Company
Ken Powell says the packaged-food giant no longer has the time to do the big data-driven tests it used to in order to develop successful new products.
NEW YORK (TheStreet) -- General Mills (GIS) - Get General Mills, Inc. Report is hoping to hook consumers hungry for healthier-seeming snacks by acting more like a smaller, entrepreneurial company rather than the corporate behemoth it is.
In an interview, General Mills Chairman and CEO Ken Powell said the Minneapolis, Minn.-based packaged food giant, which generated $17.6 billion in revenue in its most recent fiscal year, is taking a page from smaller food companies -- such as its 2008 acquisition, Larabar -- to develop and get new products out faster.
To do that, it's trading focus groups for sample stands in select supermarkets. It also hopes consumers will discover their goods in non-traditional venues, including school breakfast programs and fast-food outlets such as McDonald's (MCD) - Get McDonald's Corporation Report.
Since sales for General Mills' U.S. retail segment fell 1% to $10.5 billion in its latest fiscal year ended May 31, new products and new places to eat them could boost volume and help General Mills to reclaim market share it has ceded to rivals. Its fortunes have already started to turn, as fourth quarter U.S. retail segment sales ticked up 5% to $2.5 billion with the introduction of Cheerios Protein and new flavors of low-calorie Greek Yoplait yogurt.
TheStreet sat down with General Mills' Powell to talk about the company's new approach.
TheStreet: How are these newer products with a healthier angle coming to life? For example, take us through how you identified Yoplait Plenti yogurt as a product that needed pumpkin seeds in it.
Powell: We've changed how we do new products quite a bit. We used to do fairly large-scale sequential testing, often administered by third parties, so our marketers were reading lots of data and numbers.
So, we've looked at how small companies are developing their new products, because they seem to go fast, and are very different than us. If you are an entrepreneur and developing a new product for someone in your family, or someone you know, there is an empathy there. There isn't a lot of numbers, but you get a lot of judgment on what people like and don't like.
We are much closer to the consumer now. So when the development team has something they think is pretty good, they now take it to a store or somewhere else and actually sell it themselves. They are very close to what's actually happening out there, and are getting direct feedback. What we actually call it is setting up a "lemonade stand."
We try to identify "need states," like what people want in the morning to eat. [With] one of the need states for yogurt for breakfast, people were telling us to give them something that really fills them up. So we experimented, we could add nuts, grains, more fruit. This research was not only done in the U.S., it was also done in France where we have very strong R&D capabilities.
TheStreet: There's been a lot of new product news from General Mills in cereal lately. How can you tell if these new products are starting to resonate with consumers? How do you change consumer perceptions that cereal is just sugar in a box?
Powell: We have over time reduced the amount of sugar in our cereals, they are all 10 grams or less now [per serving], and talking to consumers they think single digit grams is OK. I think the perception out there is slowly changing.
The other thing is that over the last 10 years, we have consistently added whole gain to our cereals, where whole grain is now the number one ingredient. Generally, people feel pretty good about cereal -- they know it's an excellent source of whole grain, it's sweet but they are comfortable with the level of sweetness. Cereal is low in calories -- our average cereal probably has 120 calories per serving, and maybe 160 calories per serving if you add milk, so it's pretty low. It's hard to find a lower-calorie breakfast.
One thing we see people looking for is protein -- they want to be filled up for breakfast. That has led us to be interested in things like granola and muesli, which is more of a European cereal idea with rolled oats, nuts, and raisins. People often put yogurt on top of it. It's quite filling.
We also think Cheerios being gluten free and with no artificial colors or flavors will be very appealing to consumers. It gives us an important, and fresh, messaging platform. Retailers are pleased that we are doing this, so they will give us high-quality displays and visibility in their stores because they like the news we are bringing to the cereal category.
TheStreet: How do you lure people with gluten issues who have given up on cereal back to the aisles?
Powell: We will use online because those consumers with gluten issues really are starving for information, and there are a lot of gluten intolerant and celiac websites. You can micro target those consumers.
Also, we are going to be on television heavily, telling people we have developed this new gluten-free product. And we will feature the scientist who developed the product for his daughter-in-law, who was unable to eat things with gluten. He has been at General Mills for like 50 years.
TheStreet: When you look at the competitors out there, such as Whitewave (WWAV)  or Hain Celestial (HAIN) - Get Hain Celestial Group, Inc. Report, these guys seem to be moving very fast with new organic products. How do you assess them right now?
Powell: We are in very competitive categories, more competitive than ever before. We are focused on our large competitors, but increasingly focused on our small competitors. There is just more interest in the food space by entrepreneurs and venture capitalists. About two years ago I think there were 500 new yogurts that came into the category. Most of them failed, but some of them didn't. So we monitor them very closely.
It doesn't necessarily matter their size, it matters where they are in the store and the products they are selling. Our view of the environment is much broader than it used to be. Speed is also very important, which is why we switched how we develop new products to be more hands-on. We don't have the time to do big cumbersome, sequential tests anymore. It did work in the past, we developed many nice new products -- but doing so is now too slow.
We would ask our people what they thought about an idea and they would say it got an 82. That's not what I wanted to know. You talk to entrepreneurs, like the person who developed LaraBar, that's not how she would have answered that question. She would say a product is terrific, and I know my consumers love it. It was very personal, lots of judgment -- we want our folks to have that approach.
TheStreet: Do you have an appetite to purchase some of these emerging brands, like you did with organic player Annie's in 2014? Or, is it more trying to identify what they are doing well and then doing it yourself?
Powell: We've acquired seven or eight of these emerging companies over the last 10 years. So we are very interested in that healthier food space, because we think that's where our consumers are going. We've said publicly we are interested in making acquisitions in the organics space. Our priorities for M&A are natural and organic, healthy snacking in general, and outside of the U.S. we are interested in gaining distribution scale in one or two emerging markets.
The example of how we did that in the past was we acquired Yoki in Brazil, which was a business developed by a family for over 40 years. Very interesting products that were close to what we do. We would like to have something like this in India, for example.
TheStreet: Your food service division works with McDonald's (MCD) - Get McDonald's Corporation Report, and has released the well-received yogurt called "Go-Gurt" for kids Happy Meals. Have you talked to new McDonald's CEO Steve Easterbrook? How could you bring some of these new, healthier items you're doing onto the McDonald's menu?
Powell: I have not talked directly to Steve, but we have a great food service team that works closely with them.
I would say that everyone is pleased with Go-Gurt, because people are choosing it a significant amount as an item for a Happy Meal. We've sold over 200 million tubes of Go-Gurt, which is great. It's low in calories, kids like it. We are hoping that success will open the door for a broader conversation on what else we could do from here.
The challenge for McDonald's, and our other food service customers, is that you have to have something to serve the end consumer that will be chosen from a limited menu. That is hard. You also have to make it work for their operations -- it has to go through their supply chain, and it has to work in their stores with owner/operators. Hitting all of those things just right takes time.