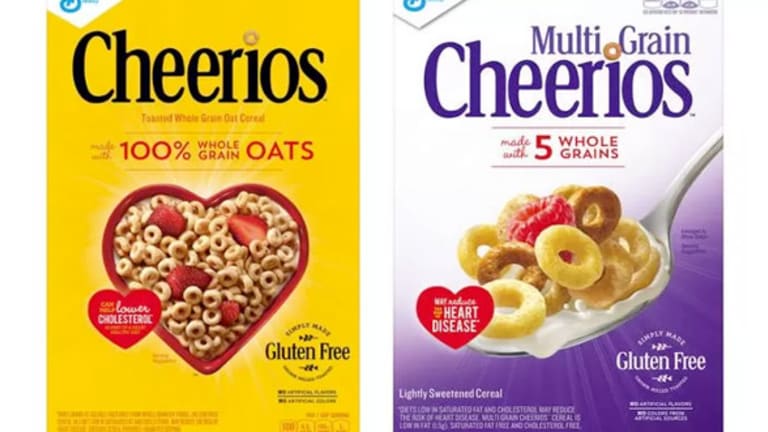 General Mills CEO Trumpets Resurgent Sales of Cereal
General Mills trounced Wall Street's profit forecasts on Tuesday, in large part due to a turnaround in its cereal business.
NEW YORK (TheStreet) -- Harried and health-conscious consumers are showing a renewed willingness to eat cereal for breakfast in the morning, provided it's not a bowl of sugar with artificial colors and flavors.
"We are seeing the cereal category stabilize," said General Mills (GIS) - Get General Mills, Inc. (GIS) Report chairman and CEO Ken Powell in an interview with TheStreet. Powell continued, "We think it's stabilizing because there is more investment coming into the category on advertising, and most importantly there is good innovation coming into the category -- and those things are always the formula for success."
Overall sales of ready-to-eat cereal declined 2.3% for the 52 weeks ended Aug. 22, according to Nielsen, but last year at this time, sales were down 4.8%.
According to Powell, General Mills has seen four consecutive quarters of sales improvement in its cereal business, which is dominated by household names such as Cheerios, Chex and Cinnamon Toast Crunch. Cereal notched 6% net sales growth in the first quarter, says the company, helping to power its U.S. retail segment to the best performance among its various units.
Overall first quarter net sales rose 4% for General Mills' U.S. retail segment, with operating profits surging 38% year over year. The company also found success in new Yoplait Greek yogurts with grains and seeds and Nature Valley snack bars.
Ultimately, strength in the cereals business and cost savings from restructuring initiatives led to a sugar rush on General Mills' bottom line for the first quarter. On Tuesday, the company reported adjusted earnings came in at 79 cents a share, trumping consensus forecasts by 10 cents.
Shares of General Mills rose about 0.5% by midday trading on Tuesday.
Some of the most popular sellers in the cereal aisle for General Mills played right into the major themes influencing packaged food manufacturers nowadays, including consumer demands for convenience, healthier products and the occasional indulgence. For instance, consumers gravitated toward General Mills' granola products -- in particular organic Cascadia Farm and a new Nature Valley offering with protein that come in easily resealable packages.
General Mills' cereal business is set to get an added boost in the current quarter as gluten-free Cheerios arrives in more stores. "Opening up the biggest brand (Cheerios) in the category to gluten free consumers is an important opportunity for us -- we can advertise the news, and retailers will give us display support in their stores...it becomes a virtuous circle to drive awareness," points out Powell.
Gluten-free Lucky Charms will start to appear on store shelves later this year.
General Mills' success with more innovative cereals with a healthier pitch offers hope to its struggling competitor in the cereal aisles -- Kellogg (K) - Get Kellogg Company (K) Report . This fall, Kellogg will debut Frosted Mini-Wheats Pumpkin Spice cereal, which it describes as being "a smart dessert alternative to the traditional slice of pumpkin pie."
Also destined for shelves from Kellogg is a new Special K Apple Cinnamon Crunch cereal with rice and wheat flakes and apple crumble clusters. Kellogg could certainly use a favorable reception by consumers to its latest cereals -- year-to-date sales in its U.S. morning food segment, which includes cereal, have declined 2.6%.