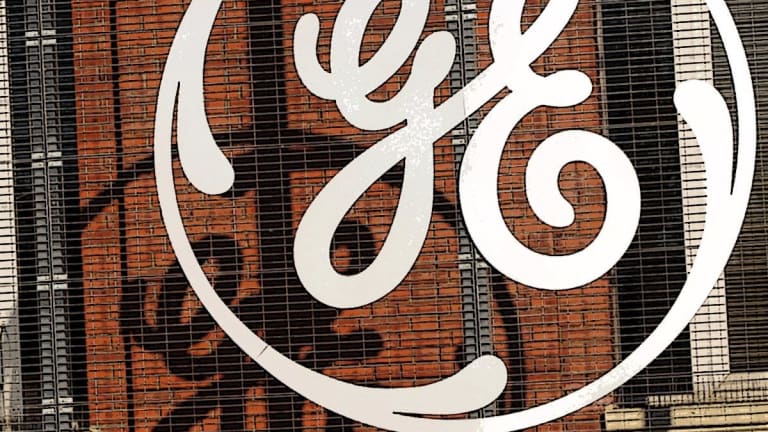 Publish date:
General Electric CEO John Flannery Plots Three-Pronged Path Forward
The three stages GE must go through to become a more narrowly focused industrial will likely take several years, according to William Blair.
The three stages GE must go through to become a more narrowly focused industrial will likely take several years, according to William Blair.
Patience. 
Chief Executive Officer John Flannery has primed General Electric Co. (GE) - Get Report to be a much leaner industrial company, but investors should be patient as it could take GE several years to achieve that goal.
With the decision to spin off GE Healthcare and exit its Baker Hughes (BHGE) - Get Report stake, the Boston-based company has embarked on a three-stage process to accelerate shareholder value, according to William Blair analyst Nicholas Heymann.
"The first stage (likely by year-end 2019) will be to revalue GE Healthcare at a much higher multiple (perhaps lifting the shares to $16 to $17)," Heymann wrote in a June 26 research note. "The second stage is to shrink GE's equity base from a tax-free exchange of its Baker Hughes and Wabtec equity stakes in 2 to 3 years (perhaps lifting GE's share price to the low $20s by year-end 2020). The third stage commences in 2021, by which time Power, as well as Aviation and Renewables, should be simultaneously growing (perhaps lifting GE's share price to the upper $20s)."
GE Healthcare is expected to be spun off in the next 12 to 18 months, Flannery told analysts during a conference call on Tuesday. GE plans to monetize about 20% of its stake, which is worth roughly $7 billion, according to JPMorgan analyst Stephen Tusa, who maintained his underweight rating on GE stock.
GE will give the remaining 80% to shareholders through a tax-free distribution, GE said in a statement. William Blair's Heymann estimates that the 80% targeted to be spun out to shareholders could be worth $3.08 to $4 per share by year-end 2019, "depending on whether it's valued at 12-times 2019 estimated Ebita [of $4.65 billion] or 15-times, similar to Siemens Heathineers AG (SEMHF) ."
As part of this spin-off, however, the healthcare company will absorb about $18 billion of pension liabilities and debt, which will significantly reduce GE's core debt load.
Still, it is important to keep in mind that the $18 billion in liabilities does not go away, but it merely shifted to another asset GE shareholders will own, Tusa said. He maintained his Underweight rating on GE and his $11 price target.
"With $18 billion of debt/pension transferred to healthcare, the implication is gross leverage of 4.5-times," Tusa said. "This seems to go against the notion that its capital structure would be aligned with peers, given that peers are around 2-times."
But the "core message for investors" is that the spin-off is "a source of financial resource to the parent company and our investors are going to end up owning directly a stand-alone well-capitalized company," Flannery said. "The big picture is stand-alone separate company and some financial resources to the parent."
The second stage of GE's plan to create value will be shrinking its equity base by 30% or more through exchanging the Baker Hughes and Wabtec (WAB) - Get Report  equity stakes, Heymann said.
"GE is likely to exchange its BHGE ($23 billion value today) and WAB ($2 billion value today) equity stakes after they have appreciated 30% to 50% over the next 2 to 3 years and use them (tax-free) to reduce GE's outstanding share base, which excluding Healthcare have an implied current market capitalization of $77 to $87 billion," said Heymann. "Conservatively, we would expect the ongoing GE Industrial's share count to be reduced by 30%, most likely by [year-end 2020]."
How GE will exit its 62.5% stake in Baker Hughes has yet to be disclosed. CEO John Flannery said the company has a range of options; "We could spin, we could split," he told analysts. In a split, shareholders in the parent company are offered shares in a subsidiary but must choose between the two, while in a spin, the parent company distributes shares of the subsidiary that is being spun-off to existing shareholders on a pro rata basis in the form of a special dividend.
"I expect GE to evaluate the merits of doing an exchange with GE shareholders for GE stock," Heymann said in a phone interview, adding that it would follow the "same template for Synchrony."
Watch more on GE's breakup below.
GE in 2015 separated from Synchrony Financial, one of the largest providers of private label credit cards in the U.S., after more than 80 years as a part of GE Capital. GE offered to exchange GE company stock for shares in Synchrony Financial (SYF) - Get Report .
An exchange "allows people to have a greater pure play on a cyclical asset," Heymann said, speaking specifically about Baker Hughes.
Research analysts at Simmons & Co., the energy specialists of investment bank Piper Jaffray, noted that prior to the announcement there was an expectation - or even fear -- that "a purge of equity" was coming in the summer of 2019, which is when the current lock-up expires.
"These are good, good businesses," Flannery said. "We like them; we just think they're in a better position outside of the company."
The last stage of GE's rebirth will come as early as late 2020 but no later than 2021, according to Heymann, as the new GE's core businesses, aviation, power and renewables, grow simultaneously.
"They will have lower (~25%) interest expense, materially lower (~60% to 70%) pension expense and no further restructuring costs. This should enable the final evolution of GE Industrial to earn about $1.35 in 2021," Heymann said. "Assuming the now stabilized, unburdened and deleveraged (2.5-times net debt/EBITDA year-end 2020) GE Industrial trades at a 16 [price to earnings] multiple on 2021 expected EPS of $1.35 and Healthcare is valued at 16-times 2021 expected EPS of 37 cents or $6.00 per share, this should allow GE's share price to reach $27 to $28 per share by 2021."
Not all Wall Street analysts see this substantial upside though.
While Cowen's Gautam Khanna applauded GE's new board "for decisive action to improve the balance sheet," he saw the announcement "as a partial liquidation and stealthy dividend cut that does not drive meaningful upside to GE shares, although it eliminates the risk of a total wipeout." Khanna said the new healthcare company's leverage with the absorption of $18 billion of pension liabilities and debt and management's "optimistic" profit forecasts, especially at power, are some of the reasons he doesn't see meaningful upside for the stock price.
There are some risks that remain, such as the SEC investigation and Department of Justice probe. Still, Heymann senses that the pending litigation is likely to be resolved over the next several quarters, which should further reduce any remaining perceived risk.
And, generally, investors are pleased with Flannery's actions following a year-long strategic review, sending the stock price higher by 1.4% since Tuesday, ironically the day after GE's last day on the Dow Jones Industrial Average.
"I believed something had to be done and I'm happy the company is doing something," said Charles Elson, the director of the John L. Weinberg Center for Corporate Governance at the University of Delaware and a self-described "small GE shareholder."
"Returning equity interests is certainly not problematic," Elson said.