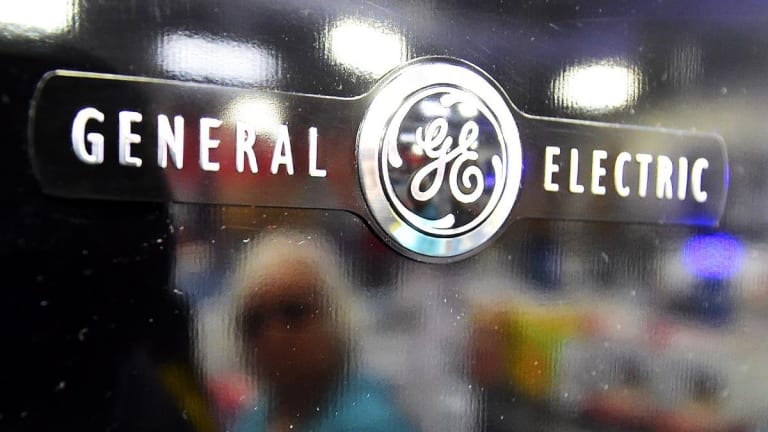 Larry Culp's First Big Move at General Electric: Cut the Dividend
The Boston-based industrial conglomerate posts adjusted quarterly earnings of 14 cents a share, missing forecasts by 6 cents.
General Electric Co. (GE) - Get General Electric Company Report  fell on Tuesday, Oct. 30, after management disclosed the expansion of federal investigations, even though GE slashed its dividend, a move that analysts and investors initially cheered.
The Boston-based industrial conglomerate reported a loss of $2.63 a share from GAAP continuing operations for the third quarter as GE recorded a non-cash goodwill impairment charge of $22 billion, before tax, related to GE Power. 
Management said the U.S. Securities and Exchange Commission expanded its investigation to include this goodwill impairment charge related to GE's Power business. The Department of Justice also is investigating the charge, Chief Financial Officer Jamie Miller said during the conference call. GE is cooperating with the SEC and the DOJ, Miller said. 
Adjusted earnings of 14 cents a share missed analysts' estimates of 20 cents. Revenue of $29.57 billion also fell short of forecasts calling for $29.77 billion, according to FactSet. 
The beleaguered company cut its quarterly dividend to a penny a share from 12 cents, starting in 2019. The change in the dividend will allow GE to retain about $3.9 billion of cash per year compared to the prior payout level, the company said. Culp also said that there are "no plans for an equity raise." 
Many analysts had been anticipating a dividend cut as a means to shore up the balance sheet. 
"Given GE's grim cash backdrop, the bigger the cut, the better, in our opinion," Gordon Haskett Research Advisors analyst John Inch told The Wall Street Journal.
"After my first few weeks on the job, it's clear to me that GE is a fundamentally strong company with a talented team and great technology," newly appointed CEO Larry Culp said. "However, our results are far from our full potential."

Culp, 55, the former Danaher Corp. CEO who joined GE's board in April, was
CEO on the first of the month and was
to "complete initial business reviews," the company said. 
"My priorities in my first 100 days are positioning our businesses to win, starting with Power, and accelerating deleveraging," Culp said on Tuesday. 
GE said it intends to reorganize Power to accelerate the business' operating and financial improvements. The company plans to create two units: A unified Gas business combining GE's gas product and services groups and another unit constituting the portfolio of GE Power's other assets including Steam, Grid Solutions, Nuclear, and Power Conversion.
Culp noted that GE will provide its 2018 earnings forecast after it gets clarity on the problems with the power division.
GE's struggling Power unit has caught the attention of Moody's Investors Service, prompting the credit rating giant to put GE's A2 credit rating on review for possible downgrade.
"Among the range of issues that Moody's will consider is the impact on GE's earnings and cash flow prospects of the continuing deterioration in its Power business, which is likely to persist for some time," Moody's said on Oct. 2. "The dimmer prospects for GE Power take on heightened importance given the loss of free cash flow from GE's planned divestitures, including the highly cash generative GE Transportation and GE Healthcare."
"The review will also assess other measures that could improve GE's free cash flow relative to its debt balance," Moody's added. "These could include measures to address the very substantial pension deficit, GE's $4.2 billion annual dividend, improving working capital or investing efficiency. The potential for disruption, or acceleration, of efficiency programs already underway with another change at senior management level will be assessed."
GE said it targets a sustainable credit rating in the "Single A range." 
Shares of GE fell 8.8% to $10.18 on Tuesday. GE shares have declined about 42% year to date.