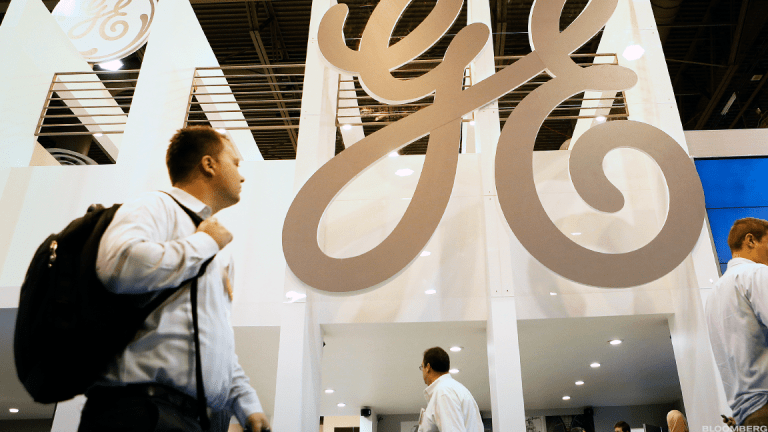 General Electric Lowers Restated 2016, 2017 Earnings
The Boston-based industrial conglomerate lowered its 2016 earnings by 13 cents per share and its 2017 earnings by 17 cents per share.
General Electric Co. (GE) - Get General Electric Company Report released restated earnings for 2016 and 2017 after the bell on Friday, April 13, lowering the earnings per shares for those two years by 30 cents.
Restated EPS will be lower by 13 cents for 2016 and 17 cents for 2017, relatively in-line with previous estimates of 13 cents and 16 cents, respectively.
Shares of GE fell 0.3% to $13.45 during after-hours trading. The stock closed at $13.51, up about 2.5%, on Friday.
The Boston-based industrial conglomerate has restated its earnings because all public companies are required to adopt a new revenue recognition accounting standard, and GE chose to adopt it on a retrospective basis. The new standard offers more transparency into how a company estimates revenue from long-term contracts. Federal regulators are currently investigating GE's accounting practices, specifically revenue recognition and controls for the company's long-term service agreement.
"Upon adoption, we will record a $4.2 billion non-cash charge to its Jan. 1, 2016 retained earnings to reflect the change in timing in the recognition of revenue and certain costs primarily within our Power and Aviation businesses," GE said in a February filing with the U.S. Securities and Exchange Commission.
The new revenue accounting standard also affected 2016 revenue by $220 million, bringing the total revenue for the year down to $119.5 billion. Revenue in 2017 was hampered by a $2.2 billion charge, putting the restated 2017 total revenue at $118.24 billion.
"Importantly, application of the new guidance has no effect on the cash we expect to receive nor the economics of these contracts," GE said in its February 10-K. "Rather, it will simply more closely align revenue with cash, which we believe will be helpful to our investors."
GE also said the accounting changes will have no impact on 2018 earnings or free cash flow guidance.
Prior to the restatement, Cowen equity analyst Gautam Khanna said that the restatement is, in theory, a benign event, but "it may be a negative if it raises GE's costs to borrow."
"GE will remain reliant on short-term credit markets in 2018, which makes the restatement and any related borrowing-cost impact worthy of monitoring," Khanna added in an April 11 research note.
Khanna also said that the company's dividend isn't safe and an earnings miss "appears probable" amid struggles at GE's power unit.
GE is scheduled to report its first-quarter financial results before the opening bell on April 20. Earnings are expected to be 12 cents per share on revenue of $27.09 billion, according to analysts surveyed by FactSet.