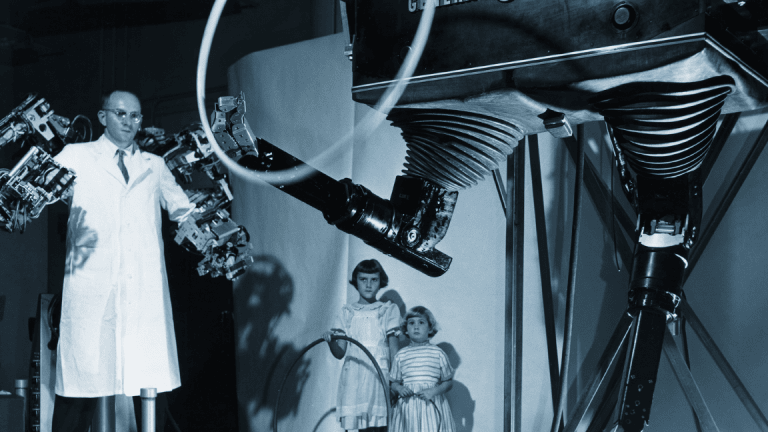 GE Has an Encouraging Stock Chart, Considering What It Just Reported
Earnings were mixed at General Electric, but its chart shows an encouraging sign.
I posted a similar chart a little over a week ago. Something significant has changed for General Electric (GE) - Get Report and confirmed the validity of this analysis that I think important. Yes, all the weakness that had been there still is. Relative strength, money flow, the daily moving average convergence divergence (MACD) ... all gross. No doubt.
Remember I was concerned about the support level around $17.15? Well, that spot broke, and things got uglier. The stock bounced below $16. Where? Right on the central trend line of the Andrews' Pitchfork model. No kidding? Yeah, dude, this stuff actually works.
See where the name is trading pre-open? $17.20-ish? See the forward-looking Fib model? We get out the firm's earnings call above $17.15, and we could be looking at prices closer to $17.60. A huge maybe, but I am in this trade with you, and this is what I think. A failure here, and we sell more calls.
General Electric is a holding in Action Alerts PLUS, the portfolio that Jim Cramer co-manages as a charitable trust.
(This is an excerpt from Stephen "Sarge" Guilfoyle's Morning Recon, which now appears exclusively on Real Money, our premium site for active traders. Click here for a free 14-day trial and receive Morning Recon every day, along with exclusive columns from Jim Cramer, James "RevShark" DePorre, technical analyst Bruce Kamich and more.)

More of What's Trending on TheStreet:
At the time of publication, Stephen Guilfoyle was long GE, short GE calls with multiple strike prices, although positions may change at any time.