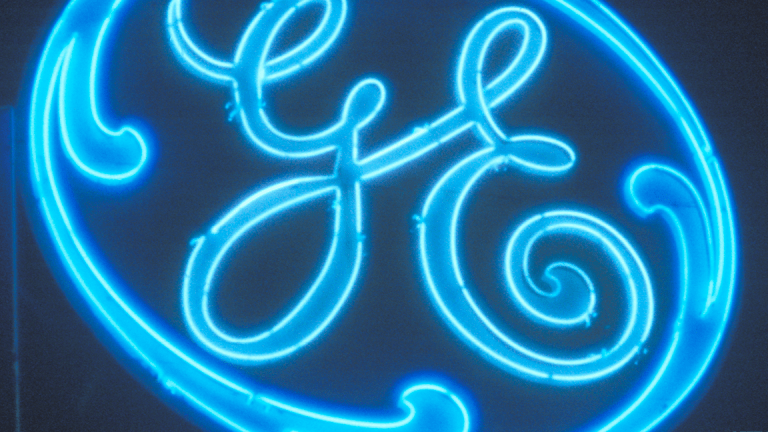 General Electric Extends Declines After Shares Dropped From the Dow
General Electric will leave the Dow Jones Industrial Average next week after more than a century of trading, capping a miserable year for the former titan of American business.
Gee! No. GE.
General Electric Co. (GE) - Get General Electric Company Report  shares were indicated sharply lower in pre-market trading Wednesday following news that it will leave the Dow Jones Industrial Average I:DJI after more than a century in the global stock market benchmark. 
GE was turfed from the Dow last night by S&P Dow Jones Indices in favor of the Walgreens Boots Alliance Inc (WBA) - Get Walgreens Boots Alliance Inc Report , capping a miserable year for the once-powerful conglomerate that has seen its share price fall more than 25% and it CEO publicly talk about breaking up the 126-year old portfolio bellwether. GE first entered the Dow in 1896 and has been continuous member since 1907.
GE expert Rob McCarthy at Stifel Financial told TheStreet the news is "sad", but reflects the actions of prior management.  
"Since then the U.S. economy has changed: consumer, finance, healthcare and technology companies are more prominent today and the relative importance of industrial companies is less," said David Blitzer, managing director and chairman of the index committee at S&P Dow Jones Indices. "Today's change to the DJIA will make the index a better measure of the economy and the stock market."
GE shares were marked 3.08% lower in pre-market trading Wednesday in New York, indicating an opening bell price of $12.55 each, a move that would extend the stock's year-to-date decline to around 28.5% and value the group at just under $110 billion.
GE said it is "focused on executing against the plan" it has laid out to improve the company's performance. "Today's announcement does nothing to change those commitments or our focus in creating a stronger, simpler GE," the company said via email to TheStreet.
GE, however, had rallied since it reported first-quarter earnings in April that included an impressive topline of $28.7 billion, double-digit earnings growth for its transportation, aviation and healthcare businesses. and a promise from Flannery that there would be "no sacred cows" in hits plans to streamline the business.
"We are reviewing a number of structures. We are working through this right now in great detail with the board," Flannery told investors on April 20.
Last month, GE and Wabtec Corp. (WAB) - Get Westinghouse Air Brake Technologies Corporation Report agreed to an $11.1 billion merger that will combine the transport operations of the two U.S.-based companies and further the ambitions of CEO John Flannery to streamline the Boston-based conglomerate.
The deal will see GE receiving $2.9 billion in cash from Westinghouse Air Brake Technologies Corp., also known as Wabtec as the groups combine to create a transportation group with annual revenue of $8 billion. GE shareholders will hold about 50.1% of the combined group, the companies said, and will maintain the right to increase that ownership percentage going forward.
GE's transportation business booked $1.5 billion in new orders in the three months ending in March, up 46% from the same period last year, and notched sales of $872 million. The group's profit margin was 14.9%, GE said, just below Healthcare at 15.2% but well shy of the 22.5% figure for the Aviation group.