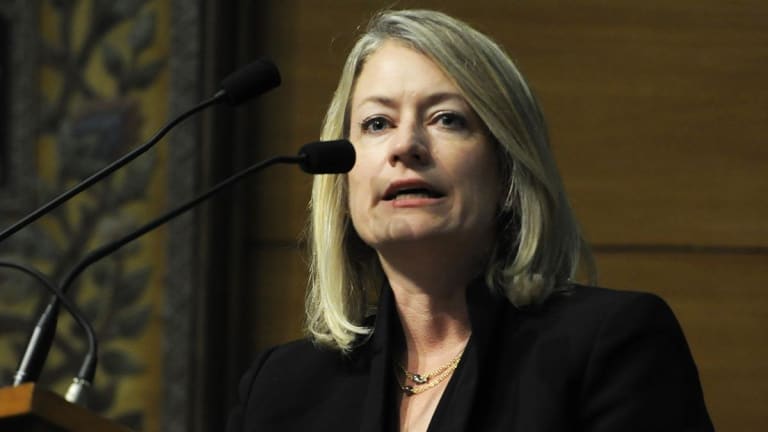 General Electric CFO to TheStreet: We Will Discuss 2019 Plans Later This Year
The industrial conglomerate maintained its fiscal year 2018 full-year earnings guidance of $1 to $1.07 per share.
Anticipate an update on General Electric's 2019 strategies later this year. 
"We expect an investor outlook late in the year, which would really talk about our 2019 plans," GE Chief Financial Officer Jamie Miller told TheStreet in a phone interview. Miller did not say exactly when investors should expect that update. 
Some analysts had expected General Electric Co. (GE) - Get Free Report to lower its full-year earnings guidance on Friday. But, when the industrial conglomerate maintained its 2018 earnings outlook of $1 to $1.07 per share, Wall Street began to question when they would see financial guidance for next year.
Boston-based GE reported net earnings of 7 cents a share, a 30% decline year over year. Adjusted earnings of 19 cents a share beat estimates by a penny, according to FactSet. Revenue of $30.1 billion also surpassed analysts' expectations of $29.4 billion.
Despite the top and bottom line beats for the second quarter, GE shares slumped 4.5% to $13.21 as weakness in the company's power business pressured profit and led GE to trim its annual industrial cash flow guidance to $6 billion from a range of $6 billion to $7 billion. 

"GE's revised free cash flow guidance of about $6 billion is broadly in line with our expectation for 2018, but underlines that GE is only at the outset of a multi-year effort to improve its fundamental financial performance," said Rene Lipsch, a senior credit officer at Moody's, in an emailed statement. "The company has made considerable progress in executing its strategic plan and reducing structural costs, but continuing weakness in the Power segment in particular causes uncertainty in achieving the revised guidance."
J.P. Morgan's Stephen Tusa questioned how the company can maintain its earnings per share guidance while cutting free cash flow guidance.
"This is a sign to us of how challenged fundamentals actually are, suggesting that optics and headlines are all that is left to keep the bond vigilantes at bay," Tusa wrote in a research note. "We remain [underweight] with an $11 [price target], and the stock should be down today."