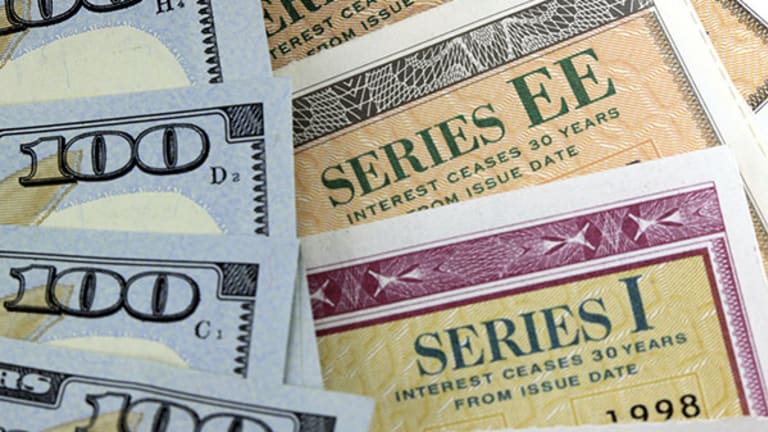 Gen X-ers and Millennials Should Refrain from Buying Bonds Even in a Downturn
Despite the tumultuous market seen at the start of this year, Generation X and Millennial investors should avoid adding bonds to their portfolios.
Despite the tumultuous market seen at the start of this year, Generation X and Millennial investors should avoid adding bonds to their portfolios.
Despite the tumultuous start to the stock market this year with massive declines in all three major indexes on Friday amid global fears of an economic slowdown, Generation X and Millennial investors should avoid adding bonds to their portfolios.
The markets took a nosedive dive with the Dow Jones Industrial Average dropping by 522 points on Friday at one point as it dipped below 16,000 and the S&P 500 index entering correction territory, falling more than 3% midday, wiping out the mini rally from the previous day. The Dow ended up at 15,988 with a 2.39% decline while the S&P 500 fell by 2.16% at 1,880. Though the Dow is up some 100 points this morning, investors are skittish and eager to make moves to safeguard their cash.
Yes, the steep declines this week could signify the beginning of a larger correction. Anticipation for a true rebound in the stock market has nearly evaporated as investors have continuously waged one massive selloff after another among deepening fears of a global downturn while crude oil tested new lows again.
But thought fearful investors often turn to investments that they deem to be safer, such as corporate bonds and Treasuries -- sacrificing yields for less volatility -- they need to resist this strategy. It's a fool's errand, because in reality, bonds do not protect portfolios from "steep market declines," said Matthew Tuttle, the portfolio manager of Tuttle Tactical Management U.S. Core ETF (TUTT).
Allocating more bonds than stocks in your portfolio may protect you from too much downside, but bonds do not rise as much as stocks will decline in a bear market, he said.
"This might offer some minimal protection, but it also protects you from making money in a bull market," Tuttle said. "It also assumes that the 30-year bull market we have had in bonds will continue, which is mathematically impossible."
Bonds do not need to be a "significant part" of a retirement portfolio, since "every bond is susceptible to default," said Patrick Morris, CEO of New York-based HAGIN Investment Management.
Why Junk Bonds Are Not the Answer Either
With little upside to owning corporate bonds, some investors turn to distressed high yield bonds known as junk bonds. The main issue with owning them is that "it is a ton of work," Morris said.
"Greek bonds, Argentina bonds and energy company debt are all great investments if you have the resources to really do in-depth research," he added.
Ratings agencies are not always independent analysts of the bonds, so even if the bond receives an investment grade rating, the "event of a default can be hard to predict," Morris said.
Government Bonds Have No Yield
With the Federal Reserve's current stance of tightening the monetary policy, choosing government bonds remains a "money loser," Morris said. Since bonds have an inverse relationship with interest rates, as they begin to rise, the price of the bond declines.
"If you buy a bond at $99.69 for every $100 and interest rates rise, the value of the bond will decrease," he said. "Obviously, you get back the full $100, but if you should need money in the interim, you could very well lose on the trade."
The current interest rate on government bonds is less than the rate of core inflation, so investors need to realize that the money they invest lacks the "same buying power as the money you used to buy the bond in the first place," Morris said.
"If inflation is 3% and the bond pays 2%, then the difference over ten years is substantial," he said. If $10,000 today compounded annually at 2% is $12,189.94, then at 3% it is $13,439.16."
An investor in this scenario would lose $1,200 to inflation or 12% of his original investment, which can be more than a market correction.
Several Decades Until Retirement
The luxury of time means investors in their 20s to 40s can have "upwards of 30 years to invest before needing to tap into a retirement portfolio," said David Walters, portfolio manager with Palisades Hudson Financial Group, a Scarsdale, N.Y.-based investment firm.
Since stocks perform better than bonds over a long time period, any short-term volatility is not as relevant. Although markets do not go straight up, they rise over time. Since 1926, the equivalent of the S&P 500 has advanced in 68 of the 90 years, meaning on a yearly basis, the market advances 75% of the time, said Robert Johnson, CEO of the American College of Financial Services in Bryn Mawr, Pa.
"The long-term performance of stocks versus bonds dictates that Gen X and Gen Y investors don't need to buy bonds," he said.
The amount of earnings from stocks is nearly double compared to bonds. From 1950 through 2014, the S&P 500 earned an average compound annual return of 11.4% while corporate bonds returned on average returned 6.5% compounded annually.
"The best way to build long-term wealth is to invest in equity securities," Johnson said. "These long-term investors need to stop listening to experts who say that the financial world is ending."

What To Buy Instead
The best option currently is to buy into a high quality stock portfolio with a yield of 2.5% or greater, Morris said. Investors should seek stocks which offer a dividend and increases the odds that the company lower overall levels of debt.
"Microsoft (MSFT) - Get Report and Apple (AAPL) - Get Report are great examples of cash rich companies that might just pay you a special dividend if you wait long enough," he said. "Universal Corp. (UVV) will pay 3.78% and Altria (MO) - Get Report 3.88%, Equifax (EFX) - Get Report , while Convergys (CVG) and Aetna (AET) all pay about 1% or a combined 2% to 2.5%, depending on which stocks you buy and in what amount."
The fear of a major market correction is the most popular argument against this strategy, but this recovery should be quicker, Morris said.
"In March, the market could be down at 11,500, but that is a great buying opportunity," he said. "Dividend yields would be north of 6% and valuations would be historically compelling."
Even with the current volatility and correction, adding to your equity portfolio will yield higher returns because the probability of those holdings "significantly appreciating in value over the next 20 years is much higher than that of bonds," said Edison Byzyka, vice president of investments for Hefty Wealth Partners in Auburn, Ind.
A buy and hold investor will have "more money in the long run by buying and holding 100% stocks," despite the 50% declines that have incurred in the past and are "very likely to incur in the future," said Bill DeShurko, founder of 401 Advisor, a registered investment adviser in Centerville, Ohio and a portfolio manager on Covestor, the online investing marketplace.
Over the 20 years from 1993 to 2012, the Barclay's Aggregate Bond Index averaged 6.31% per year which was a "pretty consistent bull market for bonds," he said. While stocks were hit with two 50% stock market drops in this same period, they still averaged 8.33% per year.
Even a 2% difference in return will make a "huge" difference in a retirement account over 20 or more years, DeShurko said. A 40-year old with just $10,000 in his 401(k) who adds $5,000 a year would have an additional $360,000 in his plan at age 65 with an extra 2% return on investment.
"While stocks are off to a rocky start, don't expect much, if anything, from bonds over the next ten years," he said.
Avoid going overboard with this theory, because some "pundits will then assume that all risk has its reward," DeShurko said. "If we pick the riskiest stock categories to invest in, we will have even more money and this is simply not true. We strongly advocate that if you go the 100% stock route, which you should, then make sure that 100% allocation is in the most conservative stock categories."
Dollar-cost averaging should be maintained even if the market is in a serious correction.
"Invest on a monthly basis and don't stop, no matter what happens to the market," he said. When the market goes down, you want to constantly invest to take advantage of lower prices."