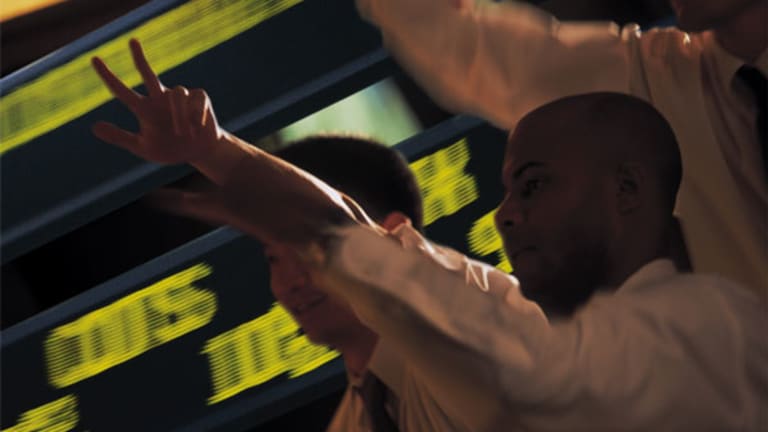 NEW YORK (Real Money) -- Jim Cramer shares his views every day on RealMoney.Click here for a real-time look at his insights and musings.
There's More to This Rally Than Greece
Posted at 1:26 p.m. EDT on Wednesday, June 10, 2015
So that's all it takes, huh? A better tone between Germany and Greece? Some sense that this monstrous Greek issue can be put behind us?
On the surface, absolutely. But, to me, this is really about growth. For example, the move in bonds in Europe, where yields are just screaming higher, is a sign that business is getting better throughout the continent.
It makes sense. While energy prices are still low, they aren't so low that we sense a recession coming on, and Europe's benefiting mightily from its non-oil-producing status.
We've had a heating up of hatred in Russia, but have you noticed this issue has somehow become much less front-and-center vs. last year? I think there's more confidence on that issue, which is being greeted quietly but enthusiastically. It didn't hurt to see General Electric (GE) - Get General Electric Company (GE) Report announce a 16-year service pact from a Russian energy company. I can't even imagine that kind of deal happening a year ago.
Then there's China. Now, we've all been disappointed by China's slowing of growth in the last year. But this morning Vale (VALE) - Get Vale S.A. Sponsored ADR Report, the big Brazilian mining company, said it expects iron ore to tighten because China is buying more and producing less. This is very big news given how the iron market's been a terrific tell of the continuing slowdown.
Resource-heavy Latin America sure could use it.
Then there's oil itself. We just got statistics from the U.S. government that we are producing the most oil in 40 years. All of those shut-ins, all of those wells not drilled, and we are still raising production even as most thought this would be a very weak quarter for oil and a real decline in these stats.
So how can oil be going up? I say it's because of demand, raw demand that's better than we think because there's no way we could be storing all that oil. The refineries are running flat out and business is just plain better.
All of these, plus comments from the Japanese central bank that the yen's gotten about as low as it is going to go, signal that there's worldwide growth and that the currency hit for U.S. companies may not be as bad as we think going forward.
That's how you get a big rally on a day like today.
Random musings: Thanks for attending the webinar! Really appreciate your enthusiasm!
At the time of publication, Action Alerts PLUS, which Cramer co-manages as a charitable trust, had no positions in the stocks mentioned.
The Main Victims of the 10-Year Treasury Carnage
Posted at 6:46 a.m. EDT on Monday, June 8, 2015
Who the heck needs a 3% yield with little growth and no safety of principal when you can get a 2.75% piece of paper with total protection of principal?
I think that's what's causing the pure carnage we are seeing in many of the packaged goods stocks right now. It's a silent carnage and I want to point out this charnel house lest you stumble into it by mistake.
For the past seven years of benign help from the Fed, we have fallen for stocks like General Mills (GIS) - Get General Mills, Inc. (GIS) Report and Procter & Gamble (PG) - Get Procter & Gamble Company Report and loved stocks like Clorox (CLX) - Get Clorox Company Report and Kimberly  (KMB) - Get Kimberly-Clark Corporation (KMB) Report. We looked away at the slowness of the earnings at Kellogg (K) - Get Kellogg Company (K) Report. They all had income, and income was the mother's milk of investing when bonds gave you none of it.
Lately, though, in this rate scare these stocks have become among the worst out there, every bit as bad as many of the real estate investment trusts, the utilities and the master limited partnerships. My worry is that these are about to become worse because I think the utilities, real estate investment trusts and MLPs have more consistent growth characteristics in many cases than the consumer packaged goods companies. At the same time, these other stocks are saying that the 10-year will blow right past the 2.5% level, something that the stocks of the foods and beverages haven't fully acknowledged.
Think about it: Procter & Gamble's doing quite badly fundamentally. It has almost no organic growth. If the dollar resumes its rally, I would tell you that numbers are way too high. You are staying in the stock because you figure one day they have to reignite their growth and because they have consistently raised their dividend. But as we saw with the 3% yielders in the oil patch, it's not much of a defense if the earnings are reversing.
At this very moment you have to hope that PG does something drastic to bring out value and that it isn't just going to keep on doing what it's been doing. Given all the activism out there, and all of the spin-offs and split-offs, it isn't that pie-in-the-sky a stance. However, there are so many other companies that are doing better -- why hold out hope for this one?
I think the same about KMB. Here's  a terrific company with a 3.3% yield that buys back a lot of stock and has always done its best for shareholders. Why, however, can't the stock go to a 3.75% yield? If I can get 2.75% from a 10-year Treasury with no earnings risk, why would I settle for 100 basis points more with earnings risk? I think it would be a mistake.
I can't see much of a reason to own any of the old line food companies unless there is a corporate event. Kraft (KRFT) , for example, had been doing a whole lot of nothing before its bid. On Friday Diageo (DEO) - Get Diageo plc Sponsored ADR Report, which had become a disappointing, higher-yielding liquor company, was suddenly rumored up eight points on a takeover story. The stock of that $75 billion liquor company was looking mighty awful until the rumor.
I have no idea what to do with Coca-Cola (KO) - Get Coca-Cola Company Report in this environment. It yields 3.29% with a terrific balance sheet and an awesome buyback. It is hedged against declines in the euro and the yen -- well done. But what's it doing to merit actual growth investment? I say the best thing it is doing is putting down stakes in Monster Beverage (MNST) - Get Monster Beverage Corporation (MNST) Report and Keurig Green Mountain (GMCR)  so it can buy the rest at will. That, plus the possibility of still another reorganization gets you, perhaps, away from the 2.75% 10-year death star.
These are the challenged stocks for the moment. They need to see the dollar go lower and the 10-year retreat, or the carnage will be visible to all.
The charts say sell. I say wait to see. You have taken them down this far, but understand that all of these could go down five points in a heartbeat before that yield will protect them against this bond market move.
At the time of publication, Action Alerts PLUS, which Cramer co-manages as a charitable trust, had no positions in the stocks mentioned.