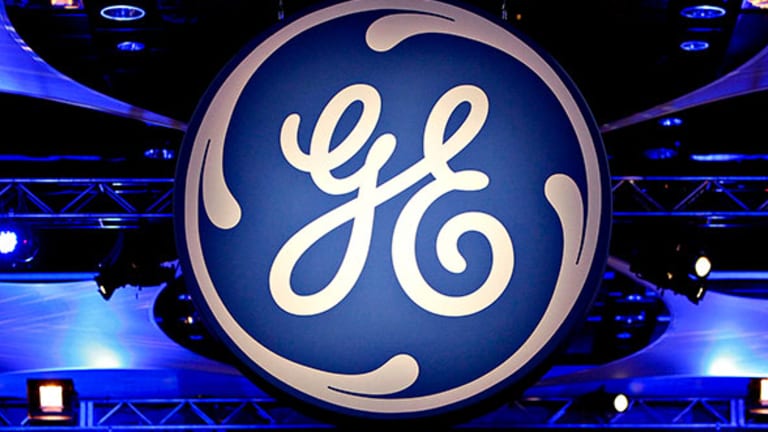 GE Sets Sights on Silicon Valley by Targeting $5 Billion in 'Big Data' Sales Growth
As GE ramps up its industrial segments, investors are eyeing a fledgling 'Big Data' business that GE predicts will expand five-fold in the next few years.
As GE ramps up its industrial segments, investors are eyeing a fledgling 'Big Data' business that GE predicts will expand five-fold in the next few years.
NEW YORK (TheStreet) -- General Electric (GE) - Get Report is setting an ambitious growth target for its fledgling Silicon Valley business, an "Industrial Internet" that analyzes data from both equipment and workers to help large companies manage their bottom lines.
The software, based on GE's Predix cloud platform, gathers data from sensors and controls on industrial equipment, then organizes it to help businesses maximize productivity. The results can range from optimizing wind-turbine output to minimizing downtime and wheel failures for railroads.
Just today, GE introduced a digital wind-farm system that can boost production as much as 20% by linking its software with turbines. Operators will be able to adjust the machines in real time and monitor temperature, misalignments and vibration levels. Cost savings from the technology, if applied to all wind turbines, would add $100 million in value to every 100 mega-watt farm, the company estimated. 
"We took existing farms, used industrial data and big data" and provided 5% more annual production, Anne McEntree, head of GE's renewable energy unit, said in an interview. When GE realized how much it was able to achieve just by working out inefficiency in existing systems, executives began thinking, "what if we do this right at the outset?" she said.
The new system lets GE add another layer of service to its wind turbine sales, the company noted. Service and maintenance contracts, which lock in revenue over years-long periods, are a particularly lucrative portion of the manufacturing business, with GE valuing its service backlog at $193 billion at the end of the first quarter, up from $147 billion in 2011.
"Data and analytics are the future of our services business," said David Lurie, a spokesman for GE. Investing in that product line will help to boost earnings by increasing sales to customers who already buy GE products such as locomotives, jet engines and power turbines, he said.
Railroad companies, for instance, are employing a GE application called RailConnect 360 for feedback on the life of their wheels and fuel pumps. Hospitals can maximize labor productivity and monitor medication dosages with a single GE application. Mining companies can also tie their operations together, and diverse mining operations can be tied together in a single software program.
The technology accounted for more than $1 billion of GE's $108 billion in industrial revenue last year, according to the company's annual report. GE is forecasting additional sales of around $3 billion to $5 billion within the next few years.
The Predix platform is one piece of CEO Jeffrey Immelt's plan to boost sales from GE's sprawling industrial divisions as he sells off most of the lucrative finance business to focus on the company's manufacturing roots. About 73% of GE revenue came from industrial businesses last year. 
"The crystal ball of the future will be GE," said Nick Heymann, co-head of industrial infrastructure research at William Blair. The company's industrial-analysis technology is "projected to take in $4 billion by 2017, and $17 billion in less than 10 years," he said. "They are starting to get a total, holistic view of everything that is going to happen in their key end markets. "
In total, GE has more than 40 applications operating under Predix.
Though the market for those products is difficult to define, Siemens AG is among competitors offering applications for industrial customers from gas- and steam-turbine solutions to oil and gas services. Siemens was chosen to work wtih Brazil's national grid operator, ONS, based on the company's experience designing smart grid applications, according to Siemen's annual filing.
"The convergence of the digital and the physical in the industrial world is a profound transformation that is far from fully appreciated,"  Marco Annunziata, GE's chief economist, said in a report to investors last fall. Annunziata said that the transformation will be similar to the ways smart phones have evolved over the past decade, adding "a company producing interconnected industrial devices becomes a fundamentally different company."
GE has 1,000 of its 14,000 employed software engineers working at the company's Software Center of Excellence in San Ramon, Calif., which is dedicated to harnessing Big Data for industrial uses.
Such applications can save as much as 10% of the fuel bill for major railroad companies, GE CEO Jeff Immelt said at the Mind and Machines conference last fall. By helping add even one additional mile per hour of velocity, they can save train operators as much as $200 million in annual profit.
According to the "Industrial Internet Insights Report" released by GE and Accenture in October, 80% to 90% of companies said "Big Data analytics" is their top priority or among their top three priorities. Aviation was the sector most concerned, according to the GE report, with 61% of companies surveyed saying it is their top priority. Among other industries, 31% of power generation/oil and gas companies identified it as a priority, compared with 28% of power distributors and 24 percent of miners.
"The notion of the Industrial Internet is that small changes make a big impact," Immelt said at the "Mind and Machines" conference. "Social media was about ubiquitous connections. The Industrial Internet is about deep connections where small changes drive a massive impact."
'Big Data' Prioritization by Industry

Source: Industrial Internet Insights Report for 2015
Must Read: