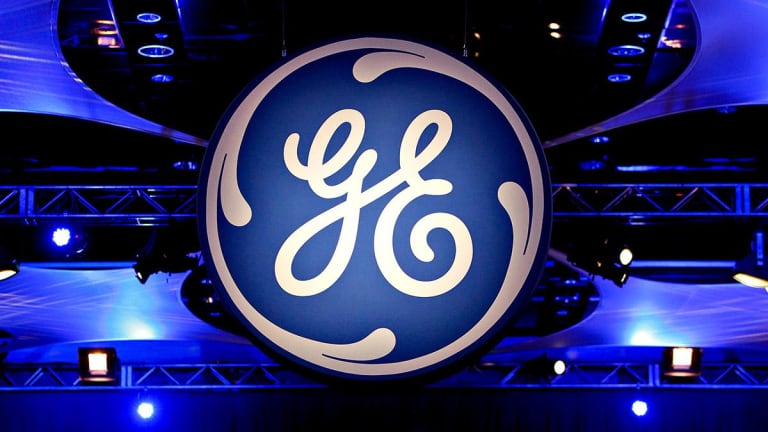 GE's Stock Soars From Its Own Electric Shock
John Flannery is out, Larry Culp is in, and the shares soar.
It's Electric
I had my platform up and running early. I am not a big pajama-time trader, but I usually do have my system up and running hours before hours before anyone else in New York is even awake. If something is going to move, it usually already has if not while Asian markets are open, certainly by the time the Europeans get around to waking up. Markets in general were higher on the U.S./Canada news today.
Pop!! All of the sudden, my long position in General Electric (GE) - Get General Electric Company Report shot right to the top of my open positions on my P/L page. Right past Amazon (AMZN) - Get Amazon.com, Inc. Report . Right past some of my oil and defense names such as British Petroleum (BP) - Get BP Plc Report , Raytheon (RTN) - Get Raytheon Company Report , and Northrop Grumman (NOC) - Get Northrop Grumman Corporation Report . What the? News broke a little after 7 a.m. Wow. Did it ever. GE Power was a rotten molar in the back of your mouth. You could avoid thinking about it by chewing on the other side, or thinking about parts of the firm that were actually performing in line with expectations. No avoiding this. The firm was going to take a non-cash impairment charge of almost $23 billion related to the GE Power segment. On top of this tidbit of information...the firm warned that they will not hit guidance for full year 2018 earnings per share, nor cash flow.
But Wait, There More
It gets wilder. CEO John Flannery is out. I liked the guy. I really did. There is no denying though that under the past 12 months, with Flannery at the helm, the stock returned an awful -53% versus an S&P 500 that has gained nearly 16% over the same time frame. So, out with the old, and in with new CEO Larry Culp, effective immediately. This is the same Larry Culp that ran Danaher (DHR) - Get Danaher Corporation Report from 2000 to 2014, by the way. Culp is a well known quantity on Wall Street, which is important to the firm right now. His claim to fame was his successful transformation of the already mentioned Danaher from an old-economy type industrial into a modern, forward looking firm technologically. Also coming aboard as lead director will be Thomas Horton, former CEO of American Airlines (AAL) - Get American Airlines Group, Inc. Report .
GE: From Thomas Edison to the Mars Observer -- Watch Our Timeline!
What Now?
This morning's move, if held, will put the last sale of GE well above my net basis. I will look to protect some hard earned dough by taking some profits after this article goes public. At that time, I will most likely sell at least half of my equity long position, and I will try to unwind my derivative positions depending on where they are trading at the time.
That does not mean I do not like the stock now. It means that I think the market is reacting too optimistically too quickly to this news. This stock reports on October 25th. Should the market offer me enough of a discount to the sale I make today, prior to that date, I will have no problem buying back whatever it is that I sell today for a vig.
For the novice trader...I do not like to chase. You know that. I would give this name a day or two prior to initiating if one is unable to hedge oneself effectively coming into this news flat. 
(Amazon, BP, Raytheon and Danaher are holdings in Jim Cramer's Action Alerts PLUS member club. Want to be alerted before Jim Cramer buys or sells AMZN, BP, RTN or DHR? Learn more now.)
At the time of publication, Stephen Guilfoyle was Long BP, NOC, GE, RTN equity, Short GE puts.