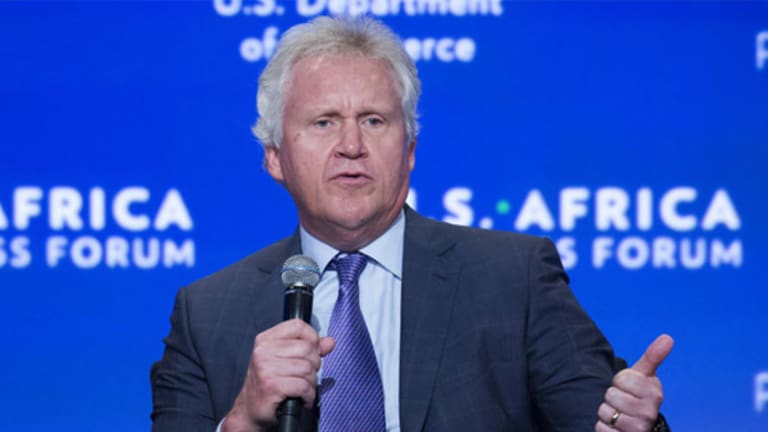 Here's How Activist Nelson Peltz Turned the Lights Out on GE CEO Jeff Immelt
The activist investor has been agitating behind the scenes.
Updated from 8:26 a.m. EDT on Monday, June 12
General Electric Co. (GE) - Get General Electric Company Report announced Monday that its embattled Chairman and CEO Jeff Immelt plans to step down this year, in a move that comes as the iconic American industrial conglomerate continues to face pressure from activist investor Nelson Peltz.
Specifically, GE plans to bring in John Flannery, the current president and CEO of GE Healthcare, as CEO, effective Aug. 1, while Immelt will step down from his chairman position on Dec. 31.
GE shares traded up 5.9% to $29.21 at Monday's opening on the news of C-Suite shuffle. However, prior to the announcement, GE's share price had been on a downward trajectory.
Immelt was already in the hot seat with Peltz, who runs insurgent fund Trian Fund Management, in March when the fund manager reportedly suggested that Immelt had been missing earnings targets and hadn't been cutting enough expenses. The expectation was that Peltz might try to push Immelt out if he couldn't meet financial goals.
Flash forward a couple months. By May 15, GE shares hit a 52-week intraday low, amidst cash flow issues, and a Deutsche Bank note suggested that the company would have to cut its dividends in the next couple years. Later in May, Immelt wavered on whether GE was likely to meet guidance of $2 a share for 2017 earnings.
The performance is likely to strengthen the odds that Peltz, who has owned the stock since 2015, may have been pressuring Immelt to step down in behind-the-scenes conversations. It's possible that Peltz may be trying to convince GE's board that a Trian representative should get a directorship to help propel a strategy for the industrial giant that the activist fund laid out in a 2015 white paper.
Joe Mills, founding partner at proxy solicitor Saratoga Proxy Consulting in New York, suggested that Peltz's presence likely "raised the stress level" in the boardroom. "Shareholder activism is putting pressure on CEOs and boards throughout the market," he added.  
The CEO shuffle is likely to buy GE some time. It's possible that the industrial conglomerate will sell additional businesses to boost its share price as Peltz watches, but don't expect GE to break itself up they way another of the activist's targets, Pentair PlC  (PNR) - Get Pentair plc Report  recently moved to do under pressure from Trian. 
And expect Trian to be in the stock for the long haul. Trian's Chief Investment Officer Ed Garden recently described the fund at a corporate governance conference sponsored by TheStreet and The Deal as "liquid private equity." The fund, he said, doesn't like the activist moniker and the related perception that managers may be short-term or only balance-sheet focused in nature.
At the conference, when GE came up, Garden said "you hit a nerve" but didn't comment further on the situation.
If GE's stock price doesn't improve expect Peltz to issue another publicly disclosed white paper to management with details about what GE needs to do meet the activist fund's share price goals. In its 2015 white paper, Peltz's team suggested that GE should reach $45 a share by the end of 2017, a target that appears unachievable based on the company's current share price.
In addition, Trian's white paper also expected GE to significantly hike its already large share buyback program and consider joint ventures or IPOs. Many of the suggestions made by Trian have not been implemented over the past couple years, suggesting that the activist fund has been agitating behind the scenes.
The white paper wasn't all negative. In fact, a large part of it backed a series of moves the industrial giant had been making by divesting most of its large GE credit business. And it came after Trian fund managers visited GE's operations and division chiefs. 
In addition, the CEO shuffle move also suggests that Peltz won't launch a director battle at GE anytime soon. The company has a $245 billion market capitalization, which means that any director battle would be the largest boardroom skirmish ever undertaken. Peltz's investment may be significant for the activist -- among the firm's most important positions -- but it is only 0.9% of GE's market capitalization, a pretty small starting point for a full-out battle. Should Peltz want to launch a battle, director nominations for the company's 2018 annual meeting would likely need to be submitted by November.
A more likely outcome is for Trian to release another white paper if the situation doesn't improve under Flannery. Peltz's track record suggests that Trian may soon issue a publicly disclosed letter to management with details about what GE needs to do to meet the $45 a share goal set out by the activist fund. 
If the share price doesn't improve soon, look for Peltz to seek a board seat in behind-the-scenes conversations. Companies like Sysco Corp.   (SYY) - Get Sysco Corporation Report  and the Bank of New York Mellon Corp.  (BNY) - Get BlackRock New York Municipal Income Trust Report  have added Trian officials to their boards after private negotiations and it is possible that Peltz could be seeking a seat for himself or another fund manager. In its 2015 white paper, Peltz made sure to underline a note saying that the fund has not asked for a board seat but expects management to deliver on its commitments, all of which suggests that in 2017, the activist may want a seat.
A Trian spokesman didn't return a request for comment. 
General Electricis aholding in Jim Cramer'sAction Alerts PLUS Charitable Trust Portfolio.Want to be alerted before Cramer buys or sells GE? Learn more now.
Visit here for the latest business headlines.
Read More Trending Articles:
Tesla Could Have a Near Monopoly That Sends Its Stock Up Another 30%, Says Firm
There Are Two Possibilities Right Now, One Being a Stock Market Correction: Market Recon
Apple Is a Very Strong Brand, and Jim Cramer Is Sticking With the Stock: Mad Money