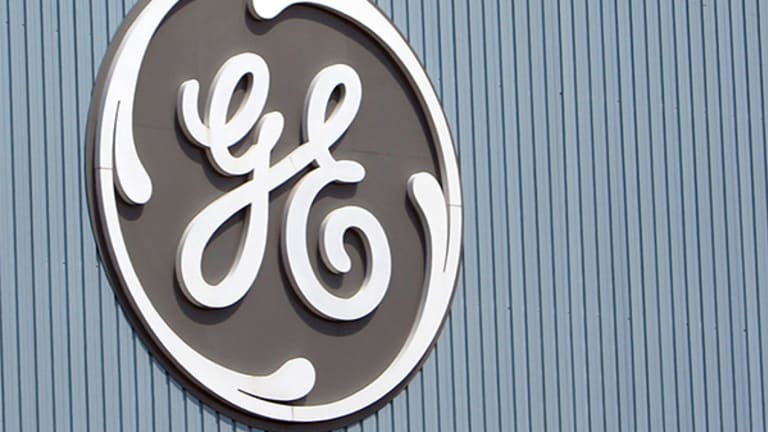 GE's Earnings Keyed to 'Industrial Internet' Efforts
How far has the manufacturer gone in its efforts? We'll find out early Friday.
How far has the manufacturer gone in its efforts? We'll find out early Friday.
As General Electric (GE) - Get Report  prepares to roll out its second-quarter earnings before the opening bell Friday, investors should be keeping a close eye on how far the manufacturer has come with its so-called Industrial Internet.
GE's digital transformation is part of the blueprint established by CEO Jeff Immelt last April, which involves scrapping the Fairfield, Conn.-based manufacturer's longstanding lending arm, GE Capital, in order to throw off onerous regulations and return the corporation to its more industrial roots. (GE stock is held in Jim Cramer's Action Alerts PLUS charitable trust.)
The Industrial Internet, or "Internet of Things," relies on putting a "laser focus on ushering in a new era of industrial productivity," Action Alerts PLUS co-manager Jack Mohr said in a Thursday email.
"We believe it will take time for traditional multi-industrial investors to appreciate the power of the company's strategic transformation," Mohr said in a Thursday report, noting the Industrial Internet will require a "laser focus on ushering in a new era of industrial productivity."
GE's Industrial Internet, which recently inked a deal with Microsoft (MSFT) - Get Report  as a new partner, is a system connecting GE's proprietary cloud-based Predix software with industrial sensors in order to optimize machine efficiency, from railways to jet engines to wind farms.
"GE can draw upon its massive, diversified end-market base, extracting valuable insights which can make the businesses it serves more efficient," Mohr added.
William Blair analyst Nick Heymann said in a Thursday phone interview that GE is not likely to disappoint, and is well on track to reach $10 billion in annual sales through its digital businesses by 2017, so long as the company hits a target of roughly $2.5 billion for the second quarter.
Heymann added that the company is poised to pay off $1.1 billion in restructuring costs tied to its $10 billion acquisition of French turbine manufacturer Alstom's (ALSMY)  grid businesses last November.
Based on the $1.1 billion in additional gains GE obtained by selling off its appliance businesses to China's Haier for $5.4 billion in January, GE can settle $800 million in Alstom-related costs that were originally slated to be handled in 2017, along with $300 million that was set for 2018, as soon as the first half of 2017, Heymann said. "If that's hinted at tomorrow, this stock is going to go way north," he concluded.
Meanwhile, Edward Jones analyst Jeff Windau said in a Thursday phone interview that he'll be keeping a close eye on transporation, as demand for rail services has slumped signficantly so far in 2016. He said he has heard commentary that orders tied to GE's gas- and steam-turbine businesses have been delayed and pushed into the next quarter.
Windau also noted that GE may offer insight into how it plans to use newfound financial freedoms after it recently shed its onerous Systemically Important Financial Institution label, or SIFI, which it inherited as part of GE Capital's involvement in the 2008 financial crisis.
Windau said GE will have more "optionality" with its balance sheet and will begin to look for "new avenues to start allocating capital."
Editor's Note: This article was originally published at 4:53 p.m. EDT on Real Money on July 21.