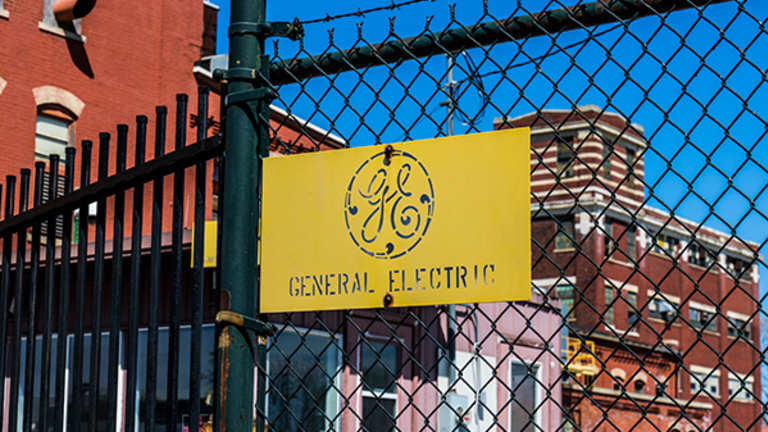 GE's Dividend Is Perfectly Safe Despite Recent Cash Flow Woes
GE's dividend is safe, and cash flow should be better than the first quarter of 2017. Plus, what Jim Cramer thinks.
Updated from 1:04 p.m. on Thursday, July 20, 2017.
General Electric Co.'s (GE) - Get General Electric Company Report next CEO, John Flannery, promised investors when his promotion was announced in June to start improving cash flow in short order.
While Flannery is unlikely to offer much detail on that during the manufacturing icon's quarterly earnings report on Friday, July 21, GE's financial statements will show stockholders just how big a task it's likely to be.
Three months ago, the Boston-based conglomerate disappointed stockholders with cash from operations of only $370 million in the first quarter, well below the level needed to deliver on its target of as much as $21 billion for all of 2017. That compounded the frustration when current CEO Jeffrey Immelt appeared to pull back on a 2018 earnings target of $2 a share, a benchmark important to activist Nelson Peltz's Trian Partners, and prompted speculation that GE might be forced to cut its dividend.
Nick Heymann, an analyst with William Blair, discounts that possibility. "There's no chance for the dividend to be cut," he said in a telephone interview, though GE is likely to trim its stock buybacks over time as its annual payment from the once-sprawling lending business dwindles.
In the meantime, the company that Immelt streamlined from a sprawling conglomerate by exiting businesses like broadcast television, appliances and most of lending to focus on its manufacturing roots, will probably report a second-quarter rally in cash from operations, Heymann said. 
He predicts the company will meet its industrial cash target of $12 billion to $14 billion this year, expanding to as much as $16 billion next year and $20 billion in 2019. GE's ability to generate cash has been hampered since mid-2016 by the introduction of new products such as next-generation locomotives, higher cash pension contributions and higher-than-anticipated capital investments in digital manufacturing, Heymann said.
Overshadowing the report on quarterly financial performance, which analysts surveyed by FactSet estimate will include earnings of 25 cents a share on revenue of $29.1 billion, will be questions about Flannery's reset of the company's profit projections.
The 55-year-old, who officially steps into the top job on Aug. 1, probably won't provide that until the fall, Heymann said, but the cuts from GE's earlier $2-per-share target won't be "draconian" -- possibly only 20 or 30 cents a share.
Flannery "has a real opportunity to not only reset the earnings bar, but also retune the culture," Nigel Coe, a Morgan Stanley analyst who restarted coverage of the company with a neutral rating, said in a note to clients. "Not an easy job, but what we and the markets are looking for is a sales culture that is less focused on the quantity of growth, but rather the quality of growth."
Coe, like Heymann, said a breakup of GE isn't necessary, despite the speculation spurred by Trian's involvement and Peltz's success in convincing Pentair Plc to split up its water and electrical business.
"Management needs to kick the tires and reassess the strength of the nuclear forces that bind the portfolio together," Coe said, "but what remains after 15 years of portfolio flux is finally a collection of businesses that are globally centric with high research and development barriers and a deep service pool."
EXCLUSIVE LOOK INSIDE: General Electric is a holding in Jim Cramer's Action Alerts PLUS charitable trust portfolio. Want to be alerted before Cramer and the AAP team buy or sell the stock? Learn more now.
Shares of GE, founded as a light bulb-maker by Thomas Edison in the late 1800s, have fallen 4.5% to $26.69 since Immelt announced his retirement -- even though the stock led gains on the Dow Jones Industrial Average the day he did so.
In his 16 years as CEO, the 61-year-old Immelt took much of the blame for a lackluster stock performance despite his transformational streamlining and leading GE through both the aftermath of the 2001 terrorist attacks, which caused losses of $575 million on company-issued insurance policies, and the 2008 financial crisis, when GE Capital's reliance on short-term commercial paper left it vulnerable to frozen credit markets.
Source: General Electric Co.
The downturn forced Immelt to cut GE's dividend and cost the manufacturer its top credit ratings with Standard & Poor's and Moody's.
Trian, the activist that holds a $1.84 billion stake in GE's stock, declined to comment on Immelt's retirement and hasn't said whether it would push for a breakup.
Even without that, however, there's a chance GE will sell some of its businesses -- or pieces of them.
The company said June 8 it has begun talking with prospective buyers for its lighting unit, the strongest connection to Edison. It's also selling the water and industrial solutions businesses and has received offers from some of its partners to help finance the digital unit.
That business, a pivotal part of Immelt's long-term vision, garnered about $300 million in orders for its Predix software platform in 2016 and may land $1 billion this year. 
Predix, which does for factories what Apple's iOS did for smartphones, allows companies to write compatible programs that can optimize equipment in industries from oil production to railroads. Among its innovations is a "digital twin," a software model of a client's equipment or processes that lets manufacturers monitor performance as well as diagnose, and ultimately predict, problems.
Some 26,000 developers were working on the platform in April, a 30% increase from the end of last year.