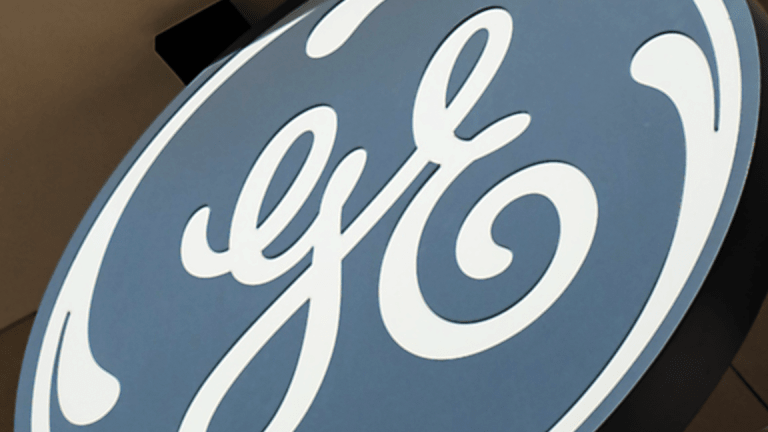 GE Rises on Earnings and Revenue Beats Despite Weakness in Power
The Boston-based industrial conglomerated reports adjusted earnings of 16 cents a share on revenue of $28.66 billion.
General Electric Co. (GE) - Get General Electric Company Report shares jumped Friday, April 20, after posting top- and bottom-line beats for the first quarter that were driven by strength in the company's aviation and healthcare businesses. 
The Boston-based industrial conglomerated reported a loss of 14 cents a share, wider than last year's loss of 1 cent. Earnings, adjusted for one-time items, came to 16 cents a share, beating forecasts that called for 12 cents. Revenue rose about 7% to $28.66 billion, surpassing estimates of $27.6 billion.
Shares of GE rose 3.9%, closing at $14.54.
CEO John Flannery said the company is seeing signs of progress in its performance and the quarterly results are a step forward in executing its 2018 plan.
"Industrial earnings, free cash flow, and margins all improved year over year," Flannery said in a statement. "We reduced Industrial structural costs by $805 million and are on track to exceed our cost reduction goal of $2 billion in 2018."
Earnings at GE's aviation, healthcare, renewables and transportation units all grew, Flannery said. Still, he warned about continuing weakness in GE's core power unit.
"Power is making progress on cost actions and operational and services execution, but the industry continues to be challenging and is trending softer than our forecast," Flannery said in a statement.
Orders of $5.6 billion for power were down 29% year over year and revenue fell 9% to $7.2 billion. Segment profit dropped 38% to $273 million. 
The company's finance unit, GE Capital, also experienced a more substantial loss. Continuing operations generated a loss of $215 million, compared with a loss of $47 million a year ago. GE noted that the loss includes a $45 million charge related to updated to the U.S. tax reform and a $50 million non-cash charge associated with upfront costs from calling approximately $2 billion of excess debt.
"This quarter Capital also recorded a reserve of $1.5 billion in discontinued operations related to the WMC FIRREA investigation," the company said. "GE Capital ended the quarter with $146 billion of assets, including $22 billion of liquidity."
Cowen equity analyst Gautam Khanna said the $1.5 billion reserve related to the WMC FIRREA investigation "mitigates some of the 'unknowns' from the ongoing investigation."
That being said, GE reaffirmed its full-year guidance and expects earnings in the range of $1 to $1.07 a share.
"Given the strong start in the first quarter at other segments (i.e., mainly Aviation) the reiterated guidance may be viewed as credible, even though Aero mix should weaken throughout the year as LEAP [engine] deliveries ramp and Power backlog converts to sales," said Khanna.
"Aviation is so powerful that it's lifting all boats," TheStreet founder Jim Cramer said on CNBC Friday. Cramer used to own GE for his Action Alerts PLUS charitable trust before selling the position at the end of February.
Orders for GE's aviation unit rose 13% year over year to $8.1 billion. Segment profit surged 28% to $1.6 billion.
JPMorgan's Stephen Tusa said that while the first-quarter segments profit and earnings per share came out ahead of expectations, GE is "still showing potential for downside to 2018 expectations."
"After the recent run, we think the stock already more than reflects a 'not a disaster' quarter," Tusa wrote in an April 20 research note. 
Importantly, GE beat Tusa's earnings estimate of 12 cents per share, Cramer said.
"You could not call a bottom until Tusa's was proven wrong and they did not guide down," said Cramer, who said that GE management has done "a number of things that were right."