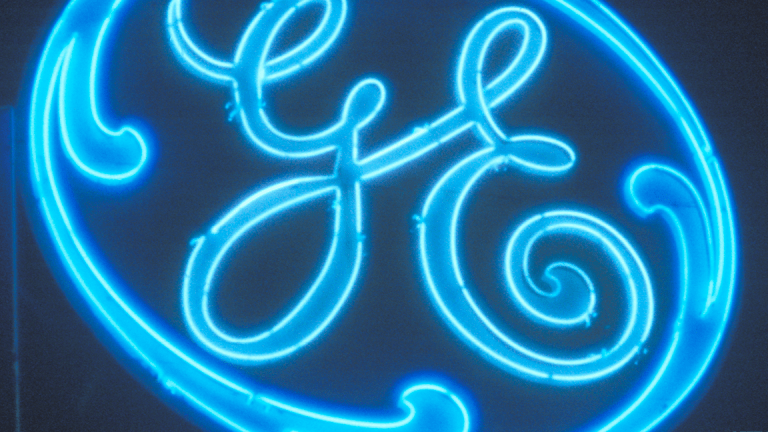 Publish date:
GE Reached 'Irrational Level' Even Amid Efforts to 'De-Risk' Portfolio: JPMorgan
There is no "quick fix" for the beleaguered industrial conglomerate, CEO John Flannery said.
There is no "quick fix" for the beleaguered industrial conglomerate, CEO John Flannery said.
This is what happens when no news ends up being bad news.
General Electric Co. (GE) - Get General Electric Company (GE) Report Chief Executive Officer John Flannery said there is "not going to be a quick fix" at the beleaguered industrial conglomerate and his comments surrounding the company's dividend and power unit rattled investors even though they were not out of line from his previous remarks.
Speaking at the Electrical Products Group Conference on Wednesday, Flannery, who was installed as CEO in August 2017, discussed the ways in which the Boston-based company is going to "de-risk" the portfolio, although most investors and analysts largely focused on the potential pitfalls.
"We like the confident tone around cultural change and the way they will operate the businesses going forward, but there is little to suggest a change in math around earnings, cash and leverage, core to our [Underweight] rating, and supportive of [Wednesday's] decline from what we view as an irrational level that was based on a combination of technicals, confusing math and excitement created by some in the media," J.P. Morgan analyst Stephen Tusa wrote in a May 23 research note.
The company's Power unit "continues to be under pressure from energy efficiency, penetration of renewables," said Flannery. "The pricing environment is tough with everybody having excess capacity."
But the CEO hinted at the industry challenges in April following first-quarter financial results, saying the Power industry was "trending softer than our forecast."
Because Flannery was clear in his Wednesday remarks that there is no short-term fix, and no sight of a V-shaped rebound in profits, "the business will continue to need heavy cash restructuring for the time being with little relief in the near term," Tusa said.
GE is also dealing with persistent issues with its insurance business, the same business that required the company to take a massive charge and shore up its long-term care reserves by $15 billion.
Flannery wants to shrink GE Capital while managing the insurance portfolio "as aggressively as we can to reduce the raw liability." He said he's looking at "everything possible" to reduce the insurance risk and would be open to a deal to remove that burden -- although other insurers have already found that there is little appetite from buyers to absorb long-term care liabilities.
Given the struggles with the Power unit and the conglomerate's shrinking footprint through a targeted $20 billion of asset sales, Flannery's lack of commitment to maintaining the 48-cent dividend in 2019 spooked investors. He said the dividend, which he knows is a key component of the valuation and attraction of the stock, is a "function of the free cash flow of the company. And that's ultimately a function of our operating performance with the assets and things that we do with the portfolio."
Flannery's refusal to reaffirm the dividend gave Tusa the sense that "anything is possible on this front." Still, GE reportedly has no plans to cut the dividend, according to CNBC's David Faber, citing people familiar with the matter.
"While we did not expect 'new news,' there is a lack of anything tangible to change our view on the situation and some data points to reinforce our caution, adding up to what appears to be a holding pattern until they present a more comprehensive plan for the future, potentially in June," Tusa said.
The firm maintained its $11 price target on the stock. Shares of GE on Wednesday plunged the most in nine years, falling 7.3% to $14.18, after Flannery's presentation.
But the stock was rebounding on Thursday as GE shares rose 3.2% to $14.65 at 12 p.m. New York time on Thursday.
The rally in GE's shares Thursday morning is "technical in nature," according to Stephen Guilfoyle, founder of family-run trading operation Sarge986 LLC. Still, investors should not put their money into GE strictly for the 3.4% dividend yield, Guilfoyle said.
"If you feel the need to take a speculative shot here, I would suggest something along the lines of a purchase of September $16 calls," Guilfoyle wrote in a column for TheStreet. "Right now, they are trading roughly for a song (about $0.32), which should tell you something."