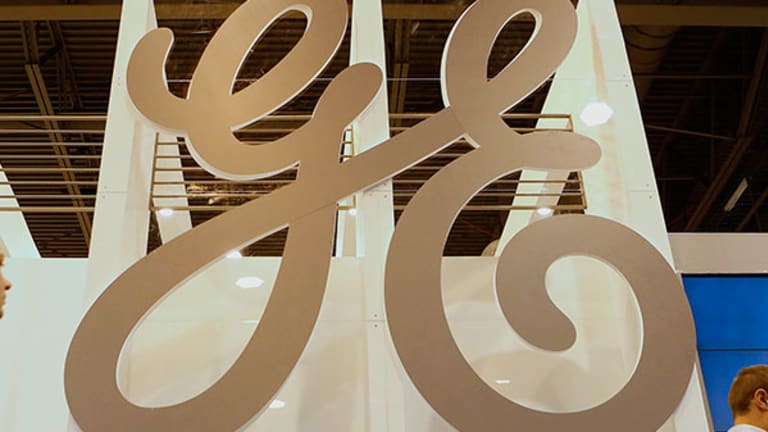 GE on Track for $26 Billion Payout After Profit Beat in 'Volatile' Economy
Challenges in GE's oil and gas unit as well as its transportation business weighed on the company's stock, but CEO Jeffrey Immelt said those operations generate just 15% of revenue.
This article, originally published at 7:13 a.m. on Friday, July 22, 2016, has been updated with comments from executives and market data.
General Electric (GE) - Get General Electric Company (GE) Report posted higher quarterly profit than analysts estimated after delivering nearly three dozen of its new gas turbines and winning more than $25 billion in jet-engine orders at the Farnborough Air Show, one of the aerospace industry's biggest trade shows.
Profit of 51 cents a share in the three months through June compared with the 46-cent average estimate from analysts surveyed by Bloomberg, and the Fairfield, Conn.-based company reiterated its projection for full-year earnings of as much as $1.55 a share, along with buybacks of $18 billion and dividend payments of $8 billion.
"GE had a good quarter amid a slow-growth, volatile environment," CEO Jeffrey Immelt said on an earnings call. "The resources sector remains tough, putting pressure on our oil and gas and transportation businesses. Meanwhile, the rest of our markets have plenty of growth available."
Immelt has spent the past several years refocusing the 124-year-old company founded by Thomas Edison on its industrial roots, emphasizing digital manufacturing and businesses like jet engines, power plants and railroads. GE's diversity enables it to remain strong overall, he has said, since downturns in some of its customers' industries are typically balanced by growth in others.
Since taking over in 2001, Immelt has steered GE away from non-core operations like insurance and broadcast television and, in the past year, struck agreements to sell 90% of the once-sprawling lending businesses.
Second-quarter milestones in his streamlining plan included completing the sale of the appliances business to China's Qingdao Haier for $5.4 billion and winning government approval to lift a regulatory designation applied after the financial crisis that subjected GE to stricter scrutiny and tougher liquidity standards because of its lending unit.
GE had been one of several companies declared "systemically important" after the fallout from investment bank Lehman Brothers' collapse prompted government efforts to identify other businesses large enough that their failure might imperil the broader economy and create safeguards.
GE stock was hit hard during the crisis, since Lehman's bankruptcy froze the market for commercial paper, a type of short-term security that the company relied on to fund its lending business. That forced Immelt to cut the dividend for the first time in GE's history, and the company lost its top-tier credit ratings from Standard & Poor's and Moody's.
At the time, GE was the top issuer of U.S. commercial paper. As of March, when the company asked the Financial Stability Oversight Council to lift the "systemically important" label, it represented less than one-tenth of 1% of the market.
"Our portfolio execution was a real highlight," Immelt said.
Net income, including one-time costs of the Alstom power acquisition, was $2.7 billion during the quarter. Revenue climbed 15% to $33.5 billion, topping projections of $31.9 billion, and GE's backlog of equipment orders and lucrative long-term service contracts rose 17% to $320 billion amid what Immelt called strong performances in power, aviation and healthcare.
Still, the stock fell 2.2% to $31.88 on Friday afternoon amid weakness in the company's oil and gas business, where customers' buying power has been curbed by oil prices more than 50% below a 2014 peak. Sales in the unit dropped 22% to $3.22 billion while profit shrank by nearly half.
Revenue in transportation, the unit that builds railroad locomotives, fell 13% to $1.24 billion, which CFO Jeff Bornstein said reflected an industry struggling with lower coal and petroleum-product shipments. Rail deliveries to and from so-called fracking sites have plummeted as low prices curbed demand for oil produced from U.S. shale formations.
The dicey market for the two businesses helped drag equipment orders, excluding those related to acquisitions, down 30%, Jim Corridore, an analyst with S&P Global, said in a note.  
Both divisions are "in tough cycles," Immelt said, and it's "hard to see them improving in 2017. Still, they account for just 15% of earnings, he said, meaning "85% of our company is in great shape."
Corridore predicted an overall rebound for GE in the rest of the year and said valuation of the stock was likely to increase "with GE's industrial transformation largely complete."
Friday's drop was likely exacerbated by a recent run-up in the stock, said Jim Cramer and Jack Mohr of the Action Alerts PLUS charitable trust, which holds GE shares. Before Friday's earnings report, GE climbed 21% to $32.59 in the past year, more than six times the gains of either the Dow Jones Industrial Average or the Standard & Poor's 500.
"We believe 'it will take time for traditional multi-industrial investors to appreciate the power of the company's transformation,'" Cramer and Mohr said in a note to clients on Friday.
Overall profit in the company's industrial businesses plus pieces of the lending portfolio it plans to keep rose 65% to $4.7 billion, GE said.
EXCLUSIVE LOOK INSIDE: Along with GE, Apple is a holding in Jim Cramer's Action Alerts PLUS charitable trust portfolio. Want to be alerted before he buys or sells the stocks? Learn more now.
Revenue in the power division, the largest industrial unit, grew 31% to $6.64 billion, GE said, while renewable energy sales such as wind turbines climbed 28% to $2.1 billion.
Digital orders, excluding a gas-turbine product, climbed 15% as total revenue in that business reached $1.3 billion.
The company plans to invest $1.4 billion in the initiative as it works on benchmarks like doubling the number of developers using its Predix operating system. 
The platform, designed to do for factories what Apple's iOS did for smartphones, allows companies to write compatible programs that can optimize equipment in industries from oil production to railroads. Among its innovations is a "digital twin," a software model of a client's equipment or processes that lets manufacturers monitor performance as well as diagnose, and ultimately predict, problems.
By the end of June, 12,000 developers were working with the platform, a little more than half of the company's 20,000 goal.
To support its digital operations, GE is rebuilding its tech muscle, relocating its corporate headquarters to Boston -- an area home to 55 colleges and universities including Harvard -- and adding or expanding operations centers in Providence, R.I.; Atlanta and Miami.
GE is also enticing new talent with polished TV ads that tout the opportunity to develop apps with real-world functions like providing electricity to tech graduates who might be more familiar with coding for the next Pokemon Go.
At the company's aviation business, for example, developers write programs that monitor 35,000 jet engines. That led to a 25% reduction in mechanical malfunctions for customers, helping push GE's aviation revenue up 4% to $6.51 billion in the second quarter.
At Emirates Airlines alone, service disruptions dropped by nearly half, and the carrier gained 12 days of utilization.
"The newer the airplane is, the more accessible the data is on a real-time basis," David Joyce, head of GE Aviation, told analysts on the call. "The older the airplane is, the more we have to go and get data after it lands."