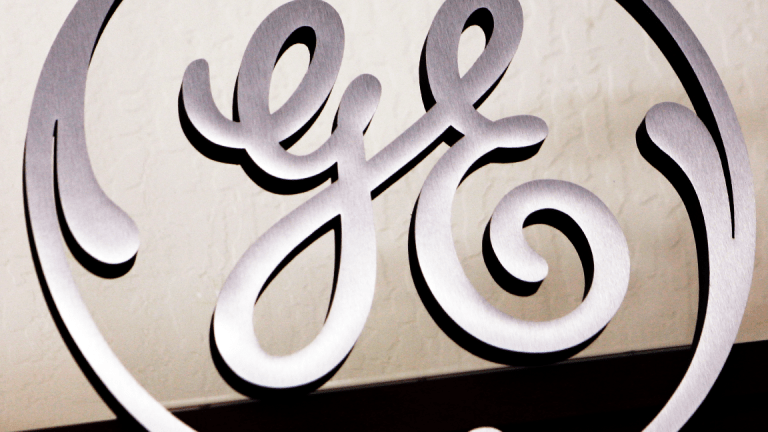 Investors Should Still Be Skeptical About GE's Long-Term Care Obligations
GE Capital is expected to report a $3 billion statutory reserve contribution to GE North American Life and Health in the first quarter.
General Electric Co.'s (GE) finance unit, which is already planning to spend $15 billion over the next six years to bolster its legacy insurance portfolio, may have to add to that sum in future years, analysts said.
Long-term care obligations still weigh on the Boston-based industrial conglomerate's balance sheet, even though GE largely exited its insurance business more than a decade ago, under former CEO Jeff Immelt. The potential costs come as current CEO John Flannery plans to sell $20 billion of assets sales and as reports of a spinoff of the transportation unit give investors a reason to see upside potential in the stock.
GE is scheduled to report first-quarter financial results on April 20. Shareholders, however, will see the first installment of GE Capital's $15 billion "contribution" to shore up GE North American Life and Health insurance portfolio's statutory reserves during the first quarter.
Analysts and investors were disappointed by the results of GE's review of its insurance portfolio, both by the scope of the problem as well as the $6.2 billion after-tax charge that company incurred in the fourth quarter of 2017.
"We were surprised by the magnitude of the deficiency, particularly given that this business has been in run-off mode for over a decade," Barbara Noverini, senior equity analyst at Morningstar, said in January. The firm currently rates GE stock at Buy.
Deutsche Bank analyst John Inch, who is typically bearish on GE, echoed those thoughts, saying the "charges and scope of the problem are significantly worse than we had anticipated."
GE first entered the insurance business in the 1980s and 1990s through a series of acquisitions but decided to exit most its insurance business between 2004 and 2006. The present-day GE NALH, which operates as a reinsurer, is comprised of the legacy reinsurance businesses that remained at GE following the partial exit of Genworth Financial Inc. (GNW) and Employers Reinsurance Corp. in 2004 and 2006, respectively.
But it "has been in run-off since 2006 with no new business written in over a decade," said Ryan Zanin, chief risk officer of GE Capital. NALH's book of reinsurance falls into three categories: long-term care, structured settlement annuities, and reinsurance of traditional life and other policies. Long-term care represents 60% of the underlying insurance exposure.
Long-term care insurance provides individuals with benefits to cover long-term care expenses, such as costs associated with a nursing home, assisted living and home health care.
"Key risks associated with long-term care include assumptions related to how long people pay required premiums, how long people will live and how well they live," Zanin said in January. "The book is subject to risks of the likelihood that policyholders will, in fact, need eligible care as they age and the duration of any claims made. In addition, the book is sensitive to interest rates, which, over time, impacts the returns available from the investment portfolio, which is used to fund claims in future years."
GE Chief Financial Officer Jamie Miller told investors during the first-quarter conference call that GE will be able to fund its insurance obligations as GE Capital ended 2017 with $31 billion of cash and liquidity. The company reviews its insurance portfolio on an annual basis.
Evercore ISI initially agreed with Miller, saying that with a "survival ratio of over 30 years (total reserves divided by the last reported year's incurred claims), GE would now rank as among the best-reserved insurers in our view."
But upon further review, the Evercore analyst team, led by Thomas Gallagher, slightly amended their view in April due to GE's reinsurance with LifeCare.
Gallagher and his team noted that disclosures from one of the company's retrocessionaires, a reinsurance company that accepts retrocession, on its Employers Reassurance long-term care block "suggests that the company may not continue to receive full credit for risk transfer on $2.5 billion of reserves that are ceded to LifeCare." They believe that LifeCare is referring to GE or its insurance subsidiary Employers Reassurance Corp., and would not be surprised to see this reinsurance agreement fall through.
"It is not clear to us whether or not GE's $15 billion long-term care charge factored in a potential loss or reduction in reinsurance coverage related to this contract," Gallagher said. "But if it did not, we suspect that this could require additional resources. "
Employers Reassurance Corp., the subsidiary that required a large majority of GE Capital's $15 billion reserve strengthening, already experienced a difficult year last year, with "a worsening of experience with incurred claims increasing 30% year over year versus up only 5% in 2016" Evercore said.
Separately, Deutsche Bank's Inch suggested the industrial conglomerate's insurance woes may not be over.
"Given GE's weak track record at accurately assessing its future exposures for GE Capital businesses, we believe future charges could still be forthcoming both for GE's insurance businesses and other billions of dollars of remaining GE Capital liabilities," Inch wrote in a Jan. 16 research note.
What This Means for Other Re-insurers 
Given the sizable charge and $15 billion planned total reserve and capital contribution, Evercore's Gallagher conducted an analysis of several insurers' long-term care blocks to determine if this situation was specific to GE.
"Our bottom line is that we believe that while GE's block is worse than the average insurer (in terms of reserves, incurred claims, richness of benefits, and cumulative rate increase on the blocks), it was not a major outlier, leading us to be more cautious with regard to the risk of potentially significant charges for certain insurers over the next few years," Evercore analysts, led by Thomas Gallagher said in a March 2 research note.
As a result, the firm downgraded its rating of Ameriprise Financial Inc. (AMP) from Outperform to In-Line and cut the prices target to $170 and reduced the target for the Unum Group (UNM) to $48. Unum stock closed Monday at $47.95.
Gallagher and his team think that pressure on long-term care reserves is driven partly by the longer claim durations with cognitive impaired claimants living longer.
Genworth is one of the largest sellers of long-term care insurance policies, but with "a double-digit increase in incurred claims GNW continues to screen as one of the weaker companies on LTC reserve adequacy," Evercore said.
The Evercore analysts also said that Metlife Inc. (MET) and CNO Financial Group Inc. (CNO) have "sizable exposure" to long-term care from a reserve standpoint, "but our analysis indicates that their blocks have below average risk and/or more robust reserves versus peers, implying a lower risk of charges over the next few years."