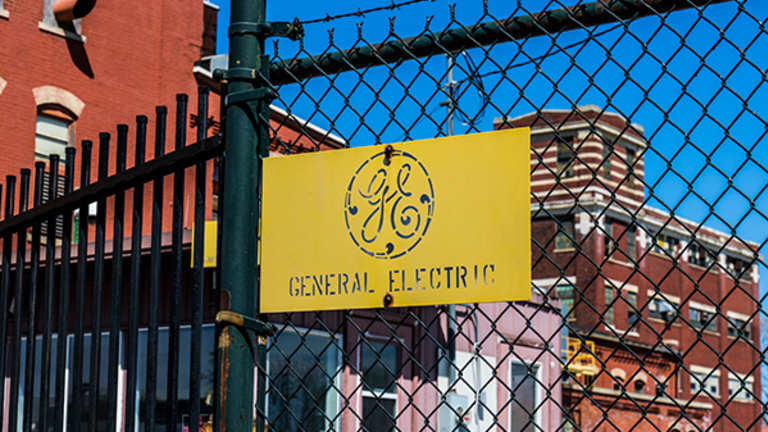 GE Is 'One of the Toughest Stocks I've Ever Had to Deal With,' Jim Cramer Says
Buy, sell or hold General Electric? It depends on whether new CEO cuts the dividend, explains TheStreet's Jim Cramer.
Jim Cramer says General Electric (GE) - Get Free Report is "one of the toughest stocks I've ever had to deal with" because it's unclear whether new CEO John Flannery plans to maintain the industrial giant's traditional quarterly dividend.
General Electric currently pays a 4% dividend, but its share price stumbled for years under former CEO Jeff Immelt, who left in August. The stock traded at just $24.19 Monday -- way below the nearly $60 it peaked at in 2000 shortly before Immelt became heir apparent to legendary ex-GE chief Jack Welch.
But now, Cramer said Immelt's departure and Flannery's arrival leave him unsure what to do with the GE shares Cramer's charitable trust owns.
"My take is that it's too low to sell, but I can't countenance buying [additional stock] until John tells us more about what he intends to do with the company," Cramer said. "John is no longer saying the dividend is inviolate. He's changed the language -- he's simply saying it's a firm priority. But if GE cuts the dividend, I do not know how the stock stays in the $20s."
So, Cramer said he'll hold on to his trust's GE shares for now, but cut the stock's rating to a "Two" from a previous "One" on a three-point scale. Other than that, the stockpicker said he'll wait to see "more visibility as to what Flannery intends to do on the dividend."
Want to join in on Jim's monthly conference calls? Click here for a free 14-day trial subscription to Action Alerts PLUS and hear all of the latest call, plus get e-mails before Jim makes any trade and enjoy lots of other exclusive material.
Watch: This Is What General Electric's Results Reveal About The Rest Of Earnings Season
More of What's Trending on TheStreet:
Action Alerts PLUS
, which Jim Cramer co-manages as a charitable trust, is long General Electric.