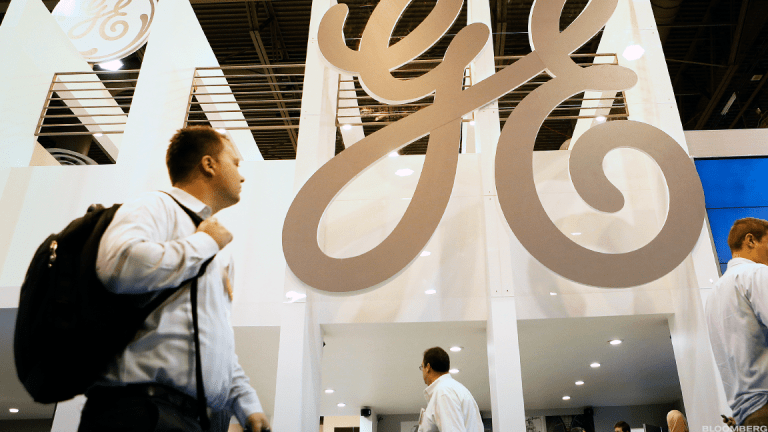 GE Investors Brace for Disaster, Will Settle for Disappointment
GE has restated its financials for the past two years, faces a massive $31 billion pension deficit, has liquidity concerns rising from the long-term health obligations of its largely divested GE Capital unit and will likely revise earnings guidance down for the year. Investors probably can't handle much more.
General Electric Co. (GE) - Get General Electric Company Report , the worst-performing Dow stock in 2017, may present investors with disastrous first-quarter results when it reports earnings on Friday, April 20, before the opening bell, according to analyst expectations.
Weak performance in its core power unit and legacy accounting woes related to its former finance unit leave CEO John Flannery tasked with the tall order of redirecting investor attention away from a hailstorm of troubles. The company may have to reduce its outlook for profit in 2018 just two months after the company's new chief financial officer said earnings would be at the low end of expectations. GE's two other core businesses are aviation and health care.
If the primary topics of conversation among analysts in recent weeks are any indication, Flannery has his work cut out for him.
The effect of GE's 2016 and 2017 financial restatements coupled with sluggish sales indicate a profit outlook cut is "almost a certainty" and could come as soon as this week, Goldman, Sachs & Co. analyst Joe Ritchie said in a recent research note.
GE is expected to report earnings of 12 cents a share on $27.6 billion in revenue for the first quarter, according to the 12 analysts surveyed by FactSet who provided EPS estimates. That's down from the 21 cents a share on $27.7 billion in the same period last year and 27 cents a share on $31.4 billion of revenue in the fourth quarter.
The FactSet analysts are forecasting 95 cents a share in earnings for the full year 2018, and Goldman's Ritchie expects GE to cut its own expectations from its current range of $1 a share to $1.07 a share in 2018.
That would leave investors with a company that's worth less than it was in February, when Jamie Miller, the company's new chief financial officer, said earnings are "probably more at the lower end" of the range of its current forecasts.
GE shares rose 2.4% to $13.99 today, and are down about 20% so far this year. GE shares fell 44% in 2017, the worst performing stock of the 30 that comprise the Dow Jones Industrial Average.
"While we remain Neutral rated, we believe that risk/reward into 1Q earnings remains negatively skewed as we believe the 2018 guide is at risk," Goldman's Ritchie wrote.
Another analyst, Cowen & Co.'s Gautam Khanna, was even more blunt in an April 11 note, forecasting 8 cents per share for GE's quarterly earnings and warning that a miss on consensus "appears probable."
"We expect the upcoming accounting restatement and Q1 print to continue to pressure this 'show me' stock," the firm wrote.
As The Street reported earlier this week, General Electric's finance unit, which is already planning to spend $15 billion over the next six years to bolster its legacy insurance portfolio, may have to add to that sum in future years. Long-term care obligations still weigh on the Boston-based industrial conglomerate's balance sheet, even though GE largely exited its insurance business more than a decade ago, under former CEO Jeff Immelt.
Whether it misses or beats, however, history indicates GE's stock has a better chance of falling on the day it announces earnings than gaining. In a Thursday report, Bloomberg noted that the company's stock has fallen on seven of the past eight quarterly earnings reporters, regardless of whether it missed or beat analysts expectations. Since the first quarter of 2017, GE's stock has lost about $160 billion market value.
Of the GE analysts surveyed by FactSet, just four rate the stock a Buy, while 8 rate it the equivalent of a Hold and two rate it a Sell. Two FactSet analysts have an opinion on the shares without providing actual earnings estimates.
The few friends of GE largely base their case on the long-term turnaround potential of the company, including its power unit, GE Power, which has been a laggard in recent years.
But JPMorgan Chase & Co. analyst Stephen Tusa, whose research has beaten up GE's stock for months, argued Thursday in a new note that the long-term future of GE Power is not bright enough to justify the current bull case.
Specifically, Tusa said the $2.4 billion in profit for GE Power that JPMorgan expects in 2022 is bearish and not enough of a recovery to justify upside for the stock.
In explaining the firm's model for GE Power, Tusa said "to be clear: downside potential near term, and a number that could represent earnings potential, though four years out, but that remains well below
the Bull case in an industry that is facing as much technology disruption as any, reflected in LCOE levels for competing sources that are declining almost monthly, meaning 2022 should be heavily discounted."
To be sure, GE Power is not the only arena in which the industrial conglomerate faces challenges. The company owes some 600,000 people benefits with a pension fund that is currently at a $30 billion deficit, of which $18 billion is contractually binding.
GE also likely faces some new questions in one of its prized units: aerospace. One person died earlier this week after an engine exploded in the air during a Southwest Airlines Co. (LUV) - Get Southwest Airlines Company Report flight from New York to Dallas, forcing an emergency stop in Philadelphia.
The engine maker: CFM International, a joint venture between General Electric and France's Safran SA.
The engine is the most commonly used in Boeing Co.'s (BA) - Get The Boeing Company Report 737 aircraft, the most popular airplane in the world. Of course, the age of the engine implies Southwest, and potentially any third party that performs engine maintenance for the airline, would face the brunt of the questions.
Still, not all General Electric analysts have assumed the worst for the stock this quarter.
Bank of America analysts including Andrew Obin said earlier this month that GE should have sufficient liquidity through 2020 to meet its projected cash outflow commitments, helped by asset divestitures in both GE Industrial and GE Capital.
But even the friends of GE recognize that even with $20 billion worth of divestitures, the company can't afford any more setbacks.
According to Obin, "there is little room for error on execution" of its divestitures or another sizable charge at GE Capital, which currently accounts for nothing in terms of earnings but has cost the company much in recent years.